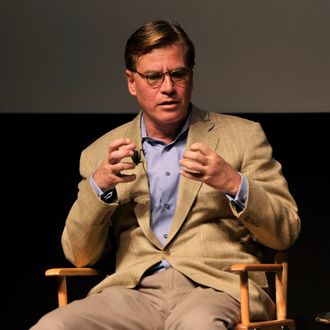 Photo: Stephen Lovekin/Getty Images
The Newsroom tends to take a sanctimonious approach to recent history, and many journalists take issue with the show's apparent desire to tell them how they should have done their jobs. In an interview with former Obama speech-writer Jon Favreau on Monday night at a Tribeca Film Festival discussion, Aaron Sorkin tried to make amends with the press corps. "I'm going to let you all stand in for everyone in the world, if you don't mind," Sorkin told the audience. "I think you and I got off on the wrong foot with The Newsroom and I apologize and I'd like to start over."
He continued:
I think that there's been a terrible misunderstanding. I did not set the show in the recent past in order to show the pros how it should have been done. That was and remains the furthest thing from my mind. I set the show in the recent past because I didn't want to make up fake news. It was going to be weird if the world that these people were living in did not in any way resemble the world that you were living in… Also, I wanted the option of having a terrific dynamic that you can get when the audience knows more than the characters do… So, I wasn't trying to and I'm not capable of teaching a professional journalist a lesson.
Later, in response to an audience question about whether he is happy with The Newsroom, Sorkin responded with an unusual amount of candor, saying that he feels like he's "just now starting to learn how to write it." Just in time for season three's fall 2014 premiere, we hope.
I've very proud of The Newsroom. I have the time of my life working with the people that I work with, but there is a learning curve and unfortunately, those lessons are learned in front of several million people. Again, that's what you sign up for. I wish that I could go back to the beginning of The Newsroom and start again and replicate what you have with a play, which is a preview period… But I'm feeling really good about how the third season is going. I'll look back on it fondly and proudly and wish I could get every scene of every episode back so that I could do it all over again.
All in all, a very nice apology, particularly from someone who is not known for his skill with apologies. Now if we can just get a mea culpa for Studio 60 on the Sunset Strip, we'll finally be able to move on with our lives.