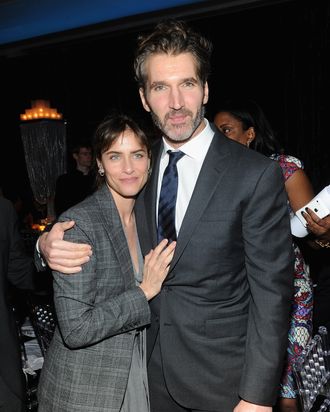 Amanda Peet and David Benioff.
Photo: Jamie McCarthy/Getty Images
Amanda Peet has been trying to land a part on Game of Thrones for years, but her request continues to fall on deaf ears. Those ears happen to belong to her husband, the HBO show's co-creator David Benioff, who has used age, nudity, and just flat "no" as his rationale for why various female roles wouldn't be right for her. When Peet first shared her conundrum with us a few seasons ago, with Benioff at her side, Vulture decided to make it our mission to find her the right part on the show. (Especially after she told us that just for fun, she acts out all the different parts in the scripts.) Then, finally, at the Game of Thrones premiere party for season four a few weeks ago, we seemed to land on a part that worked for both of them: a septa.
"Oh my God, I'm trying really hard to let the dream die," laughed Peet, when we asked her whether she still wanted to appear on the show. "But if you could talk to my husband, I would appreciate that." When we wondered if Benioff, who was elsewhere at the bash, had withheld roles primarily because he was concerned with his wife doing a nude scene on a hit show, she replied, "No, he's just worried about me being bad." So we pushed forward the idea of her playing a particular clergywoman from George R.R. Martin's novels who has a run-in with Cersei, Peet perked up. "Oh! I'm willing to play that part," said the actress. "I want to degrade Lena Headey. Please! Yes! Please go get him to give it to me!"
Later at the party, we found Benioff and pitched the septa idea to him. He actually seemed to be into it! Well, sort of. "Hmmm," he said. But then, he added: "Well, there's the other septa that's on the boat, too. And there's Taena [a noblewoman who moves to King's Landing and becomes a confidante of Cersei]. I always thought Taena Merryweather would be a good fit for her." And then after considering further, Benioff finally made a decision: "Okay, we'll give her a cameo. Good idea. Makes sense. Done. You got it." Amanda, you owe us one.