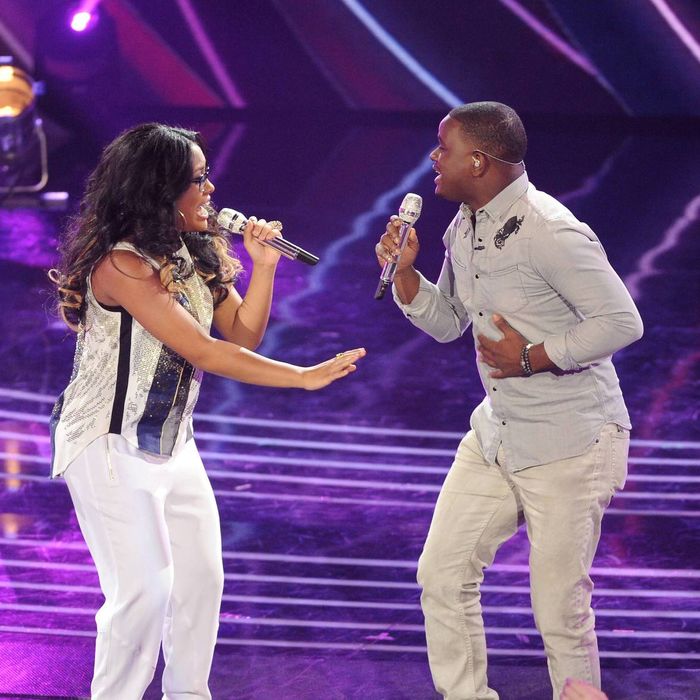 I am a child of the '80s. My first concert was Duran Duran. Top Gun made me gay. I wear an off-the-shoulder Forenza sweater at all times, as a base layer. As such, the idea of an American Idol '80s night scares the parachute pants off me. Eighties throwbacks tend to misunderstand the decade; it always gets re-imagined as a nonstop parade of peppy synths and kicky topknots, when the reality was much more complex. And American Idol never met a theme it couldn't get utterly wrong. From the start, I'm dreading the Day-Glo.
Well! I should not have underestimated the season 13 top eight's ability to suck the joy right out of everything. Tonight, they give us the '80s by way of the dreariest of the mope-rock '90s and the coffeehouse aughts. Ugh.
The show begins with an endless montage of the top eight reacting to last week's save of Sam Woolf, followed by each one saying their name and asserting that they are the next American Idol. And the choice to score the montage to Duran Duran's "Hungry Like the Wolf" really highlights the problem: None of these people is remotely hungry (or feral). One of them is going to win, and I honestly don't know if any of them deserve to.
So let's get into it:
Jena Irene: "I Love Rock & Roll" by Joan Jett and the Blackhearts
Jena starts this song in the slowed-down piano arrangement it absolutely does not ask for. She's like Tori Amos's troublemaking kid sister Rachel Amos. It does not work. Also she is dressed in a way that would make 1995 Gwen Stefani say, "Yo, dial that down a little bit." It is neither rock nor roll, and I do not love it. The judges say a lot of words, and after they are finished, I am no closer to understanding whether they did or did not like the performance.
Dexter Roberts: "Keep Your Hands to Yourself" by the Georgia Satellites
This song is not so much a smart choice for Dexter as it is the only choice; his brand of mall country didn't have its first big crossover hits until the '90s, and "Keep Your Hands to Yourself" is just twangy and homespun enough. Dexter needed to surprise us tonight. Dexter doesn't surprise us tonight.
Oh, also, since Fox apparently has no half-hour shows to feature in a post-Idol slot, this will take two full hours, and the extra time will once again be eaten up with duets. The first is Sam and Alex taking on Paul McCartney and Michael Jackson's "The Girl Is Mine," which they actually manage to make less interesting. Fun fact: This wet scoop of tuna salad is actually the first single from Thriller. Think of literally every other song on Thriller. Now think about how afraid of black people the world must have been for the record company executives to choose "The Girl Is Mine" as the first single. Anyway, this duet is boring, and they don't even do the spoken-word parts.
Malaya Watson: "Through The Fire" by Chaka Khan
This song (plus her styling) makes her seem about 35, when she should really be showing us how she's going to be a bankable 16-year-old pop star. Why not "I Feel for You"? They don't know how to make people look young on this show, they really don't. Also, she's flat in all the song's quiet moments, just because she's saving her energy for the big notes. But it's fine. I still like her.
And then Jena and Caleb duet on "It's Only Love" by Bryan Adams and Tina Turner, and who cares, because during it, Harry goes out into the crowd and puts a teenage girl on his head. At first, her ease on his shoulders makes me think it must be one of his teenage daughters, but nope. Just some girl. And he keeps her up there all the way up to the commercial. It's gross. The judges have given up and are just entertaining themselves now.
Jessica Meuse: "Call Me" by Blondie
Jessica is wearing a red striped blouse that is very Dorothy Michaels in Tootsie. It's distracting, but at least you're thinking about a classic comedy instead of this uninspired performance. Her voice is just fine — the best yet so far, in fact — but her onstage affect is lifeless. There's no sex in her version. It's like "Call me, and ask about our low introductory APR." The judges agree.
Sam Woolf: "Time After Time" by Cyndi Lauper
Have you ever heard a guy with a guitar do a solo acoustic version of Cyndi Lauper's "Time After Time," or have you never purchased coffee? There are no surprises here, but Sam does seem to have taken the last few weeks' worth of judges' advice and chosen a person to sing to. That person is YOU; he's glaring right into the camera. It's something. Harry tells him to Google Ricky Nelson, which is actually really good advice.
Real talk: I am missing the pizzazz and vigor of MK Nobillette.
Malaya and CJ do Aretha Franklin and George Michael's "I Knew You Were Waiting for Me," which proves two things: Malaya should be singing poppier numbers, and CJ has no business doing anything outside of his very specific skill set. Moving on!
Alex Preston: "Every Breath You Take" by the Police
I will say this for Alex: He makes a credible stalker. He makes the questionable choice to completely dispense with the song's melody, then reveals that he was coached by one Jason Mraz, with whom he recently had coffee. Alex Preston and Jason Mraz! Who wears the trilby hat in that relationship? The judges tell him to branch out from the coffeehouse genre. Agreed.
Dexter and Jessica sing Kenny Rogers and Dolly Parton's "Islands in the Stream" and I fall asleep for a million years and awaken with a long white beard in a dystopian future.
CJ Harris: "Free Fallin" by Tom Petty by way of John Mayer
Now, having watched him sing his duet, you would think CJ would be nice and warmed up for his solo. You'd be wrong! CJ continues his no-note-hitting streak and is wearing a jacket made of your grandmother's couch. It is all wrong, and the judges say more or less the same, but we're all in agreement that we're rooting for him. Harry says that once he masters his pitch, he'll be unstoppable, which is basically saying: Once you learn to sing, you'll be a good singer.
Caleb Johnson: "Faithfully" by Journey
Caleb is the luckiest man in the world, in that he's going to win the shit out of the weakest season in American Idol history. Any other year, he'd barely have made the top ten, but this year, a big voice and a tiny bit of personality is all you need. I don't know whether I'm rooting for him, but I know I'd better start, because it's a done deal.
My favorite decade is ruined, and my favorite singing-competition show is about to anoint a generic rocker guy. Let's get to work on a time machine, folks.