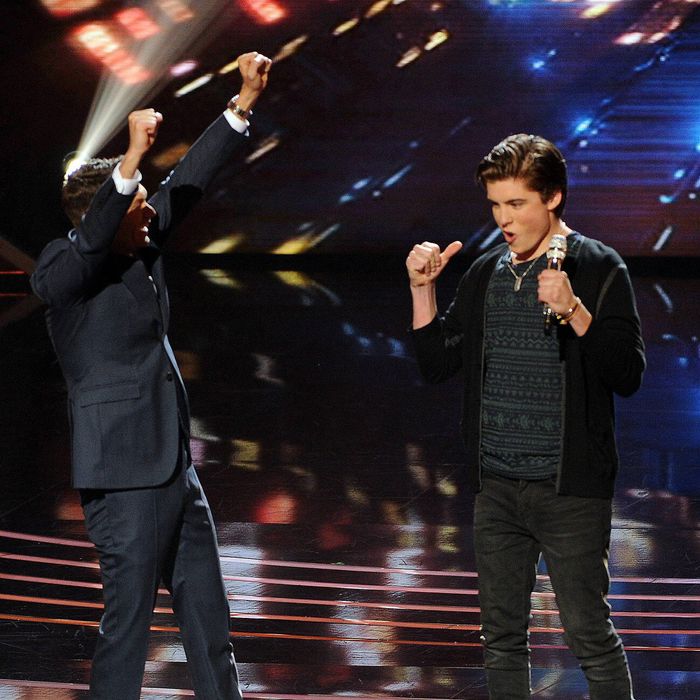 Photo: Frank Micelotta/FOX
You guys, something happened on an Idol results show! It happened at the very end of what felt like an endless half-hour, but it happened and I don't know how I feel about it! Let's discuss.
Okay, here's how bloated these results shows are, even at half their regular length: Ryan welcomes us to the show, and then mentions the judges, and then says: "Speaking of the judges: Would you like to see 'em?" Like they're pandas at the Idol zoo, though one could make the case that they are. Anyway, the doors split open, and literally two entire minutes of this show are eaten up by the judges taking their seats and getting yelled at by the audience. Listen, I don't want to diminish Keith Urban, Jennifer Lopez, and Harry Connick Jr.'s significance, but that seems excessive.
Again, we're shown a package of the top eight, out for a fun group dinner at a restaurant that is over-lit and doesn't play any music. The dinner table conversation is skewed heavily Sam-ward;  Malaya goes deep into the judges' recommendation that Sam choose an audience member and creep her out by singing right at her. Is it possible that Sam is getting the Loser Edit? Is the writing on the Facebook wall?
As is now the custom, the faces of the safe contestants will be revealed on the IdolTron, rather than read out loud by the IdolBot. And Dexter is the first one to be safe! Though Ryan tells us that the results are being revealed in no particular order, I can only conclude that they are sending me a personal message by proving me wrong right out of the gate. Message received, Idol. I am finished making predictions.
Jena is safe, too. I haven't written much about Jena in the last few weeks, because I don't really know what to say about her. She's part Mikaela Gordon from season four, part budding Real Housewife of Suburban Detroit, objectively interesting without ever holding my interest. I kind of wish she'd have auditioned with an original so she could have sung it again last night; I feel like that's where her genius lies.
And then, oh my God, it's a Ford Music Video without the music. The kids pile into a Fusion (with EcoBoost!) and head to the beach to awkwardly throw balls at each other, strum guitars, and talk about the link between cars and music. Sam says "Driving definitely inspires me," in a way that's so uninspired he obviously hasn't had a chance to drive in a minute. Alex tells us: "One time a storm was coming, so I got on the hood of my car and just started writing." So there it is. Buy a Fusion (with EcoBoost) and someday you too will shrug your way through a nationally televised singing competition. Ford! Go Onward or something!
There is a performance by Daughtry, who continues to embody the spirit of the early aughts, that special time when the modern rock charts were choked with bands like Staind and Three Doors Down. The early aughts kind of sucked, can we agree?
Ryan throws an arm around Chris and says "Coming up next, something Chris Daughtry knows all too well: the sting of results night." And then once the knife is in, why not twist that bitch: "I will never forget the look on your face when you were eliminated." Now, Daughtry is a huge success and has transcended his semi-embarrassing origin story, but I can tell you as someone who lived through something similar: You can stop bringing this shit up anytime. He's a good sport about it — those of us who get our jobs this way have to be — but still: enough already. He's graduated. Leave him be.
Back to the results: Caleb is safe! Caleb's hair is very Valley of the Dolls. Specifically, Neely O'Hara in the mental hospital. Jessica is safe! Jessica is dressed like some kind of anime rock nun. Alex is safe! He's recovering from last night's teal disaster in an understated navy baseball jacket that I bet he had to fight for.
So that leaves CJ, Sam, and Malaya as our bottom three. A shot of the judges' table catches Jennifer mouthing the word Sam? to Keith, who grimly nods. And indeed, the judges are either psychic, got a look at Ryan's secret card, or were listening last night; it is Sam who must sing for survival.
And once again, the save-me song is sung in a manner that is totally deflated. Sam's take on "Babylon" is totally listless and uninspired, and while I would never recommend drug use, he could use a little of the chemicals that are rushing in David Gray's bloodstream in the original. In this endurance test of a 30-minute show, so could I, honestly.
He finishes, the girls in the audience chant SAVE HIM SAVE HIM, like it's a crucifixion, and then I get to thinking about it: The judges have until the top six to use their save, and if they don't use it tonight, next week we'll be looking at our top seven. So barring a save tonight, next week will be their final opportunity, and if they don't use it then, they'll just look like dicks, which Keith and Jennifer would never allow. And so, with very little fanfare, Jen reveals that they'll be saving Sam. Confetti falls from the ceiling, and the audio drops out a dozen times, indicating that someone on thatstage is swearing a blue streak. (It's probably Caleb, but I like to think it's Ryan and he's drunk.)
So there it is! The save has been used! Sam lives to bore us for another week! Next week's theme is the '80s! The Vegas odds of Jena singing "Total Eclipse of the Heart" are officially 1:1!