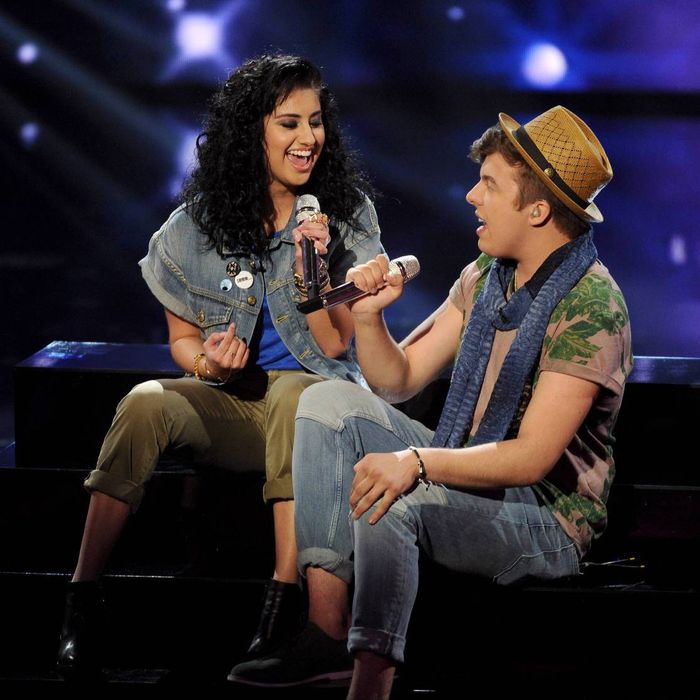 Photo: Frank Micelotta / FOX
Now, see? Just when you write a whole season of American Idol off, they come back and get you. Yes, sure, tonight's episode was overlong, and nobody wants to see the Idols slog their way through duets (if you find yourself with an extra half-hour, Fox, why not reair that Surviving Jack premiere? Television needs more Rachael Harris). BUT: The performances were top-notch, and the theme was smart, as our top eight performers revisit the songs they sang at their original auditions. Remember back in January, when season 13 had promise?
Well, the producers sure do. The top of the show is a long montage of the audition episodes, when we were just getting to know this hopeful bunch. It's such a welcome sight, I will overlook the fact that it includes a snippet of early auditioner Sam Atherton, whom we later found out had been arrested for jacking off in an ice-cream truck in front of children.
Let's not dwell. Let's get into it.
Jessica Meuse
"Blue-Eyed Lie" by Jessica Meuse
Once they get to the top 13, the Idols never get to sing their own songs, but we kick off tonight with Jessica's original from her first audition. And I'll be damned if the song doesn't benefit from a full band and a slick Rickey Minor arrangement. The song itself is forgettable, something from the Tao of Steve soundtrack, something a sassy bartender would sing in Coyote Ugly. But Jessica is starting to grow on me ever so slightly. What I've been taking as aloofness might actually be nerves, and I'm a little charmed by that. When asked at the end if the titular blue-eyed liar might be watching, she says: "It'll be all over his wall." It's weird how little we acknowledge the importance of each other's walls.
CJ Harris
"Soulshine" by the Allman Brothers
CJ's look is straight Philip Michael Thomas if Miami Vice were set in the time of graphic T-shirts. Otherwise: He's back! He has bounced back and forth between terror and comfort this season, and tonight he is comfy. He sounds great, and the band is so loud it would drown out whatever errors would pop up anyway. Harry congratulates him on working on his pitch, because otherwise "they'd Auto-Tune the soul right out of your voice." Is that what happened to Katy Perry? Did Katy Perry have soul that they removed? Best not to think about it.
Jena/Alex
"Just Give Me A Reason" by Pink & Nate Ruess
So, yeah, a full third of this show is devoted to these duets, which are a giant waste of time and I refuse to make them be a waste of space as well. I will say that Alex is without a guitar for the first time ever, and that he can't make eye contact with Jena, which I totally understand because this is very corny. Also, somehow he is dressed like both Molly Ringwald and James Spader in Pretty in Pink.
Sam Woolf
"Lego House" by Ed Sheeran
Through this whole thing, before each performance, the Idols have to stand next to the judges' table while Ryan asks: "What did you think of [the next performer] the first time you saw him/her?" And then the Idol has to be talked about in the third person while they're standing right there. Being talked about in the third person when you're standing right there is the worst, and people who don't understand why it's the worst have never been talked about in the third person while they were standing right there. Despite this, in his performance, Sam seems more confident than ever, which is to say Sam is only slightly lacking in confidence. It's the best he's been in ages. Harry says "confidence" is the wrong word for what he's missing, the word is "connection." He begs him to acknowledge the screaming females in the audience. The females in the audience scream in agreement. Good call! Look at your audience, Scooter!
Jessica/Caleb
"Stop Draggin' My Heart Around" by Stevie Nicks and Tom Petty
This was the first 45 I ever bought! And they must do a great job, because I don't actively resent it. They're saddled with a phony Lawrence Welk–y ending, but otherwise they're solid. Plus, they're playful with each other, which is such a rare thing this season. I'm still tapping my watch and giving my television an impatient look, though.
Malaya Watson
"Ain't No Way" by Aretha Franklin
Malaya could very easily switch to contact lenses at this stage, but I think she's smart to keep the glasses. It makes her seem like the awkward pal of each young viewer, everybody's Six from Blossom. And she needs to seem more human, because her vocals are starting to become flawless. Tonight's performance is a perfect expansion of her original audition; she has new confidence, she has new tools in her kit, she has frosted tips. Malaya might be unstoppable. Real talk: I love seeing braces on singing mouths.
Dexter Roberts
"One Mississippi" by Brett Eldredge
Okay, Dexter might be regretting having chosen such an understated song in his original audition. If anybody needed to break out tonight, it's him, but he's stuck with a by-the-numbers new-country ballad. He's on a stool bathed in blue light, and though he's in fine voice, he's almost prevented from showing personality. He doesn't move around the stage. He barely even moves his head. The judges seem to love it, but I think he's finished.
Malaya/Sam
"Lucky" by Jason Mraz and Colbie Caillat
All right: You do not saddle Malaya Watson with a Colbie Caillat song. You do not. Sam actually makes one long for the soulfulness of a Jason Mraz. Just let that sink in for a moment.
Jena Irene
"Rolling in the Deep" by Adele
Initially, I fear Jena might become a victim of Adele fatigue; we simply cannot take this song in anymore. But she wisely switches up the arrangement and strips the whole thing down. But BUT when you strip the whole thing down, you realize there isn't actually much of a song in "Rolling in the Deep." But but BUT Jena sings her ass off, so who the hell even knows what's going to happen here.
CJ/Dexter
"Alright" by Darius Rucker
Fun! Country! Seriously, Zack Morris could come out and do a quick monologue here, that's how much these duets stop the show dead in its tracks.
Caleb Johnson
"Chain of Fools" by Aretha Franklin
Caleb is doing CrossFit or something. Dude is busting through his baby fat before our eyes. His hair is conditioned; his accessory game is strong; he is in some ill-fitting Dockers but I will overlook it. This is a Big Show Performance of this song, and while its volume and bombast might be predictable by now, it's still entertaining. Harry says he wants to see a quieter moment from him, and the audience erupts in BOOs. It's going to be a Caleb vs. Malaya finale. Mark it.
Alex Preston
"Fairytales" by Alex Preston
We're bookended by original compositions tonight, and this one reveals Alex as the Andrew McMahon–Howie Day hybrid we've been craving. He's soaring and fluttery and hiccupy and every kind of quirky that a young singer-songwriter has to be these days, and I have grown to love him. But hey, America: Let's not wear teal. Alex is stuck in an unfortunate teal sport coat and flowery shirt combo that is clearly stressing him out, but he overcomes it. That's a champion right there. That's a No. 3 finisher with a bright future.
So there it is. The end is in the beginning. Dexter is out. I am exhausted. God bless America.