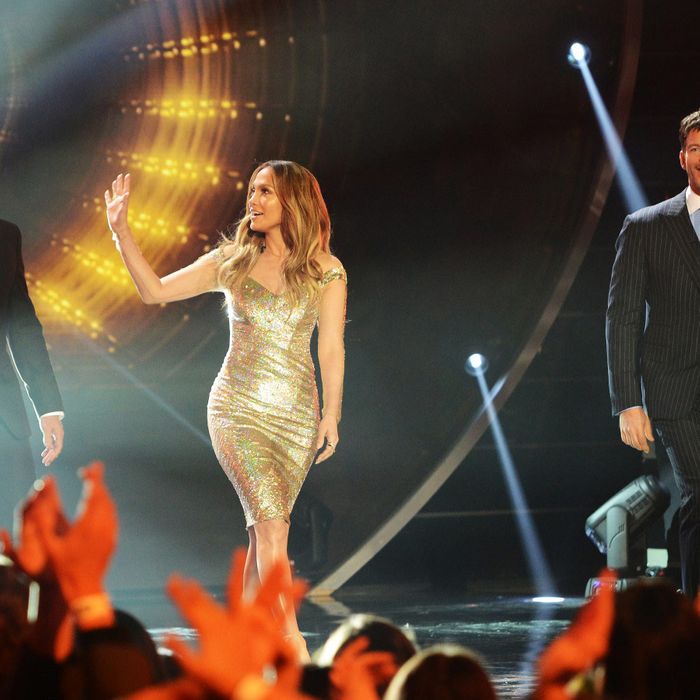 Photo: Michael Becker / FOX
Ryan Seacrest is really knocking it out of the park when it comes to weird show-opening lines this season. Here's what he gives us at the top of the results show: "Tonight, it won't just be the cat who will be grumpy. Someone will have to go home."
So, okay. Way to tie in that fun piece of business from last night. (Because remember? Remember how they had the cat with the face that looks all frowny on the show and took selfies with him last night? Wasn't that a fun five minutes of your one life on this planet?) But would anybody in this top six be grumpy at the prospect of going home? Most of them seem pretty eager to be done with this whole thing.
Whatever. One of them has to go, and I can't imagine it being anyone other than CJ, which, way back in the early audition episodes, would have made me grumpy for sure. This is a guy who was mismanaged. Mis-mentored. At first listen, I was excited to hear a guy who could have been a poppier Ray LaMontagne, a personality who could have brought back a little of that '90s Big Head Todd & the Monsters moment. But instead, he hovered in that Marshall Tucker Band territory and never mastered the art of singing in tune. He didn't evolve because nobody pushed him to.
Speaking of not evolving, I have mentioned the Samples and Big Head Todd in the same week. I just sprouted a puka-shell necklace and a goatee.
ANYWAY. The judges are all glammed up for some reason; Jennifer is in some kind of awards-show dress, and both the boys are in suits. I am of the opinion that Keith Urban should wear more suits. Let us work together and bring the era of the graphic T-shirt to an end. The crowd digs it, too.
I love that Gayle from Accounts Payable came to the show tonight. I love that she decided to make a sign. I love that the sign says the name "KEITH URBAN" and nothing more, like she's picking him up from the airport in a semi-whimsical way. I love that she went to Michael's for some big fun letters but didn't pony up the extra $0.67 for a piece of poster board. Nope, she just pasted those bitches on a 8.5x11 sheet of copy paper, got herself a seat in the loge section, and hoped for the best. She's fun but sensible, our Gayle.
The heavily produced behind-the-scenes moments take place at … the Idol mansion? An Oakwoods in Burbank? I don't know, but it's somewhere with a kitchen where Caleb's mother can make him a birthday dinner. Burgers! Cake! Deviled eggs! (Is this Ben Briley shade? Should I even be looking for shade in this show?) It is a big table full of things you ought not to eat together. Happy birthday, eventual Idol winner. A million-dollar recording contract will buy you plenty of Maalox.
Hey, let's get Randy's thoughts on last night's performances, thoughts that are pretty much identical to last night's judges' comments, you want to? Well, we're going to do it anyway: Randy says Caleb tore the roof off the place, Sam had a decent night and is slowly moving up the ranks, and CJ needs to sing better songs and also learn to sing better. Hey, isn't teaching him how to sing better kind of YOUR WHOLE ENTIRE JOB AS A MENTOR? Whatever, Caleb is safe, Sam is safe, CJ has a layover on the Stools of Shame before his flight home.
Back to Randy: Jena has the eye of the tiger (which is a song that was released more than 15 years before she was even born), Alex has continued to show his artistry, and Jessica chose two amazing songs but didn't do what she needed to do. And indeed, it is Jessica who must bestool herself for the second week in a row. Masterful reviewing, Randy! It's almost like you watched the show and are not deaf.
And then poor CJ is sent back home. He sings "Can't You See" one more time ("PRIDEFULLY," as Ryan weirdly commands him), fighting back tears and hugging on his fellow Idols, as the profile pics of his Facebook supporters cascade down the side of the screen. Every time they do this, no matter who the Facebook supporters are supporting, they look like the kinds of people who invite you to play Farm Heroes Saga or whatever.
I'm sorry to see CJ go, but I'm fairly certain there's a place on the country charts for him. There's pitch-correction software now! Get that money.