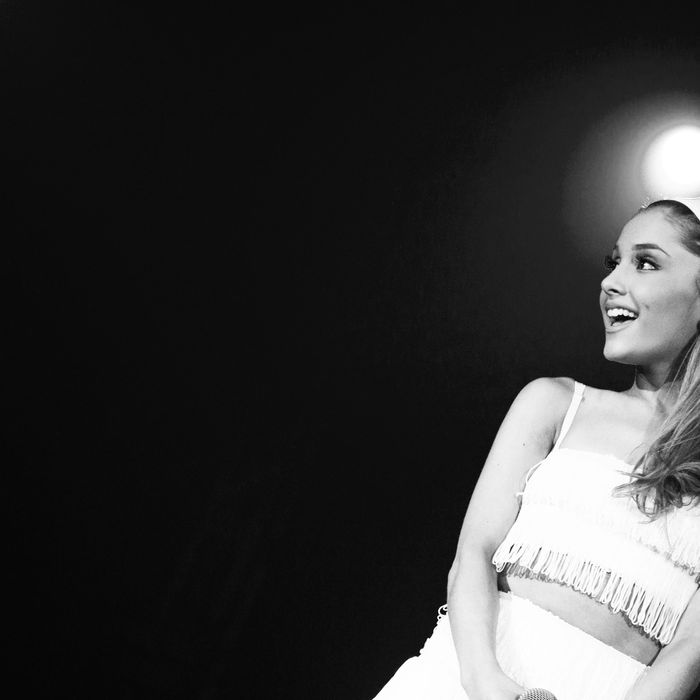 PALM SPRINGS, CA - APRIL 26: Singer Ariana Grande performs during Jeffrey Sanker Presents the 25th White Party Anniversary at Palm Springs Convention Center on April 26, 2014 in Palm Springs, California. (Photo by Vincent Sandoval/WireImage)
Photo: Vincent Sandoval/WireImages/Getty
Ariana Grande, a.k.a. baby Mariah, just dropped a new single, "Problem," featuring lady rapper du jour Iggy Azalea, and it shot straight to No. 1 on the iTunes chart. Unlike the old-school R&B vibe found all over Grande's first album, Yours Truly, this release, with its whispery Big Sean chorus, saxophone sample, and heavier beat, signals a sexier, not-just-a-Nickelodeon-star Ariana. (See also: the single's cover image.) Sure, the song is catchy, but if we're going to continue comparing Ariana to Mariah, she's got to turn on more of that diva attitude (and hit those high notes!). But we have faith that she can pull it off with a little tutoring. Here are five Diva Pro Tips we think Ariana should keep in mind in her ever-expanding quest to fill the high-heeled shoes of her foremothers.
Problem: Stage Presence. Ariana lacks it. Part of it is her will-o'-the-wisp physicality. When she tottered off the piano after singing rap songs with Jimmy Fallon, you very nearly feared for her life. Stages seem to swallow her whole, and she often looks lost in the melee.
Diva Pro Tip: When Mariah made her Grammys debut, all she needed was a mike, a stage, and a perm. Her performance of "Vision of Love" propelled her eponymous album, which at the time had middling sales, to the top of the charts. So far, Ariana's best performance came at the AMAs when she sang  "Tattooed Heart." The set showcased her strengths: the soft spotlight and the long red dress allowed the listener to zero in on her voice. Focus on this:
Problem: Emoting. When Ariana sings "You've got me feeling emotions" in her telling cover of Mariah's classic, it's dubious whether or not she actually feels said emotions. In fact, the predominant feeling you get after listening to an Ariana Grande song is that a magical sprite just waltzed in and sprinkled you with some parentally approved fairy dust.
Diva Pro Tip: Ariana is a Broadway kid, and she needs to draw on all of her acting abilities and project more emotional depth into her songs. Fake it until you convince the listener that they are experiencing a "moment." Here's an acting lesson: draw upon a painful emotional memory (like your recent string of breakups — including the Wanted's Nathan Sykes?) and channel that frustration into your song. Or, you know, just poke yourself with a thumbtack mid-performance.
Problem: Collaboration. Her first single, "The Way," was with fidgety white rapper Mac Miller, who is like a younger, cooler Bubba Sparkxxx. She followed that up with "Almost Is Never Enough," a sweet, but slightly bland ballad with Sykes, her amour at the time.
Diva Pro Tip: Pairing up with Iggy Azalea on "Problems" is a great start. She's also catching Iggy just as her popularity is cresting. Other possibilities for collaborations? How about some bona fide stars (to up her ante): Adam Levine, Luke Bryan (Why not some country?), Pitbull, Rihanna, Icona Pop, Pink … (And, no, not Chris Brown. Jeez, girl.)
Problem: Styling. At this year's Z100 Jingle Ball, Ariana wore what looked like a bedazzled white swimsuit with a dust ruffle that opened at the front — making her look like a figure skater without the ice. At her recent performance of "Problem" at the RDMAs, she wore a pleather tank top with sequined Mickey Mouse ears. Divas should experiment, but not this way.
Diva Pro Tip: Ariana doesn't need to go the Miley route and take her pants off to get attention, but she does need a wardrobe that looks beyond the petites section of Forever 21. She should go for a look that indicates a more mature, confident woman. That means shaking out those ponytails and ditching the bows and sweetheart necklines. Glam it up!
Problem: Image. An issue inherent to the tween star grooming system is the inevitable shock when the innocent, squeaky-clean girl becomes a woman licking sledgehammers in her undies. Similarly, Ariana sometimes still seems as demure as her breathy, doe-eyed Nickelodeon counterpart, Cat Valentine.
Diva Pro Tip: It seems like Ariana might be ditching her Nickelodeon show, with Deadline reporting that it was put on "permanent hiatus." Overall, though, Ariana carries herself like a diva in real life. In response to her ex's accusations of infidelity, she just said the move was a desperate grab for attention on his part. (He's a YouTube star.) When she was linked with 39-year-old Adrian Grenier of Entourage, she tweeted, "Who the hell is that?" Classic diva behavior! More of that, please.