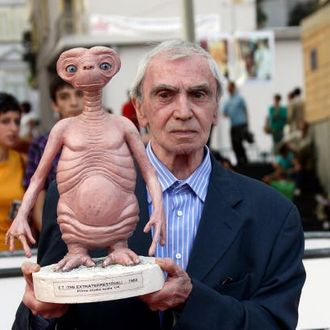 It's an old story among video-game enthusiasts that, back in 1983, Atari buried thousands (perhaps millions) of copies of their failed E.T. game in the New Mexico desert. A September 1983 piece in the New York Times even reported that 14 truckloads of both discarded game cartridges and computer equipment were dumped at the site. On Saturday, a documentary film crew funded by Fuel Entertainment and Xbox Entertainment Studios struck game gold when they discovered them at a landfill in Alamogordo.
Amid mounds of trash, the production team found hundreds of boxes filled with the E.T. video game for Atari 2600. Director Zak Penn told the Associated Press he "feel(s) pretty relieved and psyched" that the near 200 residents and gamers who showed up in the morning to watch backhoes and bulldozers dig through the concrete-covered landfill "actually got to see something." Onlookers reportedly began playing the game on a makeshift gaming den in the back of a van soon after the discovery was made.
 
While Atari says it has no "corporate knowledge" nor "any idea what [the burial] is about," there are quite a few ideas floating around the web about Atari's actions: Mashable calls the "unplayable" game "a cautionary tale about the perils of trying to rush out a game too quickly to cash in on a blockbuster movie and then having to literally bury the mistake." The AP adds that this particular game "is among the factors blamed for the decline of Atari and the collapse in the U.S. of a multi-million dollar video game industry that didn't bounce back for several years." So, if anything goes south with the Xbox One, you know who to blame.