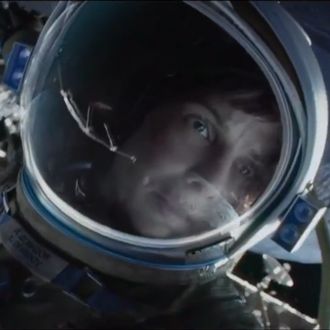 Author Tess Gerritsen — whose book Rizzoli & Isles inspired the TNT drama — filed a lawsuit against Warner Bros. today, claiming that the film Gravity was based partly on one of her books and that the studio owes her 2.5 percent of the film's profit as compensation. According to the New York Times, the studio's New Line unit and a subsidiary bought the film rights to her novel Gravity in 1999. Therefore, Gerritsen isn't suing Warner for copyright infringement (a much more common scenario); rather, she is claiming that there was a breach of contract, in that the studio failed to release the film with a "based upon" credit as had been agreed upon, thus denying her millions of dollars.
According to her lawyer Glen L. Kulik, she had initially shrugged off the similarities as coincidence, but later came to believe that Alfonso Cuarón based his screenplay on her book. In a blog post on her site back in 2010, she noted the unusual similarities between her book and the film, observing that the screenwriter originally hired to adapt her book is two degrees of separation from Cuarón (see the full post here);
Two tales about a lone female astronaut trapped aboard a space station and struggling to get home. Both are titled GRAVITY.

But the movie has absolutely no connection to my book. At least, not that anyone's told me about. (Mr. Cuaron, feel free to email me!)"
Anyway, it looks like Gerritsen has decided that there's something more than synchronicity at work here. That, or we're all victims of a very elaborate George Clooney prank.