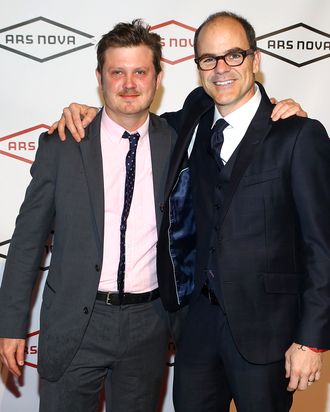 Beau Willimon and Michael Kelly.
Photo: Astrid Stawiarz/2014 Astrid Stawiarz
It's hard to imagine politicians with more disparate styles than House of Cards' Frank Underwood and Veep's Selina Meyer. But at Monday night's benefit gala for the nonprofit theater Ars Nova, House of Cards writer Beau Willimon told Vulture that Meyer, Julia Louis-Dreyfus's ambitious but constantly befuddled politician, might just need some new employees. "Well, if she had Stamper by her side, then the possibilities would be limitless," he said, referring to Doug Stamper, Underwood's ruthlessly loyal chief of staff.
As it turned out, Stamper himself — the actor Michael Kelly — was also in attendance at the benefit, and agreed with Willimon's assessment that his character might help Selina overcome the bumbling incompetence of her underlings on Veep. "Oh, man, [her office] would be run a lot differently, that's for sure," he said.
Even though a Cards-Veep crossover has about as much chance of happening as Kevin Spacey's Frank Underwood never again breaking the fourth-wall via side-eye, Willimon, who was being honored at the gala, would love to see what would happen in an Underwood-Meyer administration. "The shows are so vastly different, it would make for an interesting hybrid," he said. "If we could get Kevin and Julia on the screen at the same time, that would be electric."