Benji Hughes, photographed by Christopher Anderson/Magnum Photos/New York Magazine
Photo: Christopher Anderson/Magnum Photos
Musicians often boast, or complain, about the long hours they log in recording studios. But the singer-songwriter Benji Hughes has studio-rat bona fides few can match. Hughes, 38, is from Charlotte, North Carolina. These days, he spends about two thirds of the year there, and some good portion of that time he can be found in a studio run by his friend Charles Holloman, a fixture of the local music scene. Sometimes, when the muse strikes in the middle of the night, Hughes will call Holloman and rush over to get a new song in the can. When he's not in ­Charlotte, Hughes can often be found in New York, where his studio hours are ­literally 24-7. He works—and, after a fashion, bunks down—at Frisbie, a recording studio and music-production company that sprawls across two floors in a loft on a Tribeca side street. When I stopped by Frisbie to visit Hughes one evening in December, he opened the door to a closet, which held a twin-size ­mattress: the closest thing he has to a bedroom in New York. "This is one of my zones," he said.
You could call Hughes Frisbie's artist-in-residence. In practice, this means he spends his days and nights writing and recording songs—or, as the case may be, songlets. Frisbie is, among other things, a jingle house, a studio that specializes in music for television advertisements. The company is owned by a friend of Hughes's, a singer-songwriter named Mary Wood, who founded Frisbie with the goal of bringing in musicians who might not ­otherwise get into jingle work.
For Hughes, the commercials have been a godsend, a way to keep some money coming in while plugging away at his own music. He has worked on ­campaigns for Acura, Verizon, and GE. Not long ago, he helped rewrite the ­lyrics of "Ride Wit Me," the 2001 hit by the ­rapper Nelly, for a Honey Nut Cheerios spot. One of Hughes's most successful jingles was for Captain ­Morgan rum. The client had requested "an up-and-coming rapper" for the job, but the artist Frisbie hired, Mickey ­Avalon, a Los Angeles MC who likes his rhymes lewd, was unable to come up with anything suitable for the airwaves. Hughes was brought in and wound up writing both the rap and the melodic hook. Like nearly all of Hughes's work, it was catchy and funny, displaying his fluency with songform and his obvious amusement at the silliness of the ­assignment: a party-hearty anthem in the voice of Captain Morgan, the pirate on the front of the rum bottle. In the TV commercials that aired nationally, Hughes himself can be heard bellowing the jingle's catchphrase over pumped-up power chords: "Got a little Captain in you!"
Hughes has more than a little Captain in him. He is a big, round, beefy man with flyaway reddish-blond hair and an ­extravagant beard that you might deem piratical—or maybe biblical, if Gregg ­Allman is your idea of an Old Testament patriarch. Hughes stands only about five-foot-nine or so, but in person and, ­especially, onstage, he seems taller; his presence, his charisma, tricks the eye, adding inches. In concert, he wears aviator sunglasses and often performs shirtless, his ample belly leading the attack as he croons and writhes and strikes exaggerated rock-star poses—arms triumphantly thrust overhead, hair spilling everywhere. Hughes looks, in other words, like a kind of hipster Falstaff. The effect is enhanced by his dissolute ­habits—he does a lot of smoking and drinking—and by the way he speaks: in a languid Carolina drawl, in pronouncements by turns ironic and disarmingly ­earnest, in lingo sprinkled with what Hughes calls "jive." One evening in ­January, I sent Hughes a text message arranging a meeting for the next day. He responded: "Groovy. Sounds cool. I can dig it. Let's vibe it." Vibe may be Hughes's favorite word, doing triple duty as noun, verb, and spiritual ideal. It is also in the title of one his signature songs, "Vibe So Hot."
You've got a vibe so hot
You're really, really turning me on
I'm swimming in your parking lot
I'm singing in a camp on your lawn
And every day without you is just a waste of time
You're the first thing on my mind when I wake up
You're the last thing that I think of when I go to sleep
I'm throwing you my love—so pick it up
"Vibe So Hot" is one of 25 songs on A Love Extreme, Hughes's only commercially available album. A Love Extreme is one of those rare records that merit the overused designation "cult classic." It was released in 2008 by New West Records, a label that specializes in alternative-­country and rootsy singer-songwriters. New West was a weird fit for Hughes, whose music is, in the best sense, all over the place; the label didn't know what to do with A Love Extreme, and the ­confusion showed in the sales figures. According to Hughes's manager, Larry Ciancia, the album has sold just over 6,000 copies. Very few people have heard A Love Extreme, in other words, but some inordinate percentage of those who have adore it. If you go to Hughes's concerts, you may find just a couple hundred ­people in the room, but they will be singing every word to every song.
There is a lot to love in Hughes's music. It would be an overstatement to call A Love Extreme perfect, but individually each song comes awfully close. You wait, through nearly 70 minutes, for a false note, a bum lyric, a tune that sags, but Hughes sticks every landing. His baritone voice sits somewhere between a balladeer's croon and a drowsy slacker's slur. The music throws together a mix of sounds and styles: synthesizers and drum machines and acoustic guitars, '60s easy listening and '70s Laurel Canyon rock and '80s electro, blue-eyed soul and folk and power pop. The arrangements are clever and precise, with a feel for unexpected flavor combinations—a singsong pop ditty punctuated by jolts of chicken-scratch funk guitar, a dulcet ballad that erupts into florid synth-rock.
As for the lyrics: They're extraordinary. Hughes is a deft storyteller; he's also a cutup. He sings about taking hallucinogenic mushrooms at a Flaming Lips ­concert and about neighbors in a dispute over playing a stereo too loud. There are surreal songs like "The Mummy," which may be about a costume party ("When the mummy gets drunk, he unravels"), and there are lyrics so classically spare and shapely it seems improbable that Hughes isn't covering a lost 1930s torch ballad: "Love is a razor / It's cold and it's sharp / And it's cutting out your heart / The glow in the dark / And it's ­selling wine / And it's topping the charts / I don't know where I stop and it starts."
Listening to Hughes, you find yourself reaching for points of comparison: Lorenz Hart, Cole Porter, Leonard Cohen, Randy Newman, Lee Hazlewood, Harry Nilsson, Elliott Smith, Beck, Stephin Merritt, the Beastie Boys. All of these are suggestive, but none catches the particular flavor of Hughes's songs: the way they toss together zingy pop-culture references and traditionalist songcraft; their blend of hepcat shagginess and poetic precision; and especially the mix of wry and lavishly ­romantic, of tongue-in-cheek and heart-on-sleeve. You emerge from A Love Extreme with a feeling of almost déjà vu, of having experienced a slightly warped version of something very ­familiar. It's as if the Great American Songbook had been rewritten in an all-night session fueled by bong hits and Dairy Queen ­Butterfinger Blizzards.
In the six years since its release, A Love Extreme has just been sitting there—a little miracle, a curio, a one-off. But Hughes has been busy. He has three new albums in the bag and is closing in on the completion of a fourth. It's an ­embarrassment of riches, or, as Hughes might put it, a whole mess of killer jams: a body of work that confirms the wild promise of A Love Extreme and tempts a critic to haul out his heftiest superlatives. This is a man who has no record label and no publicist; his most widely heard composition might be a jingle called "Set the Table," the soundtrack to a 30-second TV ad for "Olive Garden's new stuffed rigatoni." But is Benji Hughes the great pop troubadour of his generation?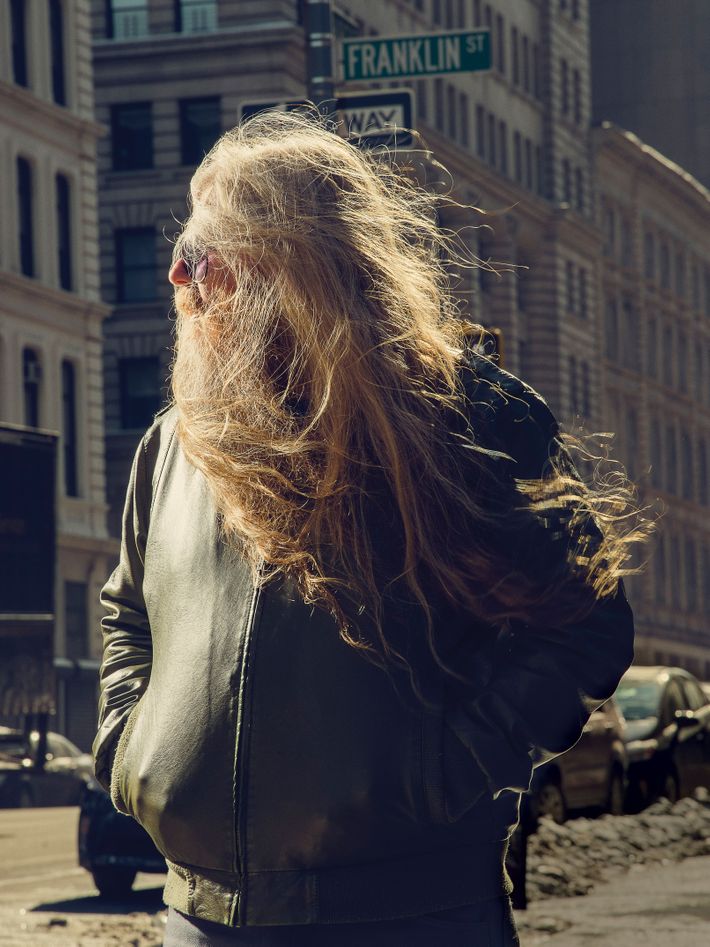 Hughes was in New York, at Frisbie, when Hurricane Sandy struck on ­October 29, 2012. He rode out the storm in the studio, and stayed there, alone, for several days, when lower Manhattan was without power. Mary Wood invited Hughes to come stay with her family in Brooklyn, but he declined.
"Mary was really sweet," Hughes said. "She brought over food and batteries and candles. It was all blacked out. Thank goodness, they had just thrown a killer party and there were, like, bottles of Jameson and wine. I'll admit: I did not run out of booze."
He said: "I was worried that people were going to try to rob the studio. It's silly, in retrospect, because it was ­amazing how New York handled Sandy. But I had everything zombie-proofed. Did I tell you how I was going to defend the castle? This shouldn't be off-the-record, because I think that this defense method might be important to share with people. I had a bullhorn and a fire extinguisher. I mean, imagine: It's pitch-black. If you try to break in, you get the bullhorn and the fire extinguisher at the same time. I had hockey sticks; I had things stashed. And then there were the knives, two big ones." Hughes ­demonstrated a kind of pirouetting kung fu stabbing technique. "That's me going past you and making sure that you don't ­follow along, as I travel to my next destination."
When Hughes wasn't securing Fort Frisbie, he was writing music. For a ­couple of years, he had been thinking about recording an album for his young daughter, who lives with her mother in Charlotte. In the days after Sandy, he found himself waking up early, the songs flowing out. (Hughes, who plays several instruments, usually writes on piano or guitar.) By the time power was restored and Wood returned to Frisbie, Hughes had most of the record written.
The result is unlike any children's music you've heard. It's a sprawling song-suite about an "Evil Space Queen" who "keeps the Space Princess locked away with her companion robots, Coco and Squeak." That's the frame narrative, at least. There are shifting narrators and a string of stories-within-stories. We meet a parrot named Me (because " 'Me' was all the parrot would say"); we're introduced to "the Space People," who grill hot dogs in the sun and "are responsible for ­chocolate cake / And everything great." There's a tragic love story and a time machine. It builds, as children's stories often do, to a lesson: "I promise something's gonna put a stamp on your heart / Just do what you love." The music holds Hughes's usual woolly stylistic mix, foregrounding blipping synths, robotic voices chanting, "I am from the future," and other vaguely psychedelic sounds. It's probably Hughes's most personal ­creation, a father's love letter to his daughter. It may also be his most broadly appealing: a weird, witty enchantment, like The Phantom Tollbooth or the best Pixar movies.
It's just one of the new records cluttering Hughes's vault. Back in 2009, Hughes began recording an album in Los Angeles, where he lived on and off for several years. Sonically, the record is in the vein of Hughes's debut; Hughes and his circle refer to it as "Love Extreme 2" or "Love Extreme Jr." A couple of years ago, Hughes brought the recordings from the L.A. sessions to Frisbie for some polishing; meanwhile, he wrote and recorded another album, a collection of ballads that he has nicknamed the "Slow Jams" record.
All of the music sounds great, but Hughes isn't ready to let it out into the world. He's a tinkerer. "Benji won't stop working on a piece of music until he feels like it's perfect," Wood says. "It needs to sound exactly the way he heard it in his mind. He's amazingly good at staying detached. Musicians have a tendency to fall in love with what they've done—how cool that one little riff is, how great that one vocal is. But that's never enough for Benji."
In any case, the songs keep coming. A few months ago, Ciancia called Hughes to check on the progress of his three albums. Hughes had a surprise: "Uh, I'm actually doing this new record." The work-in-progress, currently nine tracks and counting, is a kind of "Love Extreme 3," with several songs that lean in the direction of soul and funk.
"There are times where I'm just open to receive songs," Hughes said. "I sit down, and a jam will just come out, all at once. It's like: Song. Done. I can't really explain it. This isn't the best way of ­putting it, but sometimes I feel like I'm a magnifying glass for vibes."
For Hughes, the vibe-magnification began early. He spent his childhood ­shuttling between his mother's place, in Charlotte, and his father's, in rural ­Tennessee. (Hughes alludes vaguely to having had a difficult childhood, but he refuses to talk about his family in ­interviews.) He remembers hearing George Jones's majestic country weeper "He Stopped Loving Her Today" when he was 6 years old: "It was on the car radio. Back roads. Dark. The song ripped me up. There's so much in there to get you." Not long after, he told his mother that he'd written a song.
"I was like: 'To every season / Turn, turn, turn.' I mean, I'd plagiarized the Bible and the Byrds. It was a double ­plagiarism," Hughes said.
Eventually he learned to play guitar. He kept writing, drawing inspiration from all kinds of music, including Top 40.
Hughes said, "It wasn't that long ago when the radio had Bruce Springsteen, Madonna, Michael Jackson, Prince, Dire Straits, Boy George, Wham!, the Thompson Twins, the Human League. Smokey Robinson was still on there. And Stevie Wonder! All of these people were on at the same fucking time. It was like baseball before steroids."
Steroids, figuratively speaking, are anathema to Hughes. He abhors what he sees as the phony, plus-size ­emotionalism of some current pop. "When people try to be emotionally open, they're like: 'I'm scared! I'm lonely!' They say it real loud, but they don't show it, and you can't feel it."
Ask Hughes about songs he admires and he will point in some unexpected directions. He told me he had been ­listening to "Same Old Lang Syne," Dan Fogelberg's simpering 1980 folk-rock ballad about a reunion of old lovers in a supermarket, a song frequently found on rock critics' All-Time Worst Songs lists. But Hughes hears something different.
"There's some deep cheese going on there, for sure," Hughes said. "It's got that sax at the end. There's some funny shit, too: 'I stole behind her in the ­frozen foods /And I touched her on the sleeve.' It sounds like he's stalking her in the grocery store. But that song kicks the shit out of just about any other song that's out right now, because he opens his heart and he says ­something. He's not scared to do it. And it's touching—the song has some power. As opposed to what I think is far too ­common these days, which is that everyone is too damn cool to really put themselves out there and be vulnerable."
Vulnerability is a Hughes hallmark. Onstage and in the studio, he's been known to weep when singing. "It's easy for me to cry," he said. "I'm just ­emotionally tuned in to stuff. It probably helps with my songwriting."
Hughes does know how to write a tear-jerker. Romance is the perennial pop-song topic, but few songwriters have Hughes's knack for the old-fashioned love song—for conjuring a mood of ­melancholy longing, for leavening the hopelessly romantic with a dash of droll. The centerpiece of A Love Extreme is "All You've Got to Do Is Fall in Love," a ballad that unfurls over loping acoustic guitar and a bass that's boosted high in the mix. Hughes sings in a nearly vibrato-less croon, sounding a bit like Chet Baker. The tune and lyrics feel familiar, inevitable; it's a song that seems less like it was written than unearthed—dug up on some shadowy side street off Tin Pan Alley.
Wouldn't it be sweet
If you could be in love with me
The way that I'm in love with you?
It's so easy to do
All you've got to do is fall in love
All you've got to do is fall in love
All you've got to do is fall in love with me

And every day you don't gets wasted
And every night alone's your fault
The sweetest lips I've ever tasted
The only lips I'll ever want
If you search YouTube for "All You've Got to Do Is Fall in Love," you may find a version by, of all people, Jennifer ­Lawrence. It's a short promotional video for the 2012 thriller House at the End of the Street, which captures the movie star singing Hughes's song while strumming a guitar. Lawrence is lip-­syncing in the video—but she did in fact record the song, in a studio session with Hughes, whom she declared an "absolute genius."
To dig into Hughes's CV is to behold all sorts of oddities. There was a brief stint, in the mid-1990s, as a Sire Records recording artist, while a member of Muscadine, a grunge quartet that Hughes co-founded with a friend from Charlotte, the singer-songwriter Jonathan Wilson. The Hughes apocrypha includes an album of piano ballads, recorded in 2003 with the Grammy-winning producer Bill Bottrell, who has worked with Michael Jackson and Sheryl Crow. (New West apparently rejected the record on the grounds that it wasn't commercial enough, but has retained the rights to the music, holding it in a kind of limbo.) Scan the list of artists who've recorded Hughes's songs and more eyebrow-­raisers await: smooth-jazz star Chris Botti, bassist and songwriter Meshell Ndegeocello, shock-rock warhorse Alice Cooper. On Rkives, the 2013 album by indie-pop darlings Rilo Kiley, Hughes can be heard duetting with the band's front woman, Jenny Lewis. You can also hear him growling a ridiculous chorus ("Miami nights / Don't lose your cool / Miami nights / Get in the pool") alongside pop star Ke$ha and rapper Dirt Nasty on Dirt Nasty's Nasty As I Wanna Be (2010), which topped Billboard's Comedy Albums chart. "Benji's reach never ceases to amaze me," says Ciancia. "He'll pop up in the weirdest places."
He may have as many famous admirers as civilian ones. A few weeks ago, a call from an "unknown number" appeared on my phone, and I let it go to voice-mail. When I played back the message, I heard a familiar voice. "Hi, this is Jeff Bridges. I heard you were writing an article about Benji Hughes. A few years ago, I ran into my buddy Jackson Browne at a party, and the first thing he said to me is, 'Have you heard Benji Hughes?' … I invited him to record with me, on the album that I made with T Bone Burnett. I consider Benji an immense talent and a dear friend. I'm shocked that he isn't more well known."
It does seem shocking, sometimes, how capriciously the music industry metes out its rewards, leaving a talent like Hughes to scrape together a living. Even for those of us who don't like our heroes Byronic, Hughes can hit a nerve, sending you diving for the nearest ­beautiful-loser cliché.
Certainly, Hughes is an underdog you can't help but root for. His art is a ­product of monomaniacal focus and deep eccentricity, but those same qualities get in his way. Hughes and his camp grumble that New West buried A Love Extreme, but Hughes is not an easy act to promote; he has little aptitude for, and less interest in, the kind of schmoozing and scheming it can take to break through in the fragmented, ferociously competitive 21st-century music business. He's blessed with a close circle of friends and believers, who lavish him with studio time. Hughes is humble and gracious; he'll bend your ear for an hour, pouring out gratitude for benefactors like Wood and Holloman. He's also a proud man who betrays no self-pity.
"I work hard, whether it comes to ­writing for my own project or another artist," he told me. "I get an occasional jingle. I get a little bit of money from ASCAP. I get by."
One of Hughes's prettiest new songs is called, appropriately enough, "Long Shot." Like most of his material, it's a love song, but the ­chorus touches a philosophical note, and could stand as an anthem for Hughes as he approaches a career crossroads. "I don't know what's coming, coming, ­coming," he sings over tolling piano chords. "But I'm counting on a long shot."
In certain settings, the odds tip in Hughes's favor. On a Friday night a couple of weeks ago, he played a show at Joe's Pub in Manhattan. Hughes was in high spirits, if a little taken aback by the plush supper-club surroundings. "When they told me 'Joe's Pub,' I wasn't expecting such a classy place," he told the crowd. "I don't know—I guess I'm out of the loop." Hughes was backed by a tight four-piece band and two singers, including Mary Wood. He spent half the show in the audience, singing while strolling the aisles. At one point, he slid into a banquette next to a young woman; while he sang, the woman stroked his hair. The crowd was more subdued than those that greet Hughes when he plays dive bars, but they knew his catalogue inside out, even singing along with songs that have appeared only on YouTube, like the uproarious "I Hate When Pretty Ladies Die": "When Princess Diana died / You know it really tore me up inside / And when I heard the driver survived / That wasn't who I wanted alive." Before launching into "All You've Got to Do Is Fall in Love," Hughes called attention to a couple in the audience who were celebrating their fifth wedding anniversary. "I'd like to dedicate this song to a vibe," Hughes said. "You know, love."