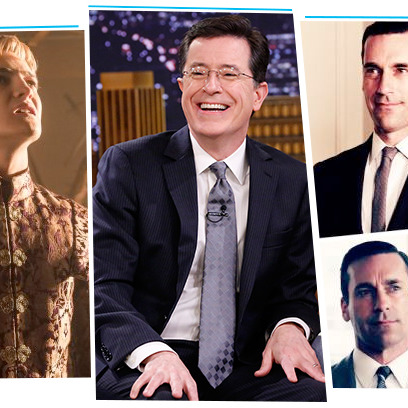 Every week, Vulture faces the big, important questions in entertainment and comes to some creative conclusions. This week, we discussed Stephen Colbert's ascension into prime-time late night, endlessly dissected the Game of Thrones premiere, and read Rob Lowe's second memoir. You may have read some of these stories below, but you certainly didn't read them all. We forgive you.
Q: Who's replacing David Letterman on Late Night?
A: Well, astute Vulture reader, all the wild speculation is now over, since CBS has anointed Stephen Colbert as David Letterman's successor, signing him to a five-year contract. Yes, folks, this means no more Colbert Report. Jesse David Fox is already mourning the loss of one of television's best characters. Undoubtedly this raises other questions, like who the heck is going to replace Stephen Colbert?
Q: How do you think he'll do if he's not "Stephen Colbert"?
A: Well, we've gotten some great glimpses of Colbert out of character. Plus, we know that he can sing. Oh, and his old boss Jon Stewart is totally behind him, saying, "He's got gears he hasn't even shown people yet."
Q: How was the Game of Thrones season premiere?
A: The premiere was the biggest yet for the show — seen by 6.6 million viewers at 9 p.m. And that's not including those who failed to watch it on HBO Go. Our recapper Nina Shen Rastogi noted that last season's brutal finale "reset the stage" for the new one. Then we recapped the recaps, and recapped the best of your comments, too. We also spoke with Pedro Pascal, who plays Oberyn Martell, about becoming boy candy, and asked the cast if they would attend a wedding in Westeros.
Q: When does Mad Men return?
A: Your favorite Madison Avenue men and women return on April 13 for season seven. We know you don't have time to watch it in its entirety, but these are six episodes — one from each season — you can watch to get you back in the swing of things.
Q: But I've forgotten everything that happened last season. Can you help?
A: Obviously we can! Margaret Lyons has your season-six catch-up right here.
Q: What else should I be catching up on?
A: The critically acclaimed Orphan Black returns for its second season. And if you haven't watched the show yet, fear not! Amanda Dobbins will keep you company as you barrel through the inaugural ten episodes. Also, there is Silicon Valley, where you can watch the fantastic Christopher Evan Welch in his last role.
Q: Did Rob Lowe write a book?
A: He did! Although if you're looking for weird, kinky sex stories, there aren't any here. His second memoir, entitled Love Life, provides the reflections of a family man (mostly).
Q: What are the best Hold Steady songs?
A: Well, who better to ask than the Hold Steady themselves? We had lead singer Craig Finn and guitarist Tad Kubler pick their favorite tracks from each album.
Q: Any other music news?
A: Chances are you don't know who songwriter Benji Hughes is , but you totally should.

Q: Is Tilda Swinton an alien?
A: Maybe.