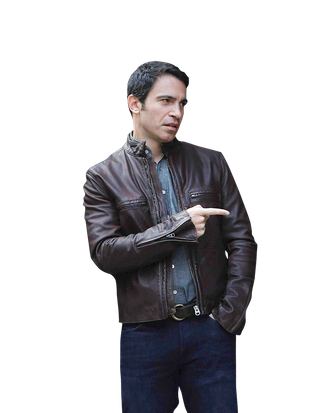 Chris Messina.
Photo: Jordin Althaus/Fox
It's official, Mindy Project fans: If reading Bridget Jones's Diary to your lady in a British accent isn't love, we don't know what is. Whether or not Danny and Mindy will stand the test of time, they've already given us that moment. And some illicit church smooches. And one terrible attempt at sex on a plane. Mindy Kaling told Vulture last week that it was "beautiful pony" Chris Messina's affectionate take on Danny that encouraged her to pair up their characters. "When we're crossing the street, for example, it's never scripted that he puts his hand on the small of my back," said Kaling. "That's all Chris, and he does that because he thinks Danny would. Between those kind of gestures and the dance and the way he's always there for Mindy, it's just clear that this is something more than a friendship." Vulture rang up Messina to discuss the conscious coupling of Mindy and Danny, the bizarre ending of last season's The Newsroom, and his directorial debut, Alex of Venice, which makes its debut at the Tribeca Film Festival on April 18.
How long have you known Danny and Mindy were going to get together? Or at least aggressively make out?
I guess as the season was progressing, I started getting wind of where it was going. That they were going to start to act out what they were feeling. Or at least Danny was.
When the show began, I wouldn't have predicted that Danny would fall for her as hard as he has.
I think he's liked her for a long time and was kind of denying it. He went through a terrible divorce,so he was stifling any signs of feeling for a woman. But I think he sees in Mindy a beautiful, smart, talented doctor who is super funny. She's a pain in his ass, but in a good way.
Mindy has gone back and forth over whether or not to put your characters together, but she told me you've always played Danny as protective and affectionate, and it was only natural to want to see what would happen if he made a move.
Yeah, I think when he's sparring with her, it's out of love. It's his way. He just had never been able to admit it to himself.
And then he did, and we got Danny dancing to Aaliyah!
I immediately felt nervous and insecure about that, and like, Oh, shit, why did I ever tell them I can dance? We've seen a lot of romantic gestures on film and television before, and I thought this was pretty original. I got over the fact that I'd have to do it because it was so fresh. I think Mindy will write one of the great romantic comedies one day, like the way Nora Ephron did When Harry Met Sally.
Do you think Danny and Mindy are built to last?
Well, what relationship is? I guess this is a question of what makes a better television show. I guess I can say if our characters get together and people don't like that, I don't think they'll last. But if people like it, you'll see a lot of it, and personally, I think there's a whole Ricky Ricardo–Lucille Ball television show Danny and Mindy could do. I love my scenes with Mindy, so it would suck if no one liked us together and we'd have to break up.
Mindy told me you did your "bad British accent" because Danny wouldn't do a great one.
Well, she's being nice [laughs]. It's just that my regular British accent is pretty bad. I might have turned it up a notch to make it worse, but that's my everyday, trying-hard-to-be-British accent.
Well, either way, the reading glasses make the scene. They make every scene they're in.
I love them. Our writers Ike Barinholtz [who also plays Morgan] and David Stassen put it in that first time. It was in a description that Danny was reading something and he had these red reading glasses, the kind that pull apart in the middle. That's an example of two great writers giving your character a gift.
I was so happy to see how poorly the airplane-sex scene went because — and maybe it's just me — I don't understand how airplane sex is even possible.
Was it funny? I haven't seen the episode yet.
It was so funny. And gross. Her hair in the toilet was a lot, but Mindy really goes for it.
She's really, really good with physical comedy. She's very inventive, and she's not afraid to make herself look like a fool or a clown. I'm not sure how they cut it, but I remember in the writing it goes from a sexy moment to just disgusting.
Exactly. And whenever I see airplane sex in movies, my only thought is how gross and impossible it would be.
It's so gross. And [airplane bathrooms are] so small. I've never done it, but it seems like it would be very uncomfortable.
Are you going back for the final season of The Newsroom?
Yeah, I'm going back for a bit. They start up next week. I don't really know what they have in mind for my character yet, but I know it will be six or eight episodes.
Were you surprised to hear it will be the third and final season?
I don't know. I actually think [short seasons] will be something we see a lot more of, like True Detective. There's so much great television and I'm so behind, it's kind of nice to not to be overwhelmed with the idea of season after season of something. I can enjoy a show and move on. We do 22 episodes on Mindy, and it's a lot on everybody. Three seasons, I thought, sounded nice and human.
I wasn't sure if The Newsroom would be coming back at all after last season's finale, because there were a lot of happy endings. So many of the conflicts were resolved.
Yeah, it's true.
Even your character Reese had a change of heart. He wanted everyone to keep their jobs after the whole Genoa disaster. That really surprised me, actually. What did you think of that?
I thought it was … an interesting twist. You know, with television shows, they take on a life of their own. You can tell an actor, this is what your character is and does, but it changes. You have to be open to change and surprises. When I did six episodes of Six Feet Under, I remember I was nervous and I hadn't done a lot, so I was asking, "What happens? What happens with my character?" And I remember Alan Ball saying to me, "You know, like in life, these characters don't know what's going to happen to them." That relaxed me. Now I know you have to go with it. If you don't, you're going to be frustrated.
Tell me about the movie you directed, Alex of Venice, which is premiering later this month.
Mary Elizabeth Winstead and I play a couple who are married and have a 10-year-old son, and my character has a change of heart about staying with her and staying in the house. She's kind of left to pick up the pieces with the son and her job and her father, played by Don Johnson. It's like a small, slice-of-life film. It's about family, and everyone in the family is changing — some have change thrust upon them, some are choosing to change. It just felt very human and real to me. There are no bombs or explosions. It's the type of writing that made me want to be an actor in the first place.
Don Johnson was fantastic in two of my recent favorites, Eastbound and Down and Django Unchained.
He's amazing in everything he does, and I've never seen him quite like this before. He plays an aging soap star who's out of work and lives in Venice. He smokes a lot of pot, causes some trouble, and is also very loving and vulnerable. I promise that he's incredible in it.