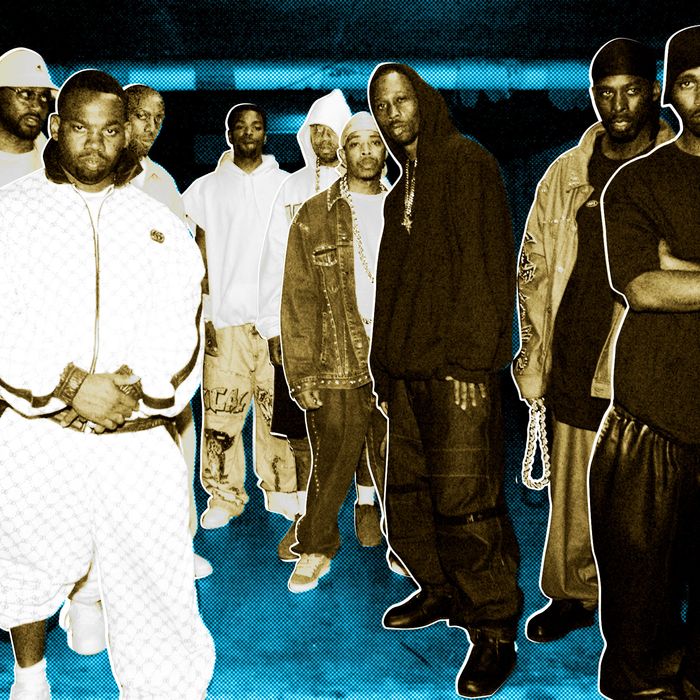 Wu Tang Clan at the filming of their new video in Los Angeles, Ca. 9/18/00.Wu Tang Clan at the filming of their new video in Los Angeles, Ca. 9/18/00. Photo by Kevin Winter/ImageDirect.
Photo: Kevin Winter/Getty Images
Just as a house divided against itself cannot stand, a Wu-Tang Clan apparently cannot stand each other. Last week, RZA revealed that he and Raekwon hadn't been speaking and that Raekwon wouldn't be on their upcoming album, A Better Tomorrow. Rae — offended, because he thought the two had been in communication — announced that he was "on strike." On Monday, RZA tried to make the peace, saying, "When you form Voltron, you need every piece. We need [Raekwon] there. I want him there. I ask him over and over to be there. Let's just come together." And now, in an interview with SI Now, he says the following: "The album is slated to come out in July. If we don't come to terms within the next 30 days, it will either be an album without Raekwon, or an album that never sees the light of day … I would not want to put out a Wu-Tang album without every live member available." And on and on it will likely go. But these are just the latest crumbles in the Temple of Shaolin. There have been cracks in the foundation since, well, the foundation.
1990s: At first, Wu-Tang's internal tension was channeled productively. RZA — the group's de facto producer and trusted visionary — pits members against one another as they battle to get on his beats, in the hopes of winning "the right to appear on each song."
June 1997: In a Q&A for Rolling Stone, RZA says, "If two parties are disputing [in a Shaolin temple], they would go to the abbot to get a third party's thoughts. So I'm the abbot." Wu-Tang Forever debuts at No. 1 on the Billboard chart, selling 612,000 in the first week. All is well in Wu world.
July 1997: Rolling Stone's Anthony DeCurtis writes up a cover story, finding that "each member contributes 20 percent of his earnings back to that company, and all of the members share equally in the profits, regardless of how well their individual albums sold, or whether or not they even made an album." While that might sound pretty good, DeCurtis thinks it's "a blueprint for jealousy and competition — and it may eventually prove to be" their downfall.
July 1997: The group announces a two-month tour with Rage Against the Machine.
September 1997: "It is my understanding, through the twisted labyrinth that is the communication system of the Wu-Tang Clan, that they're not playing any more shows on the tour in part because of difficulties they're having within their own group," says Rage guitarist Tom Morello. Soon after, RZA tells MTV that most of the group wasn't showing up to tour dates by that point, anyway.
1999: Under the title "Wu-Tang Forever?" U-God says he's tried to talk to ODB about his … problems, but that "he's his own man." When told that Method Man "didn't know a Wu-Tang video game was out until someone asked him about it," U-God responds "angrily." (Says U-God: "He's on the road, so nobody should ask him that shit. He's always on the fucking road, so he doesn't know what the fuck is going on.")
November 2000: The A.V. Club reviews The W, saying it sounds like they're "struggling to make order out of chaos without being swallowed up by it."
2000: RZA calculates that each member of the group would've made $220,000 if only they'd all shown up to concert dates. (The Chicago Tribune adds, helpfully, "They did not.")
June 2001: Method Man lets loose that the Shaolin swordplay has turned inward and denies that anyone's busy at work recording their third album Iron Flag since there's "internal bullshit" and "the sales aren't what they used to be." One reason could be that studio sessions aren't as full as they once were: ODB's in jail, GZA opts to send over ProTools files from afar (no one's sure why), and Cappadonna has somehow ended up driving a taxi in Baltimore. It's rumored that the FBI has cornered him into acting as an informant; apparently, there's some connection between the Wu-Tang Clan and the Gambino family. (RZA will later say that the album was put together in 30 days. Upon its release in December, The Guardian's reviewer calls the record "sloppy and uneven." It lands at No. 32 on the Billboard "200," behind debuts from Nas, Mystikal, and Lil Bow Wow.)
June 2003: Method Man goes on Big Boy's Neighborhood radio show and lets loose: "Ain't no Wu-Tang album going down unless everybody comes together as a group and stops coming together as these solo artists. Everybody, you know, basically, suckin' they self off … you're only as good as your last hit homey. Know what I'm saying? And our last hit was 'C.R.E.A.M.' That song came out in 1993."
August 2003: MTV reports that neither Raekwon, Inspectah Deck, nor Method Man like the idea of ODB signing to Roc-a-Fella. "Inspectah Deck compares it to fighting on Iraq's side." Meth says, "Brothers ain't really been in contact with each other. Don't let none of them fool you like we talk to each other every day, 'cause we don't. Where we're at right now, a lot of people got a lot of issues they gotta deal with — personal as well as business." RZA jumps in to say, "I know some [members of the group] are upset about it. They're upset about it based on the egos."
November 2003: "Number 1 on my shit list right now is [RZA"s business partner] Divine from Wu-Tang management. He took something major from me that he had no intention of giving back," said Method Man, speaking to Blender magazine.
March 2004: U-God leaves the group, releasing an anti-RZA DVD, Rise of a Fallen Soldier. He accuses RZA of being the devil and a slavemaster, of favoring certain members' projects over his. RZA posts on the Wu-Tang website: "U-Godzilla has a distorted memory of the Wu and his involvement." U-God goes on Hot97 and tells Sway — straight up — that it's a publicity stunt … before RZA calls into the show. It's a strange conversation! U-God rejoins the group.
Summer 2004: To get ODB to leave his hotel room and perform at Hot97's Summer Jam, RZA bribes him with an extra five grand.
November 2004: Ol' Dirty Bastard misses another concert, prompting Method Man to call him out onstage: "There's no one bigger than the Clan. When you see Ol' Dirty Bastard, tell him that." The next day ODB dies at a recording studio from an accidental drug overdose.
2005: Ghostface Killah sues RZA for unpaid royalties. RZA, who also acts as the group's producer, claims his 50 percent take is standard.
August 2007: RZA: "How can hip-hop be dead if Wu-Tang is forever?"
October 15, 2007: Ghostface tells MTV: "the hierarchy at Wu-Tang Clan is on some bullshit" and complains that the group is trying to release 8 Diagrams (their album) on the exact same day as The Big Dough Rehab (his album), to sabotage him. He closes by saying, "N***as better pay my fucking money. Matter of fact, they can keep the money — just get me out of their life right now."
October 22, 2007: "While the Wu-Tang Clan's tour has been cancelled until spring 2008 Ghostface will be performing on stages throughout the country," reads the Wu website.
November 8, 2007: Raekwon tells Hot97's Miss Info: "One minute, you my brother, one minute we doing business. … And that's the problem … A n***a may know you love them because you love them like that, and then next thing you know he uses that as a weakness against you and your mind." These are shots at RZA, in case you haven't been reading.
November 8, 2007: And so RZA responds: "I don't know if everybody agreed with [the idea behind 8 Diagrams]. Everybody has their own opinion. This is in my vision at the end of the day."

November 27, 2007: RZA yells at U.K. radio DJ Tim Westwood: "I ain't never take no money from nobody, and I don't owe nobody no money! Don't never say that. I pay all my bills. I work hard and pay all my bills."
November 29, 2007: Bing bong, case closed! Ghostface wins $158,000, saying, "I just won my court case from them n***as. The suit been in there for three years. So put that out there. They just lost their fuckin' case. So who don't owe who money? Let's get it straight, RZA. That's all I'm sayin', baby. It was a loss, they lost. L-O-S-T. That's really it."
November 29, 2007: Ghostface is on a press run, getting a lot of questions about 8 Diagrams: "That shit is wack. I heard RZA was changing some of the beats around the last minute. I didn't hear that. I don't know what y'all listening to out there. I never heard it. I'm with Raekwon."
November 29, 2007: More from Ghostface: "I don't see RZA, man. That n***a's real sneaky. I love him, though. Ain't no bad blood. Ain't nobody doing no bad to him. It's just that you can't get money with a n***a."
November 30, 2007: Ghostface to Rap Basement: "I've had that date since like last June and the Clan album was supposed to been came out. It was supposed to drop in August, then October and I guess it wasn't making the deadlines or whatever. Rza and Divine didn't want me to drop this year. They wanted it to be all about the Wu and it seemed like a lot of funny sh*t was going on. Rza ain't listening. He wanted to make [8 Diagrams] how he wanted it and it ain't come out right. He wanna always do the whole thing himself, produce the whole album. We're like, let's bring in some other producers too. Bring in Kanye, bring in Pharrell. You ain't gotta do the whole thing yourself. He wanna make his own instruments and shit and it sounded real horrible."
December 3, 2007: RZA tells MTV that U-God is blown away by everything RZA's making, that he believes they're on the right track. As for everyone complaining, "Wow, I thought we were all on the same page." In the same interview, RZA says, "When we do come together, a lot of things just seem to evaporate. When we get on the stage together, we can have a problem 10 minutes before we get onstage. But once we're onstage, we feel like everything evaporates."
December 10, 2007: Raekwon says that he's supporting the release of 8 Diagrams, after supposedly getting in RZA's face and telling him, "This is a Wu-Tang Clan album. This ain't RZA's album." Rae says that he's working on a new album — to be called The Wu Tang vs. The Shaolin — and that everyone but RZA will be on it.

December 17, 2007: "We're not so much talking to each other. "We have lawyers speaking to lawyers now," says Cappadonna.
April 2008: Wu-Tang reunites onstage for the first time in a year! RZA's publicist makes a big deal out of saying, "There is no more beef!" to a writer from HipHopDX.
January 2008: U-God sues RZA and management for unpaid royalties, a move Raekwon supports, wholeheartedly: "It's business man. Don't take friendship and humbleness outta pocket because we doin' business."
January 14, 2008: Method Man: "They said U-God is suing Wu for 170k … that's it?"
July 2008: RZA responds: "They sayin' U-God suing the RZA for a hundred and seventy thousand dollars. You know what? I could never owe you a hundred and seventy thousand dollars. But even if I did owe you a hundred and seventy thousand dollars, U-God, after all these years of millions you made, motherfucka, you gonna come back and bitch about a hundred and seventy thousand dollars?"
January 2009: "I stopped doing business with Raekwon," RZA tells MTV. "I said, 'We can be brothers, but we can't do business,' because he was doubting my business judgment. You doing business, you gotta have that faith. It takes faith to do that business. Me and Ghost is family, so I don't like to speak on that situation, but he has people around him that's deluded. They make him believe something that's not real. I said this to Ghostface last week on the bus and said to U-God, 'If you try to sue me for $100,000 … I don't owe you shit.' Why would you say something like that? You let your lawyer gas you. I said to Ghost, 'How the fuck I owe you $2 million, God?' Shit is crazy, G. All that shit is really delusion."
October 2009: CNN has RZA admit that he ran Wu-Tang like a dictatorship for the first five years, a move he doesn't regret.
October 2009: "I have a legal contract with Wu-Tang Productions, matter of fact all of us do. We all signed that. We signed that years ago … Ghost made a deal with someone who thought they should get more from him than what they've got," RZA said, speaking to Vulture.
February 2011: Raekwon does his best to explain the Wu-Tang vs. Shaolin title, which he now claims isn't a knock against RZA. It's just the "strong fighting the motherfuckin' ego." So, in other words, it's sort of a knock against RZA.
July 2011: RZA appeals following his legal loss to Ghostface in 2009. In July of 2011, Judge Kapnick says, "This is one of the most bizarre procedural things I've ever seen," and refuses to see the case.
February 2012: Raekwon tells XXL: "I feel like us doing solo things hurt us. I never told nobody that. Because when you have something so pure and so solid together, it could've been structured more togetherly. It could've been more stronger if we knew we had to stay together like that. But when we allow each other to do us, some did better than others … it jumped into some ego shit. If we would've stayed together, we would've had 30 albums by now."
October 9, 2012: RZA is on with "The Breakfast Club" morning show, where he reveals that "everyone's on board" for the planned 20th anniversary: world tour, a record, everything. When asked about Wu-Tang's money problems, he responds, "Money's always funny" and then calmly explains why he's getting more money than everyone else. (Short answer: He works harder.)

October 17, 2012: RZA tells the New York Times that it's hard to be in charge: "[Laughs] It's like, 'What makes you think you're the genius?' Before, they believed in me like that, they trusted me like that. Now, they've had a chance to do their own thing, and some things they liked better. Whether it was successful or not, they may like it better. But I would say, if we get one more shot of me being completely trusted as the driver of the ship, I think we could give the world one more record, maybe."
November 2012: RZA thinks that dealing with Wu-Tang members over the years helped him diffuse problems on the set of The Man With the Iron Fists, his feature film directorial debut. "Me and Meth always used to argue. It's natural. When steel rubs against steel, it makes both blades sharper. Raekwon and Ghostface started off as enemies in the neighborhood. They grew to be best friends after joining the Wu-Tang." Not mentioned: how Rae and Ghost became so close only after finding a common enemy in RZA.
January 2013: Raekwon says that when Wu-Tang formed twenty years prior, the group was built on shaky relationships and mistrust, and only came together because of RZA's diplomacy. At that time, Rae thought Ghostface was a "crook," though "talented." As he says, "When RZA was the middle guy, it was almost like he did a Gotti move, he brought all the families to the table, and made niggas make amends, due to the fact of how we gon' move forward and get this money."
March 2013: "I already spoke to the RZA," Cappadonna told Radio.com. "We've been texting each other. We're definitely concentrating on more positivity and teachings and trying to put that back into the original recipe for this next Wu-Tang album."
July 2013: Cappadonna performs a freestyle for ForbezDVD where he complains about getting paid neither money nor attention.
August 2013: GZA's record label sues U-God's promo team, saying that GZA's song shouldn't have been used the way it was.
September 2013: Method Man walks offstage at a Rock the Bells show after sound problems. Neither Ghostface nor Raekwon even show up, though ODB does — in hologram form.
November 8, 2013: RZA does an interview with Grantland, where he calls out Raekwon, Ghostface, Method Man, and GZA for a lack of effort. "Raekwon hasn't shown up at all."
November 9, 2013: Raekwon responds on Twitter: "Yea i just read that rza article? Shit is funny to me." (He'll add: "I love u rza, u know what it really is.")
November 12, 2013: The group's official Twitter account blames Raekwon for the delay of their new album, A Better Tomorrow: "RAEKWON NOT GIVING INPUT HOLDS UP WUTANG CLAN 20TH ANNIVERSARY ALBUM AND MOVEMENT." RZA goes on Arsenio, repeating his claims that Ghostface's been giving 20 percent, Raekwon, none at all.
March 2014: In a sprawling article in which Grantland somehow catches up with all nine living members of the Wu, Cappadonna says the Wu-Tang legacy is "togetherness!" In the same article, it's revealed that the group is more fractured than ever. Raekwon says, "It's like getting the United Nations to all agree on one fucking thing." U-God complains, "Raekwon is tired of hanging around me"; Ghostface has been rebuffing his offer for a full-album team-up, called Goldie and Ghost, for years. Me and RZA "go through it" but "I love this n—. He saved my fuckin' life. He gave me a purpose. Nobody better be disrespecting him in front of me."
April 15, 2014: To absolutely no one's surprise, RZA and Raekwon are still having problems. The bandleader says to VladTV, "I haven't had a chance to really talk to him about why [he's not involved with the album]. But I would say that maybe creatively we on different paths." The headline? "RZA Talks Raekwon Not Being On A Better Tomorrow."
April 2014: Raekwon is on the phone with Rolling Stone, where he says he's "on strike." He hates the single they put out. He doesn't like the production. He doesn't like the contracts. He doesn't like that RZA has decided this is the last Wu-Tang album. He closes out by saying, "It's sad. It hurts. It's all about the fans. It's all about them saying, 'This is my favorite fuckin' hip-hop group in the world.' I have a job to do for them. And I would never let my fans down and make something I feel is mediocre just to say I made it. That's not Raekwon."
April 21, 2014: Responding to the Rolling Stone piece, RZA appears on Hot 97′s "Morning Show" and says: "There's no animosity with me and my brothers. My issue is with fuckin' management. … Raekwon is very important. When you form Voltron, you need every piece. I want him there and we need him there." He urges the rest of Wu-Tang to not pay attention to the media interviews and communicate directly with each other.