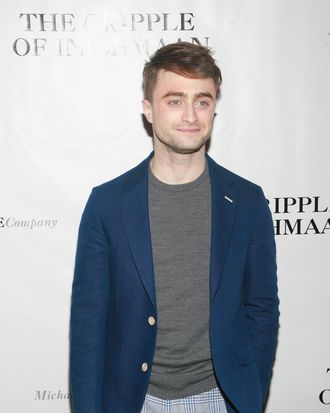 Daniel Radcliffe at the opening night of The Cripple of Inishmaan
Photo: Sylvain Gaboury/Patrick McMullan
Daniel Radcliffe has a test he applies to post-Potter career decisions these days: As he told Vulture this week, after the opening of his new Broadway play The Cripple of Inishmaan, he often asks himself, "What would Fassbender do?" Laughed Radcliffe, "I should just get a little bracelet made with that on it. Michael Fassbender is one of a group of actors that I really, really admire, and I think everything he does in his career is brilliant."
The WWFD concept occurred to Radcliffe while he was shooting the 2012 film The Woman in Black with director James Watkins. "We were offered an advertising tie-in, from a very classy company," he said. "And we were like, 'Well, this is a gothic horror film. Is that the way we want to represent ourselves?'" And since Watkins had worked with Fassbender on a previous film, Eden Lake, Radcliffe asked him, "Would Fassbender do something like this?" And Watkins said, "Nope."
 
Something Fassbender would probably approve of is the way Radcliffe physically throws himself into his Inishmaan performance. Playing a character called "Cripple Billy," he has to constrict one side of his body into a state of near-paralysis, with one arm curled against his chest and one leg straight and unbending. It looks like a painful thing to be doing for the duration of a play (especially during one climbing scene), but Radcliffe is clearly a trouper. "It's hard at first," he said. "But when you've done it in rehearsal for a few weeks, it becomes quite built into your body."
 
Martin McDonagh's play doesn't specify what type of disability Billy has to live with, but from a few clues in the script, Radcliffe and his acting and vocal coach Barbara Houseman decided that "it could be a specific type of cerebral palsy called hemiplegia," he said. From there, Houseman introduced Radcliffe to another vocal coach, Janis Price, who has a "very, very mild form" of the condition. "It became a process of wanting to understand the physical mechanics," he said. "But more than that, to understand the mind-set of what it is to live like that."
 
Radcliffe also consulted several other people with various disabilities to learn what they had in common— which turned out to be "a frustration at the disconnect between how you're perceived, and how you know yourself to be." A valuable insight, since Billy, Radcliffe said, is "the most intelligent person in the play, and the most emotionally mature character in the play. And yet he's kind of dismissed by everybody because of how he appears on the outside." WWFD? Probably give Radcliffe a Tony vote.