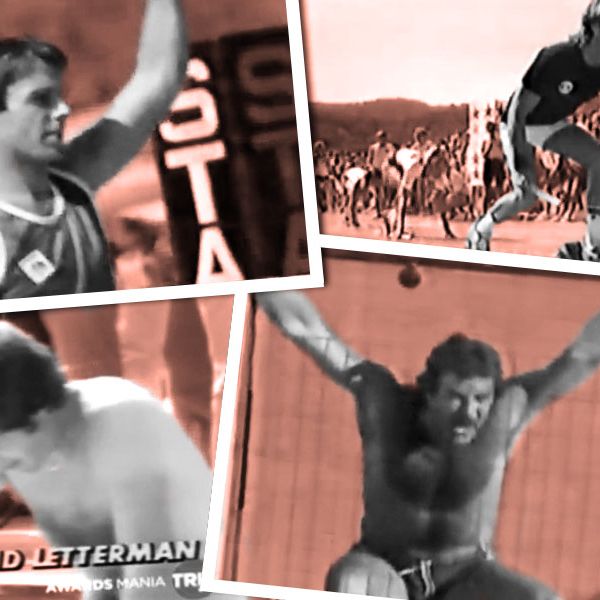 We are coming up on another Coachella weekend and, even though I'm not going, my ringing ears need a break. So for this week's installment of Somewhere in Time, we're going to take a little day trip in my Delorean GIF in the opposite direction. If you were alive in the 1970s and 1980s, and if you were raised by a television set as I was, you have fond memories of the biannual TV extravaganza event Battle of the Network Stars, in which your favorite personalities from ABC, CBS, and NBC would show off their athleticism (by which I mean their thighs and chests). It was an all-out war for bragging rights (and actual money — each player for the winning team would win $20,000 for themselves and not for charity), and I don't think there's anything I miss more. So guess what: On Monday nights, ESPN Classic shows four back-to-back reruns of '70s and '80s Battles of the Network Stars, and I can tell you with confidence that it's worth changing your cable tier for, because that's exactly what I did. Come with me as I count down the 12 best reasons why vintage BotNS is the binge-watch-worthiest show on television.
12. The dunk tank.
In the world of Battle of the Network Stars, the dunk tank is good-natured fun, a breezy way to see our favorite TV stars in swimwear. Behold as underrated Dynasty hunk John James accidentally moistens Trapper John, M.D.'s Christopher Norris, who, as it turns out, is a woman, and as such is called "Chrissy Norris" by Howard Cosell, who never met a lady whose name he couldn't turn into a diminutive. Watch future Oscar winner Helen Hunt go all college softball on Dean Butler of Little House: A New Beginning. But stay tuned for Cosell's oddly thoughtful commentary during Daniel J. Travanti's stay in the tank. Dude is hard-wired to tell the human interest stories. We will not see his kind again.
11. The dark side of the dunk tank.
Despite a deep bench of young beauties, including both significant early-'80s Heathers (Locklear and Thomas), Marc Singer (flawless in a Speedo, incidentally) selects Brenda Vaccaro, slumming at the time on short-lived prime-time soap Paper Dolls. Brenda was in her early 40s at the time, therefore invisible to Howard Cosell, who gives her this unforgettable honorific: "BRENDA VACCARO: A REMARKABLE WOMAN." After much effort and obvious panic, she takes her seat in the tank, remaining clothed head to toe, sneakers and all. "It's like Let's Make a Deal," she screams. (It is? In what way?) The spectating Network Stars (James B. Sikking! Michael J. Fox! Kim Fields!) react in exactly the way the campers do to Catskills comic Alan Shemper at the end of Wet Hot American Summer. After her inevitable dunking, she emerges from the tank flustered and short of breath, panting a simple request to the assembled crowd: "I'd like to just rest for a minute. Anybody got a martini?" Like spectators at this outdoor event would just have a martini. "Oh, sure, I'm glad you asked. I have a spare martini right here in my bag." What are you even talking about, you remarkable woman? (I give this whole sequence bonus points for using Huey Lewis and the News's "If This Is It" in the instant replay.)
Fun fact: I used to live a few doors down from Marc Singer, on one of those narrow, winding Hollywood Hills streets where the residents drive much too fast. Each morning, he and his golden retriever would go for a run, and despite the numerous sniff-worthy distractions and the oblivious drivers, he trusted the dog to stay at his side. No leash. And the dog did. Marc Singer is the actual Beastmaster, is what I'm saying.
10. 1981 Tom Selleck in a Speedo.
They don't allow chests like his on television anymore, and we're poorer for it.
9. The murderers' row that is NBC's 1984 sprint relay team.
Michael J. Fox, Kim Fields, Mark Harmon, Jane Badler, Stepfanie Kramer, Marc Singer. You gonna step to that? No, you are not. This is the Dream Team, Badler notwithstanding.
8. Howard Cosell is everything.
He is articulate, he is invested, he knows the names of even the lowest-rung star of Finder of Lost Loves and Hawaiian Heat. Howard Cosell was the rare sportscaster to imbue everything — even this — with genuine pathos. He has an enviable command of the English language, an intimate knowledge of the Kayak Relay, and he speaks in all caps: "MAUD ADAMS, POISED IN THE CENTER OF THE BOAT, WHICH GIVES HER A SPECIAL FORWARD THRUST." "GABE KAPLAN IS HAVING ALL KINDS OF TROUBLE. HE'S WEARING JIM SIKKING'S SHIRT BUT THAT'S NOT GOING TO SAVE HIM." "LOOK AT LAMAS: A BEAUTIFULLY BUILT YOUNG MAN AND A FINE ATHLETE." Today's sportscasters would make it absolutely clear that their tongues were in their cheeks, lest we doubt for a moment that they're above such shenanigans. Howard Cosell doesn't care. Give him unlimited Harvey's Bristol Cream and proximity to Erin Gray in a one-piece and he's good to go.
7. The "everything" that Howard Cosell is includes "kind of sexist."
The Mad Men era lasted a lot longer than we all remember. Cosell infantilizes, patronizes, and objectifies each young female competitor, and though I officially object, I'll be damned if it isn't charming in its way. "THE SMALLISH ONE FROM DALLAS, CHARLENE TILTON." "A PRETTY GOOD ATHLETE FROM MAKING A LIVING, ANN JILLIAN." "KIMMY FIELDS, FAR TOO BUXOM TO BE EFFECTIVE AS A SPRINTER." The last one is made up, but just barely.
Another fun fact: My father looks exactly like Howard Cosell. Throughout my youth, strangers would approach my dad and ask him for an autograph, and if they wondered why Howard Cosell and his family would be in St. Louis, Missouri, at, like, a Ground Round (or why he sounded nothing like himself), they never let on. This went on for years past Cosell's 1995 death.
6. David Letterman in the kayak relay, with his shirt off, visibly having the idea to start a talk show and subvert popular culture.
5. Oh, you'd rather see David Letterman in a sprint relay with Lou Ferrigno, Debby Boone, and Billy Crystal? I got you.
This is legitimately riveting television, from Letterman's surprising speed, to most competitors running like they're trying not to spill a bowl of hot soup, to Joseph Bottoms's victory dance, which briefly makes you wonder whether Joseph bottoms.
4. The moment when things start to get serious, which always comes, and always involves Robert Conrad.
Listen: You get a bunch of 1970s actors in one place and tell them to compete, at first they will act like it's all a lark. But eventually the heatstroke, cocaine, and hubris will combine and they will go to the dark place, the place where each one is out for him or herself, the place where they must win at any cost. This clip, from a 1976 edition of BotNS, illustrates the moment perfectly. Enjoy the casual anti-Semitism and the Carmen Sandiego–esque photographer who video-bombs at 2:14.
The video you just watched is endlessly rich and rewarding. I love that the combatants are being interviewed by a post-medals, pre–Can't Stop the Music, way pre–Kris Kardashian Bruce Jenner. I love the hardcore-porn music running under the replay. I love that Gabe Kaplan looks like a perfect blend of Richard Simmons and Leon Redbone. I love that everyone's jerseys have their first names on them, like they're Mouseketeers. I love how Robert Conrad finds a way to be self-aggrandizing in defeat. I love that everyone is smoking. I think this is the freedom Stephen Dorff is trying to get us to take back in those Blu E-Cigarette commercials. I could watch this video all day long. Let's.
3. Scott Baio, Übermensch.
Few made as much or as consistent an impact on the Battles as young Chachi. Witness his decisive victories in the Obstacle Course over John Beck and unspeakably hot Gregory Harrison (who met the woman to whom he is still married, CHiPs' Randi Oakes, at this very event). Was Baio the greatest natural athlete of our time? Is it the result of a youth spent "hopping fences in Brooklyn," as Cosell speculates? Does he emit a pheromone that keeps his competitors at bay, and if so, is it the same one that attracted Heather Locklear and Pamela Anderson, or does he have multiple pheromones? Either way, in that race against Gregory Harrison, he nearly takes out a couple of spectators, but it's clear they would willingly have given their lives this way.
2. A young Mark Harmon.
I had previously linked my sexual awakening to the volleyball scene in Top Gun, but rewatching Mark Harmon in these Battles, I realize that heterosexuality had about as much of a chance as Lorenzo Lamas in the 1981 obstacle course. Mark Harmon could still get it, but early '80s Mark Harmon is pure, concentrated hotness. A bouillon cube of sex.
1. The Tug-of-War.
And finally, at the end of the day, it all comes together. The white-drugsy determination. Howard Cosell's expert sportscasting and Hall-of-Fame-level sexism. The sweaty, commanding forearms of Mark Harmon. They all meet on the sand for the Tug-of-War, where the top two teams pull and grimace for victory. This is one of the longest in BOTNS history, and it is utterly riveting from start to finish. You didn't think you needed to hear the phrase "THE GIRLS OF ABC: UTTERLY PROSTRATE" today, but you did and I have you covered.
So that's it. Say good-bye to the rest of your day. I'll be back to music next week, unless I can convince 1983 Mark Harmon to hop in the Delorean with me, in which case: Have a nice life. We'll be in ancient Greece.