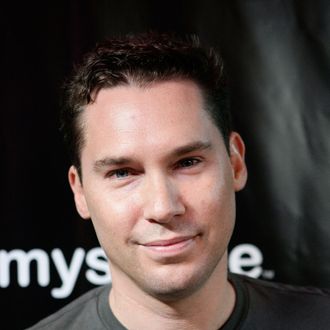 Photo: Jerod Harris/2010 Getty Images
The Wrap reports that a lawsuit filed Wednesday in a federal court in Hawaii accuses X-Men: Days of Future Past director Bryan Singer of sexually abusing a teenage boy in 1999, when the boy was 17. The plaintiff, Michael Egan, claims that he was drugged and raped by Singer on multiple occasions.
According to The Wrap, the abuse began in 1998, when Egan, a model and aspiring actor, was lured to an Encino, California house known as the M & C Estate. The suit claims that the Estate was the site of "notorious parties" well-known to many men in the Hollywood entertainment industry, in which adult men preyed on young boys, plied them with drugs and alcohol and sexually assaulted them. At one party, the documents claim that Singer told Egan "the adults who resided in or frequented the M & C Estate controlled Hollywood and could decide whether Plaintiff's career aspirations and hopes would be realized," and that he promised him movie roles in exchange for his sexual compliance.
One of the men cited in the lawsuit, who allegedly lived at M & C Estate, is Marc Collins-Rector, former Digital Entertainment Network chairman and a registered sex offender who pleaded guilty in 2004 to luring minors across state lines for sexual acts. Collins-Rector is accused of initiating the abuse of Egan and arranging for Singer to assault him as well. He is not named as a defendant.

The suit details graphic scenes of sexual assault by Singer that took place both in Los Angeles and Hawaii. It alleges that Singer flew Egan to Hawaii for sex on more than one occasion in 1999, where he drugged him and raped him. It also claims that Egan was not the only underage boy who was abused. Singer's attorney Martin Singer said the lawsuit is completely without merit, telling The Wrap "We are very confident that Bryan will be vindicated in this absurd and defamatory lawsuit," and "It is obvious that this case was filed in an attempt to get publicity at the time when Bryan's new movie is about to open in a few weeks."