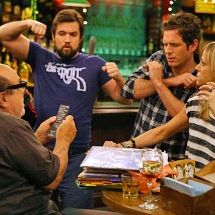 The comedy forecast at FX: Sunny through 2017, with a 100 percent chance for a new show from Tracy Morgan. In what can only be described as a blockbuster agreement, FX studio arm FX productions has made an everything-but-the-kitchen-sink deal with It's Always Sunny in Philadelphia creatives Rob McElhenney, Charlie Day, and Glenn Howerton that encompasses a crap-load of comedy production and development over the next three years. As part of the pact, FX spinoff net FXX has ordered two more seasons (11 and 12, if you're counting) of Sunny as well as ten episodes of a new, as-yet-untitled series starring Morgan to be created by McElhenney, Day, Howerton, and New Girl writer (and Sunny alum) Luvh Rakhe. But wait, that's not all! The Sunny crew is also getting a blank check to produce another pilot for FX as well as a commitment for at least three more comedy scripts. As FX Networks original programming co-chief Nick Grad noted in a statement, "Not bad for three guys who shot a pilot ten years ago for $200 and a few pizzas."
The comedy megadeal ensures Sunny will become the longest-running live-action comedy in cable history, and one of the longest-running live-action comedies in TV history, period. (Though, in fairness, Sunny produces far fewer episodes per season than broadcast TV's classic warhorses). It also will help the newly launched FXX network expand and grow its audience. FXX plans to pair the new Morgan show with the new season of Sunny, with both slated to bow in January. (For those keeping score at home, FX produced another pilot with Morgan last year, without the Sunny dudes; it's been killed.) As for the other comedy scripts green-lit under the deal, they include Blow Up Dolls, written and staring Sarah Solemani; We're Good, Thanks, written by Mary Elizabeth Ellis, Artemis Pebdani, and Charlie Day, with Ellis and Pebdani slated to star; and Harder, written by Scott Marder and Howerton.
While FX Productions is making a huge commitment to the Sunny brain trust, the studio has plenty of other comedy writers on its roster. The Archer duo of Adam Reed and Matt Thompson are under contract to the company, as is Louis C.K.'s company Pig Newton, Paul Giamatti's Touchy Feely Films, and Nina Jacobson and Brad Simpson's Color Force. FX is also developing or has ordered projects involving, either on-camera or off-, Billy Crystal, Josh Gad, Nat Faxon, Judy Greer, Denis Leary, Zach Galifianakis, Jay Baruchel, Seth Rogen, and Michael Cera.