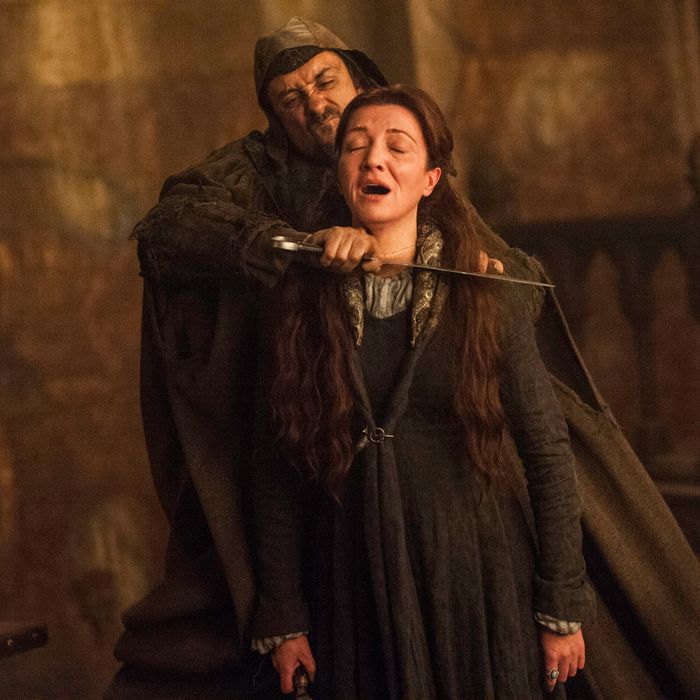 "What am I allowed to say?" asked Pedro Pascal, when Vulture approached him to discuss his Game of Thrones character, the vengeful Oberyn Martell, at HBO's season-four premiere party recently.
It was a good question, because it raised some points we'd been wondering about: When it comes to discussing the HBO show, how do cast members figure out what is and isn't verboten, not just in terms of plot points in this upcoming season but those that have been revealed already in George R.R. Martin's "A Song of Ice and Fire" book series, too? When speaking to the press, or to show fans who haven't read the novels, how do the actors discuss characters who they know have died on the page but who are still alive on the program?
One defense mechanism cast members rely on is shrinking away. "I can't tell you that!" demurred Sibel Kekilli, who plays Shae, when asked about a head-spinning future plotline. "I can't tell you!" protested Charles Dance, who plays Lord Tywin, when we fished for intel on how a big moment in the books might play out this season.
But when we clarified that we're not asking them about specific spoilers, but merely inquiring about how the actors go about dealing with them in conversations, they inched back, slowly. "I don't spoil it for anyone," Dance said. "But I haven't read the books. We're filming adaptations by David [Benioff] and Dan [Weiss]. We're not filming the books. And it's counterproductive sometimes for actors to go back to the book, because they then tend to come on set and say, 'Why aren't we doing this scene? I've got this wonderful line here, and I want it in.' That's not what we're about."
Some of the cast have read ahead and text each other about super-geek theories (e.g., what is Jon Snow's parentage?). But since so many of the cast members and crew have not read the books, they assume everyone else hasn't, until told otherwise. Even among trusted friends and family, said Alfie Allen, who plays the unfortunate soul Theon Greyjoy, "it's forbidden territory." And for good reason. "I'm only on, like, page 314 of the first book," said Dean Charles Chapman, who was cast to play Joffrey's little brother, Tommen, this season. "And I'll never finish it. No way! No way." The only cast member who can freely disclose his lines in advance to his family is Kristian Nairn, who plays Hodor, as the only line he ever gets is "Hodor!" ("That's been our dinner conversation for the past four years," he laughed.)
When the cast encounter fans, then, they try to "keep it in the back of your mind to keep it on hold," said Chapman. And that's harder than it sounds. "We don't even have a code," said Kekilli. "We don't even refer to some things by the names in the books," such as the Purple Wedding, "so it's really hard. I try and understand it, but I can't."
But what if a fan or journalist reveals that they already know what's to come? "The thing about it is, if a journalist wants to give it away, it's in the books, and it's on the internet," explained Michael McElhatton, who plays Roose Bolton. "So you have to say, 'Look, this happened — if you want to write about it, write about it.' You know what I mean? I mean, I know a couple of things that are going to happen this season that no one knows, and I wouldn't say those. But I'm economic about it." McElhatton found himself receiving a massive number of texts following the Red Wedding episode, "asking me, 'What did you do?!'" [Note: He killed Robb Stark, that's what he did.] "But that shock, that's because they didn't know in advance. So I take that approach. Certain things are going to happen, and certain things you're going to know, and certain things are going to shock you, but I don't want to ruin it. There are plenty more shocks to come, and I hope it will shock them. That's the nature of Game of Thrones. That's the plan. That's the intention, you know?"
"Nothing is calm in Westeros," joked Finn Jones, who plays Loras. "I wish it was calm. I wish we could all go off into the sunset and lead happy, peaceful lives. It's just not the way it is, for any of us."
McElhatton also pointed out that fans are only going to ask him about his story line, and he wouldn't be in a position to spoil anything beyond that. "If something happens in episode ten that is a big game-changer, and if people ask about it, I just say no. It's as simple as that." He said that, after having had two series spoiled for him — House of Cards and Homeland — he's mindful of not doing the same for someone else.
But if it wouldn't be a spoiler for a fan who had read ahead, he's less guarded. "I'll tell them. You know what I mean? It's just a TV program." But you wouldn't be able to pry that same information out of Charles Dance's fingers. "It's more than my life is worth!" he laughed.