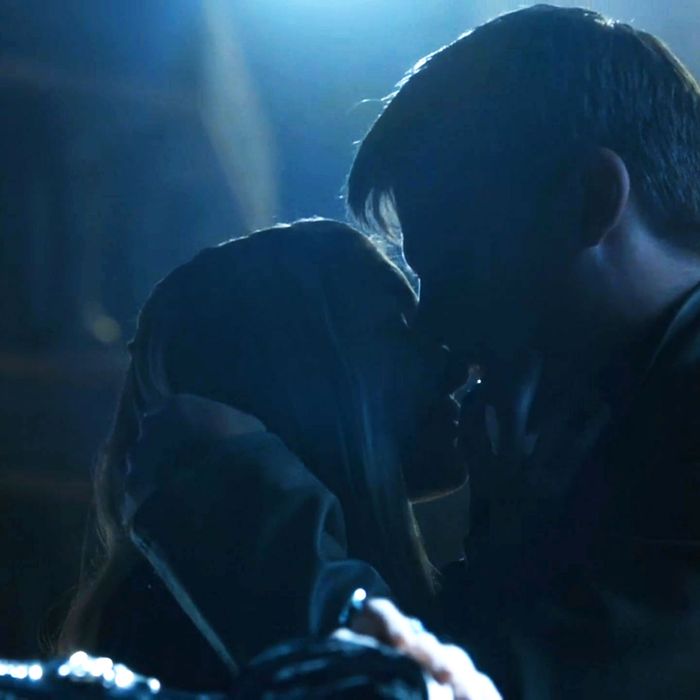 The following post contains spoilers from last night's episode of Game of Thrones and the book series. You've been warned.
So that happened. In last night's episode of Game of Thrones, Jaime (played by Nikolaj Coster-Waldau) and Cersei (Lena Headey) had sex next to Joffrey's corpse, and today the internet is trying to make sense of it. Was it rape? Some, including Vulture's Margaret Lyons, are saying yes. The episode's director is saying it was "consensual by the end." As written by George R. R. Martin in A Storm of Swords, the scene is told in a chapter narrated by Jaime from his point of view, and it depicts Cersei as appearing to retain her agency. Last night's episode, which ended on Cersei saying "It's not right" and Jaime replying, "I don't care," leaves more room for debate. What did the show intend? Vulture got Alex Graves, the episode's director, on the phone to find out. [Editor's note: We also reached out to HBO for comment from showrunners David Benioff and D.B. Weiss; a rep for the network said they were unavailable. But it's worth noting that during the associated "Inside the Episode" featurette, Benioff describes the scene this way: "You see that Cersei is resisting this. She's saying no, and he's forcing himself on her. It was a really uncomfortable scene and a tricky scene to shoot."]
What kinds of things did you talk about with the showrunners in terms of how to play the sex scene between Jaime and Cersei, and why was it changed from how Martin had written it in the book?
There wasn't a lot of talk about it, to be honest. Everybody knew and then confirmed with each other this is a sort of animalistic, desperate escape moment in the middle of a tragedy that is twisted enough that only Jaime and Cersei could pull it off. That was all that was really discussed besides laying out the scene physically, and what would and wouldn't happen in terms of protecting the actors. The biggest focus was how to evolve out of the larger scene with Tywin into that. Going from a kidnapping of Cersei's only living son, into Jaime's "Hey, I came to visit, and I'm starting to feel like we could have sex" and they have sex. It's the last place you think anyone's going to have sex. So it was working from Tywin's exit to that first kiss, which is met with rejection, complicating things for him. It was very tricky.
There's a lot of chatter about it online this morning. Have you read the books?
I have read a lot of the books, but I didn't read that scene because I wasn't doing that scene; I was doing the scene our writers wrote. Lena is very conscious of wanting to focus on what the show is doing rather than worrying about something in the books that may or may not affect her.
The reason I ask is because many of the people who have read the books are questioning why the scene was changed. As described in the book, told from Jaime's point of view, Cersei initially resists but quickly gives her consent.
I see, I see. What was talked about was that it was not consensual as it began, but Jaime and Cersei, their entire sexual relationship has been based on and interwoven with risk. And Jaime is very much ready to have sex with her because he hasn't made love to her since he got back, and she's sort of cajoled into it, and it is consensual. Ultimately, it was meant to be consensual. [The writers] tried to complicate it a little more with her rejecting his new hand and the state of things.
[Update: George R.R. Martin has now weighed in about the debate on his personal blog. Essentially, he says that it's unclear in the book scene whether Jaime rapes Cersei or not, as the scene is told from Jaime's point of view, and is therefore only one side of the story; he also says that he's unsure what Benioff and Weiss's intentions might have been in their version, as he never discussed it with them.]
One of my colleagues suggested that the tweak, making Jaime the kind of person who might force himself on Cersei, might have happened to remind viewers that he's not a morally upright guy, pouring out his heart to Brienne notwithstanding. Was that part of the decision to your knowledge?
No. It's a very, very complicated scene. The thing about it is that Jaime has come home and is trying to convince himself that things are the same: that he and Cersei are a unit, they're in love, they have sex, everything comes out of that bond. And he's desperate to reinvigorate that and it has not been working. That's part of what's behind him, that lie he's telling himself, that seasons two and three didn't happen. So it's a last act of stupid clinging to what's been home for him, because it will never be the same. It's also setting up something that happens in the finale. For Cersei, she is so blindsided and in the middle of the audacious murder of Joffrey at his own wedding, she's standing there pondering all this with her other son, her sweet son. And her father comes in and basically says, "There is no way you're going to have control over this kid" and takes him away. So she's just empty. She's decimated. What I said is what we just talked about. It's just fleshing it out.
You say it "becomes consensual by the end." I rewatched the scene this morning, and it ends with Cersei saying, "It's not right, it's not right," and Jaime on top of her saying, "I don't care. I don't care." It leaves some room for debate. Were you involved with cutting the scene? Was there a longer version of the scene that might have read more like they were both consenting?
It's my cut of the scene. The consensual part of it was that she wraps her legs around him, and she's holding on to the table, clearly not to escape but to get some grounding in what's going on. And also, the other thing that I think is clear before they hit the ground is she starts to make out with him. The big things to us that were so important, and that hopefully were not missed, is that before he rips her undergarment, she's way into kissing him back. She's kissing him aplenty.
Right, and part of what she's resisting is that this is all happening next to Joffrey's body.
It's bizarre, and I highlighted that in how I shot it. A funny behind-the-scenes joke was every time we shot a take, and Lena and Nikolaj drop beneath the table, Jack Gleason would sit up and look down to try and see what was going on.
He really did that?
Yeah, he did! It was hilarious. He would take the rocks off of his eyes and lean over to take a look. He was so funny.
How does this interaction change Cersei? She'd been raped by Robert. How does Jaime's aggression in this moment affect her?
She needs Jaime to deal with Tyrion. That's really what that scene is about. It's her saying, "I want you to kill him," and Jaime saying, "I don't see why I would kill him." That's probably the main reason she consents, is to pull him in, because she's results-oriented, period. The only man she really feels any respect and admiration for, and authority for, is her father. Beyond that, she loves her children. I think — and I say this personally — she's largely using Jaime and he hasn't figured it out yet.
Same question for Jaime. Was this a new, different side of him emerging?
Well, his change occurred with Brienne. Jaime, we've come to find out, wanted to be and would like to be a good knight but was raised in a family where he was not allowed to be that. In fact, quite the opposite. That's made him extremely smart and dangerous but not fulfilled, and he found in Brienne a soul mate that he'll never recover from. It's been fun working with Nikolaj, following the minutiae of where Jaime is, and following this idea that in fact Jaime has not only never been allowed to be who he really is, but Jaime is traumatized by the night he became the kingslayer. His only way to his true self is possibly through his brother, but the door is opened by his exposure to Brienne who if nothing else is a powerful, noble knight. A lot of what we were doing in season three is watching him not only break down but be unable to deny how much he respected her — and respecting a woman, respecting a woman who is good and not trying to control him, respecting a woman who's the best knight he's ever seen, it was too much for him to handle.