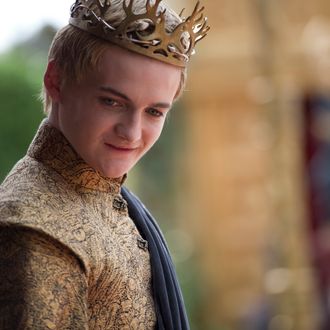 Game of Thrones just keeps getting bigger: Sunday's season-four premiere was seen by 6.6 million viewers at 9 p.m., making it the most-watched episode of George R.R. Martin's epic yet— and the most-watched episode of any HBO series since the 2007 series finale of The Sopranos attracted 11.9 million viewers. According to preliminary Nielsen data released today by HBO, last night's GoT opener was up 52 percent from the season-three premiere (4.4 million viewers) and 23 percent from the June finale (5.4 million). The Game of Thrones growth story is sort of staggering: Since its April 2011 debut, the series has tripled its same-day audience. What's more, these overnight Nielsen numbers only scratch the surface of how many people are actually watching the show.
HBO says another 1.6 million viewers caught the 11 p.m. and 1 a.m. replays of GoT, bringing the total Nielsen-measured audience to 8.2 million.  Over the next few days, however, millions more will see Sunday's episode via HBO GO, various HBO replays, video on demand, and, yes, illegal torrents of the show. Not counting unauthorized views, HBO says the average episode of GoT last year was seen by nearly 14 million viewers. Looks like that number is poised to go even higher this season.
Meanwhile, at 10 p.m. Sunday, the first episode of Mike Judge's much-anticipated Silicon Valley drew 2 million viewers. While that's a big drop from the GoT numbers, it nonetheless represents the biggest audience for an HBO comedy premiere since 2009's Hung, which opened to 2.8 million viewers. While Silicon benefited from its huge lead-in, Veep suffered by moving to 10:30 p.m. The season-three debut of the acclaimed comedy notched just 955,000 viewers, down from last spring's bow (1.2 million viewers) and with a smaller audience than any season-two episode. With encores, Veep rose to 1.5 million viewers. Finally, over on Showtime, Shameless ended its third season on a high note. Its finale drew 1.9 million viewers at 9 p.m. (and 2.8 million counting replays), up 18 percent from the season-two finale and marking the show's top-rated season-ender yet. House of Lies also had its best yet finale, averaging 1.4 million viewers over multiple runs.