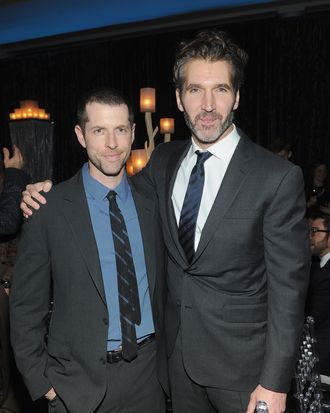 Photo: Jamie McCarthy/2014 Getty Images
One would think that Game of Thrones showrunners David Benioff and D.B. Weiss might have their hands full, what with overseeing a sprawling, multimillion-dollar epic that just got renewed for two more seasons. Apparently not: The ambitious duo have signed on to write, direct, and produce their first feature film,* an adaption of Stephen Hunter's 1995 novel Dirty White Boys, about three escaped convicts and the lawman trying to track them down. Still, it should be an easy transition, seeing as they helm a show that is literally filled with dirty white dudes. Seriously, have you ever tried to shower in the Seven Kingdoms? The water pressure is terrible.
* Benioff has written screenplays for several films, including Troy, The Kite Runner, and Brothers.