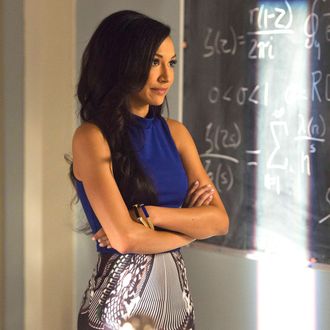 Even if Naya Rivera hasn't been handed her Glee walking papers, as suggested by a slew of unofficially sourced reports posted online Tuesday, things have been rough for the actress. The lead single from her still-yet-to-be-released debut album "Sorry" failed to chart on Billboard's Hot 100 last fall; her fiancé, rapper Big Sean, called off their engagement earlier this month; and two weeks ago, TMZ was tipped off that she allegedly had been fired from Glee after an on-set blowout with producers.
That last bit of news was ignored for several days until Tuesday morning when the New York Daily News posted a report about the same incident — also confirmed via unnamed sources — that alleged the actress had indeed been let go from the show. Her rep issued the following statement in response: "Any reports or rumors circulating that Naya Rivera was let go or fired from Glee are absolutely untrue. End of story." 20th Century Fox TV, the studio that produces Glee, declined comment.
Even if Rivera is dropped from series regular status — and producers have not made any cast decisions for the final season yet — that would hardly prevent her from coming back in some recurring capacity. See previous series regulars turned guest stars Amber Riley, Harry Shum Jr., Mark Salling, Dianna Agron and Heather Morris. E! later reported that Rivera's character Santana was, at the very least, being written out of this season's Glee finale. The show is still in production, and Rivera has already shot episodes leading up to the season-ender; on Tuesday, she tweeted, "SO excited to watch Glee tonight! #doowop #shirleymaclaine #fancy."
Vulture reached out to Rivera's rep specifically about her participation in the finale, but did not hear back. According to E!, Santana would have performed a number with girlfriend Brittany (Morris) and Mercedes (Riley), but that plan is now being rejiggered. Why Brittany would turn up for the finale without Santana is anyone's guess.