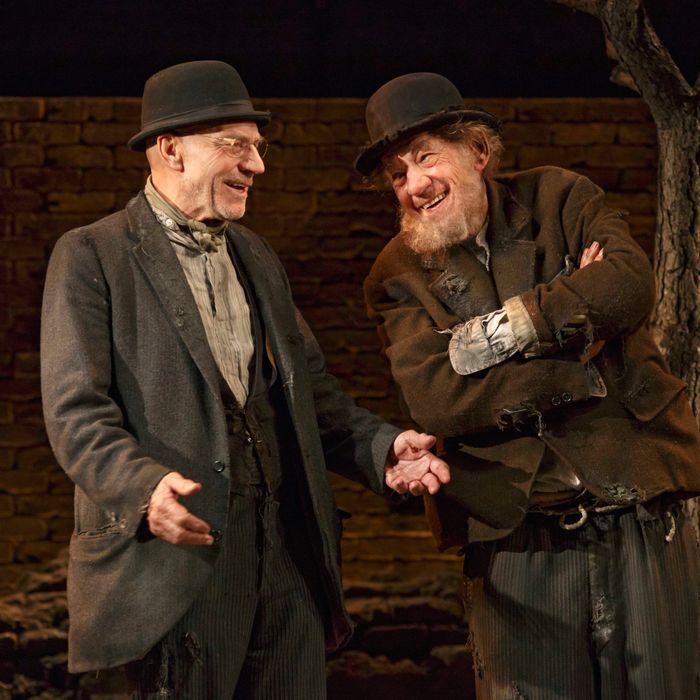 Stewart and McKellen, left waiting.
Photo: ?2013 Joan Marcus
Just because something didn't get a Tony nomination this morning doesn't mean it was snubbed. Performances and plays and costume designs are not guests at a party; nominators aren't deliberately marooning them by the canapés. The nominators aren't even deliberative: Each makes his or her individual choices and the rest is math. So the most you can say about favorites from the 2013–2014 Broadway season that didn't make the list is that they lost a vote. Was Mitt Romney "snubbed"?
Still, lots of great (or just much-talked-about) work is MIA. In some cases, that result does seem to reflect a widespread judgment, even if it's only coincidence. There were no nominations for Will Eno's The Realistic Joneses, despite a starry cast and a Times rave. Also schneidered: the Brit double bill of No Man's Land and Waiting for Godot, with its bromancing sirs McKellen and Stewart. Of Mice and Men garnered a nod for Chris O'Dowd as the lumbering Lennie, but James Franco's divisive presence as George seems to have scared away all the rest of the nominations from what was a very fine revival. It did get one for lighting.

Perhaps because it was a good season overall, the free pass handed out to movie stars in earlier years was rescinded. Besides Franco, the actor shut-outs included Daniel Radcliffe, in his best-reviewed outing to date as the titular Cripple of Inishmaan; Zachary Quinto, an excellent Tom in The Glass Menagerie;  Daniel Craig, a bit wan but nevertheless a huge draw in Betrayal; and, perhaps most surprising, Denzel Washington in A Raisin in the Sun. What does it say about that play's view of masculinity, and Broadway's view of femininity, that all three of Washington's female co-stars (LaTanya Richardson Jackson, Anika Noni Rose, and Sophie Okonedo) were nominated?

Probably not much. In each case of a purportedly overlooked nominee, you have to ask which actual nominees you'd eliminate to make room for your missing favorite. Mostly, that's an impossible choice, especially in those categories — like Best Actor in a Play, Best Actress in a Play, Best Featured Actor in a Play, and Best Play Revival — that were heavily oversubscribed with good work. Still, there are some real huh? choices scattered among the nominees. Woody Allen's book for Bullets Over Broadway was roundly panned as unfunny, and Douglas McGrath's for Beautiful: The Carole King Musical is even worse. Dropping them would have left room for more ambitious musical books like Brian Yorkey's for If/Then and Marsha Norman's for The Bridges of Madison County. But these two musicals also seemed to be on the receiving end of bad luck if not a fatwa. Neither was deemed worthy of taking the fifth Best Musical slot, permitted by a recent rule change. So there were only four.

Bizarre, but in general, the nominators steered away from shows, and thus the people in or associated with them, that were neither big hits nor unanimous critical successes. (Of course, this would tend to eliminate some of the best if most controversial work.) Also passed over, especially in the acting categories, were productions that closed early in the season. What lessons will Tony-seeking producers take from all this next year? Open later. Use stars sparingly. Avoid James Franco. Be a hit.
 
VULTURE'S TOP NON-SNUB SNUBS

Best Musical
If/Then
The Bridges of Madison County

Best Play
The Realistic Joneses

Best Play Revival
Of Mice and Men
No Man's Land
Machinal
The Winslow Boy

Best Actor in a Play
Daniel Radcliffe, The Cripple of Inishmaan
Denzel Washington, A Raisin in the Sun
Ian McKellen, Waiting for Godot/No Man's Land
Patrick Stewart, Waiting for Godot/No Man's Land
Zachary Quinto, The Glass Menagerie

Best Actor in a Musical
Steven Pasquale, The Bridges of Madison County

Best Actress in a Play*
Rebecca Hall, Machinal
Debra Messing, Outside Mullingar
Best Actress in a Musical*
Michelle Williams, Cabaret

Featured Actor in a Play
Jim Norton, Of Mice and Men
Jim Parrack, Of Mice and Men
Billy Crudup, Waiting for Godot/No Man's Land
Morgan Spector, Machinal
Michael Cumpsty, Machinal
Rafe Spall, Betrayal
Alessandro Nivola, The Winslow Boy

Featured Actress in a Musical
Marin Mazzie, Bullets Over Broadway
LaChanze, If/Then
Amber Iman, Soul Doctor

Director of a Play
Sam Gold, The Realistic Joneses
Joe Mantello, Casa Valentina
Lyndsey Turner, Machinal
Anna D. Shapiro, Of Mice and Men

Director of a Musical
Michael Greif, If/Then
Bartlett Sher, The Bridges of Madison County
Book of a Musical
Brian Yorkey, If/Then
Marsha Norman, The Bridges of Madison County
*The names of these categories have been corrected.