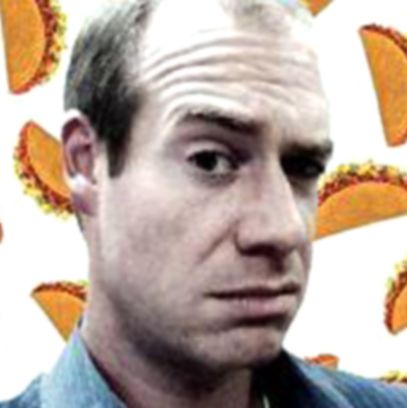 Donaldson's profile image on Twitter
Bryan Donaldson lived in central Illinois nearly his entire life. He was born in Michigan but moved to a tiny town north of Peoria when he was just 4 years old. Now 40, he and his wife own a house in East Peoria with a big backyard, where their preschool-age daughter likes to play, and a side deck, where Donaldson likes to grill.
If he sounds like a regular guy with a regular job, he was — at least until a few months ago. He worked in IT for 20 years, the last ten of which he spent at an insurance company in nearby Bloomington. "Just a nine-to-five corporate job," he says. "I supported their Linux and UNIX systems." Today, he is guy with a decidedly not-regular job: He is a staff writer on Late Night With Seth Meyers. How does one make the leap from being an aging IT guy in Middle America's emblematic town to becoming a comedy writer at 30 Rock?
Donaldson's journey began on Twitter. In October 2011, he started posting a few jokes a day under the handle @TheNardvark. It was just his outlet for HR-unfriendly cracks that he couldn't make aloud at the insurance company — often deadpans about family, marriage, and aging. "When I pick my daughter up from day care she screams 'DADDY!' and runs towards me for a hug and it's like be cool bitch you look desperate," he tweeted last May. "My wife and I use the pull-out method of birth control where we pull out our phones and ignore each other every night," he offered a few months later. "My walk of shame is stumbling back to my desk like a newborn foal after sitting on the toilet so long that my feet fall asleep," he wrote in January 2013.
Twitter loved him — his follower count quickly grew to five digits (it currently stands at 40,000) and individual tweets regularly racked up huge share numbers. The "DADDY!" tweet, for example, got 1,200 retweets and 2,500 favorites.
One of Donaldson's longtime followers is Alex Baze, head writer and producer for Late Night With Seth Meyers. Last fall, when Baze began hiring for the writers' room in anticipation of a February premiere, he had the notion of looking beyond the piles of packets coming from managers and agents and scouting for raw talent on Twitter. "If I go to somebody's Twitter, I can see what he's been doing the last two years — you get a much more complete sense of how he writes," he says. "It's like you get to flip through somebody's comedy notebook."
Seth Meyers felt the same way. "Twitter has democratized the process," says Meyers. "We used to look at smaller samples, now you can look back and see what a person thought was funny for the past calendar year."
At any given time, Baze keeps a running list of his top 20 favorite tweeters. Last fall, he had @TheNardvark in the top three. Meyers and producer Mike Shoemaker began following the account, too, and the three quickly decided to bring Donaldson in for an interview.
"We never stopped to wonder where he was from or what he was doing," says Meyers. "He just made us laugh."
Donaldson had no idea he was auditioning for a job when he was tweeting. "Being that it's Twitter, maybe I just couldn't take it that seriously when those people were following me," he says. "I never felt that I was at that level, as far as comedy writing." A direct message from Baze was the first professional contact Donaldson had ever had with anyone in the comedy world. The Peorian greeted it skeptically. "I wasn't going to consider uprooting my family at age 40 and starting a new career in New York, where I'd never even been before," Donaldson says. "But my wife basically said I'd be an idiot if I didn't give this a shot, because it's such a once-in-a-lifetime opportunity."
In October, Donaldson flew to New York for the interview, checking into the Club Quarters hotel across the street from Rockefeller Center. "I wasn't really nervous," he says. "I didn't have any expectation that I'd actually get the job." His previous interviews, for IT positions, had been technical and arduous. "You know," he says, "Those long, open-ended questions where they try to get you to talk yourself into a hole. Where do you see yourself in five years? Why are manhole covers round?"
Baze, Meyers, and Shoemaker realized upon meeting Donaldson that they were talking to someone who had no connection to the comedy world. "We found out in the interview that he was working IT in Peoria. It sort of slowly dawned on us, 'Oh, we just pulled somebody out of the middle of the country who has no ties to this business at all,'" says Baze. "He's like a giant farm guy, is what he looked like to me. He's probably six one. Really broad shoulders."
Another small detail from the interview still sticks out in Meyers's mind. "He brought a notepad to our first meeting," Meyers says. "We didn't know what he intended on writing down — and he admitted after we hired him that he had no idea either."
The interview lasted 15 minutes, and Donaldson assumed he'd blown it. "It was so short that I thought they'd decided they weren't going to waste any more time," he says. Then, a few weeks later, he got a call at work from Baze telling him he had the job.
Certainly Donaldson is not the only comedy writer to be recruited from the social-media site — on Late Night alone, Alison Agosti and Michelle Wolff, both of whom have backgrounds in the comedy world, first caught Baze's eye on Twitter. But Donaldson is an extreme example. As Baze puts it, Donaldson had "no agent, no showbiz accoutrements of any kind." (He still doesn't have an agent or manager.)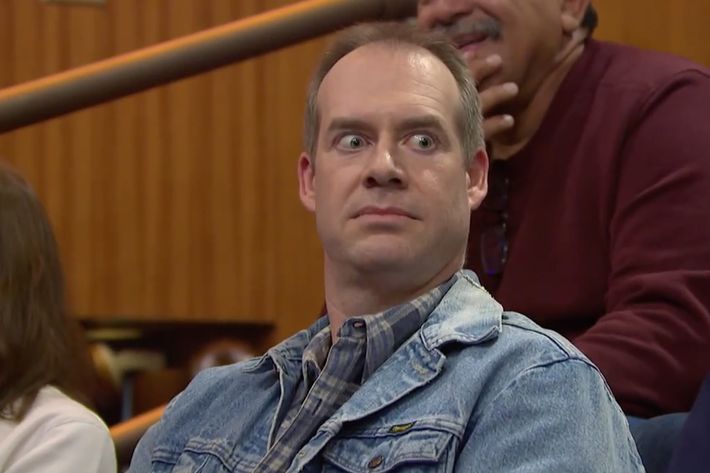 On December 2, Donaldson and 11 other writers convened at 30 Rock for their first day of work at Late Night With Seth Meyers. Donaldson is now on the hook for about 40 jokes daily. Not surprisingly, @TheNardvark's Twitter output has fallen off since then. "When you sit and read and write jokes for eight to 11 hours a day, there's just nothing left," Donaldson says. "Also, I used Twitter as an outlet at my other job. A lot of the things that maybe I would've tweeted I now can say out loud. Creatively, I don't need that outlet as much anymore."
Baze likes having a writer from outside the New York–Los Angeles bubble. "I think there's only upside to having someone from the middle of the country," he says. "'Great! Let me tell you this joke that all us East Coast comedy writers wrote, and you tell me if people would get it back home.'" For his part, Donaldson doesn't see himself as a barometer. He says, "I mostly just get made fun of for being from Peoria." And, perhaps, for being in IT. "He knows the computer better than I do," says Baze. "He's been very helpful that way, too. 'Great jokes. Also, how come my cursor won't move?'"
Donaldson had his first on-air joke during Meyers's monologue in the show's series premiere, in February. He was even featured in a skit playing an audience member who was unhappy with his seat. Overall, it's going well enough that his family is moving east to join him in his new apartment in Secaucus, New Jersey. The house in East Peoria is on the market.
He still seems a bit dazed by the rapid, unexpected turn his life has taken. "I still don't understand how this all works yet, this whole business," he admits, "I'm just starting out. But I gotta believe that the people who are not located in New York or L.A. have an equal voice now on the internet, so they'll be easier to find."
Jennifer Rogers is a New York-based business journalist. Callie Wright is the author of the novel Love All.