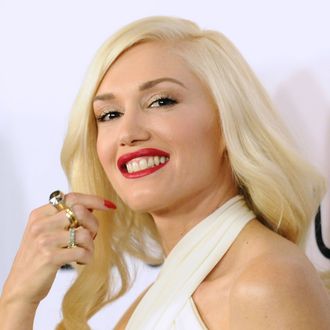 Photo: Jason LaVeris/2013 Jason LaVeris
Having already chosen Pharrell Williams to replace CeeLo Green on The Voice, NBC is now reportedly looking for someone to fill the pregnant Christina Aguilera's seat before taping for the seventh season begins in June: Deadline's "informed sources" say that replacement could be Gwen Stefani. So far, there's no confirmation from the network on whether Stefani is on board, but the the potential pick makes sense, considering that she has previously mentored on American Idol.
Even better, she and Pharrell already seem chummy, having performed "Hollaback Girl" together at Coachella last week. The only snag in this plan would be ABC's interactive singing competition Rising Star, where Stefani is also said to be in talks for a judging position. Either way, it seems like she'll be regularly telling people how to up their singing game on TV again very soon.