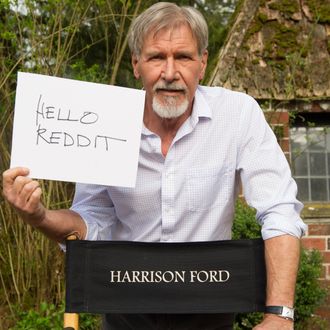 Reddit's having quite a time with their AMA series lately, between Bill Murray, James Cameron, and even Vulture's own David Edelstein. Sunday morning, Harrison Ford logged into the website to answer questions and promote his involvement with Showtime's new docu-series Years of Living Dangerously, which he called "a wonderful opportunity to reach a lot of people with the story and importance of climate change in our lives." Here are some of the highlights.
A funny Indiana Jones story:
We were shooting in Tunisia, and the script had a scene in which I fight a swordsman, an expert swordsman, it was meant to be the ultimate duel between sword and whip. And I was suffering from dysentery, really, found it inconvenient to be out of my trailer for more than 10 minutes at a time. We'd done a brief rehearsal of the scene the night before we were meant to shoot it, and both Steve and I realized it would take 2 or 3 days to shoot this. And it was the last thing we were meant to shoot in Tunisia before we left to shoot in England. And the scene before this in the film included a whip fight against 5 bad guys that were trying to kidnap Marian, so I thought it was a bit redundant. I was puzzling how to get out of this 3 days of shooting, so when I got to set I proposed to Steven that we just shoot the son a bitch and Steve said "I was thinking that as well." So he drew his sword, the poor guy was a wonderful British stuntman who had practiced his sword skills for months in order to do this job, and was quite surprised by the idea that we would dispatch him in 5 minutes. But he flourished his sword, I pulled out my gun and shot him, and then we went back to England.

On who shot first: Han Solo or Greedo:
I don't know and I don't care.

On who would win a fight against Mark Hamill:
Me, of course.

On which line he's always asked to say:
"Get off my plane."

On the worst set:
The set for Blade Runner was maybe the hardest set I've ever worked on because I think we worked 50 nights in a row, and it was always raining.

On David Blaine:
Yes, he's a spooky guy. I mean, obviously he's a great manipulator of both objects and people, and he's very talented, and I really enjoyed what he does. [Watch them together here.]

On choosing his projects:
You know, it's very hard to say what the motivation is these days. Most of the time I love the material, have the time free, and look for something different to do. I look for people I enjoy working with, I look for material that i think will make a film that people will go to. It's my job.

On joining Expendables 3:
I was on my way to Indonesia to do Years of Living Dangerously, and halfway around the world. And the location for Expendables was right on the way, and they asked me for a relatively short period of time, and it seemed like fun. I hadn't seen the films but I looked one of them and i thought it was kind of funny, so I thought why not?

On keeping film memorabilia:
No, I don't keep any, I'm not terribly nostalgic and I don't have a lot of things from my movies. And certainly don't have a lot of them around my house. Those are separate worlds for me.