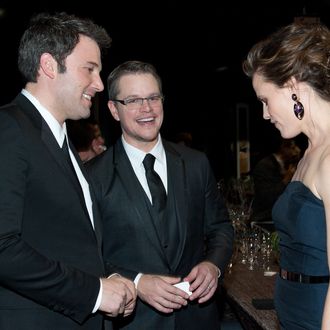 Photo: Angela Weiss/Getty
HBO is bringing back its moviemaking reality show Project Greenlight, the network announced today, with original producers Matt Damon and Ben Affleck returning as well. Earlier this month, Starz announced a kinda-sorta Greenlight follow-up called The Chair, from Greenlight's other executive producer, Chris Moore. He's not mentioned in HBO's press release about this revival, so it's not quite the whole creative team from the original series.
As in its original incarnation, the show will discover a first-time director (or team) and follow him or her (or them) through the moviemaking process, including casting, filming, postproduction, and a lot of face-rubbing and spiritual agony if the previous seasons are any indication. First-time directors are not a happy people!
HBO didn't announce a launch date for the show or even a plan for directorial online submissions, but between this and the return of The Comeback, it looks like HBO's not using a calendar so much as it's using a time machine.