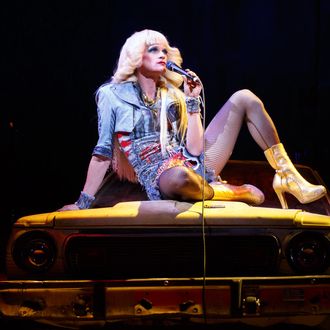 Photo: ?2014, JOAN MARCUS
Turns out, the "updated" production of Broadway's Hedwig and the Angry Inch was not just updated by casting Neil Patrick Harris as Hedwig, but the entire show had to be given a slight time shift. In fact, the very premise of the musical takes place on the set of another play — for this production, it's a modern-day-inspired Hurt Locker: The Musical, written by Mike Albo and Amanda Duarte, which closed after just one performance. To further drive that point home, the Belasco Theatre is covered in fake Playbills for the failed musical. For theater buffs, inside the Playbills are a ton of hilarious Easter eggs.
And you can see it all online! Check out page 11 to see the entirety of the faux Playbill: Starring Taye Diggs ("Mr. Diggs reminds you that Rent doesn't pay itself"), Bobby Cannavale, Michael Cerveris, and (a shout-out to Idina Menzel's mispronounced "Adele Dazeem") D'Bree Dazeem — who previously starred in I Am Not My Sister's Creeper and If She's Unavailable I'll Do It. The score includes songs like "When Love Explodes ('Love Theme From The Hurt Locker')" and "Your Body Is the Bomb (Literally)," and you've even got a play on Playbill's "How Many Have You Seen?" featuring Container Store: The Musical, Streep No More, and Tyler Perry Is Madea Is Madea.
At the show's opening night at the Belasco Theater last night, Vulture caught up with director Michael Mayer and asked about them:
We had to come up with a reason that Hedwig was in a Broadway theater, and they learned early on that the only way the show works is if you're site-specific. If there was enough money behind it, any theater would host Hurt Locker: The Musical. There have been a lot of Hurt Lockers: The Musical lately. I've been trying to do more rock musicals, but the theater going public still want showtunes, they find it hard to accept. It's not hard for me, it speaks from an emotional place, it's what we all grew up listening to, for God's sakes! It's just a matter of time.
And that Streep No More gag? (Made even funnier by Neil Patrick Harris's well-documented obsession with Sleep No More?) John Cameron Mitchell thought of it. "Streep No More is my idea. It was a lot of work to get this together, but we had fun with updating references like John Mayer and Creed."