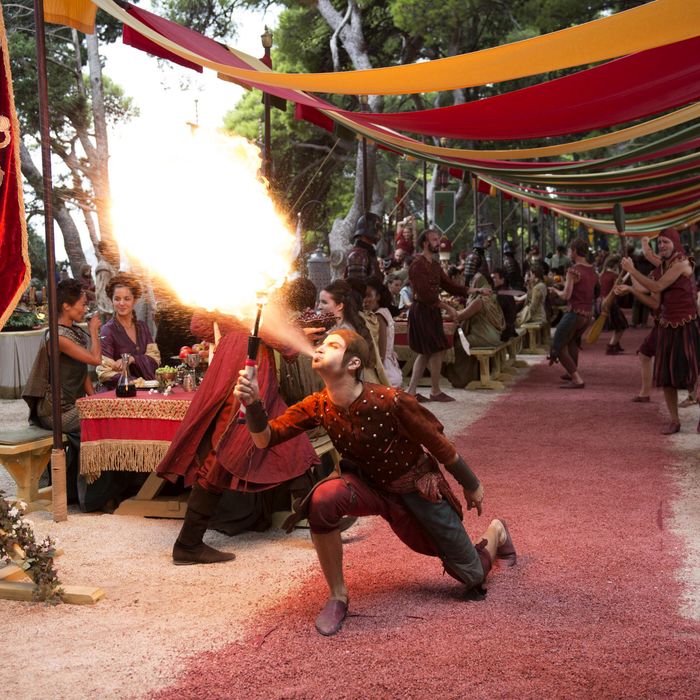 Photo: Macall B. Polay/HBO
If you haven't seen last night's Game of Thrones, you should probably click away now. Here there be spoilers!
Joffrey's royal wedding needed to embody everything tacky and expensive about the boy king, and for Sunday's episode, "The Lion and the Rose," written by George R.R. Martin himself, the show's producers went for even more ostentatiousness than was in the book source material. And it was an especially tricky — and secretive! — production: The reception was shot in 100-degree heat in Croatia over five days (longest wedding ever), and most of the meticulously handmade props and set pieces were created and shipped in from Belfast. As with most weddings, it all went off gorgeously, except for that one thing that happened. Here's how the episode's version of Joffrey's wedding one-upped the way the nuptials went down in Martin's third novel in the series, A Storm of Swords.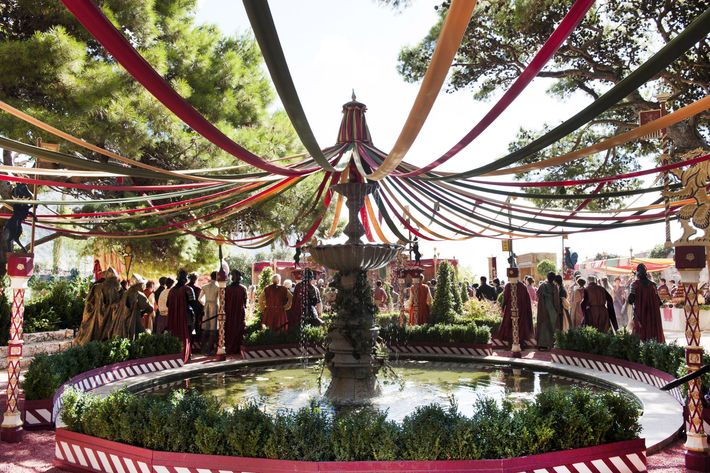 1. An Outdoor Reception
In the book, Joffrey meets his maker after having been poisoned in the Throne room. But after giving us that claustrophobic and homicidal sequence at the Freys' banquet hall for the Red Wedding, producers moved Joffrey and Margaery's royal wedding feast outside to a space never before seen in King's Landing, making the festivities feel more like a destination wedding for the wealthy. (And it was, technically, for someone like Prince Oberyn.) Game of Thrones' production designer Deborah Riley says, "It added more to our understanding of not only the city, but also the grandeur of the event itself and extreme hubris of Joffrey." Riler's team draped the proceedings in Lannister red and gold (with hints of Tyrell green), and erected a fountain and a maypole arrangement, "just to be really decadent and over-the-top." Food stylist Karyn Booth handled the dining décor, which included gold cutlery, plates, and platters, and hand-crafted glassware. "No expense was spared," Booth said.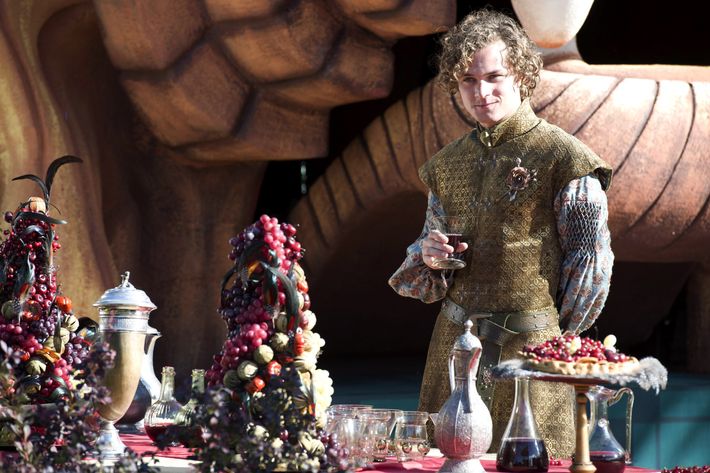 2. A fowl-Filled Feast
Martin describes 77 courses, among them pastry coffyns filled with pork, swans poached in a sauce of saffron and peaches, and peacocks served in their plumage — food stylist Karyn Booth and her team cooked more than 100 pies, and with strict attention to detail. Here's how Booth explained how to do the peacocks (or in this case swans) served in their plumage: "The swan's skin and plumage would have been removed in one piece and dried. The bird would then have been stuffed and roasted, then the skin and plumage pulled back onto the cooked bird for presentation. No such thing as cross contamination then! The same method was used for peacocks. Remember — power and wealth, only very wealthy families could have afforded to do this. We had three peacocks and two swans."
Booth said it was also important that the personality of Joffrey be expressed in the food's presentation. "So we chose feathers instead of flowers, and birds' feet and skulls to decorate pies." It took ten weeks to prepare the feast, most of which was pulled from book descriptions, plus 50 huge display pieces that including a fair amount of taxidermy next to the towers of cheese and berries. Once the food had been styled, prop-maker Gavin Jones re-created all of it so it would be able to withstand the long shooting time without going bad and attracting flies.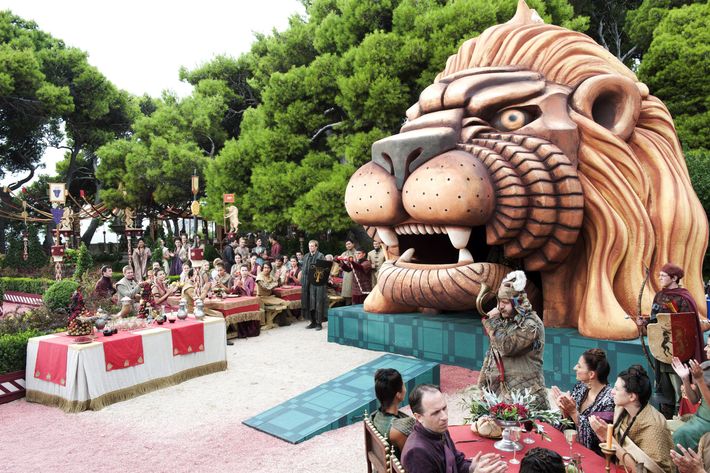 3. The Lion's Head
The enormous set piece didn't exist in the books, but the producers wanted an especially dramatic and crass way to kick off Joffrey's surprise mock joust. What if the dwarf performers were thrown up by an enormous lion head? "[Showrunners David Benioff and D.B. Weiss] were very clear that Joffrey would lack the taste and sophistication to commission a piece of high medieval art," Riley told us. "It needed to be bold and theatrical" and ultimately tasteless, the head serving as a grotesque entrance for the would-be kings after Joffrey's throne. The lion's jaw drops and out they come. Riley said the head, made of polystyrene, was constructed in parts at the show's home base in Belfast, disassembled to fit in trucks, and driven to Croatia for the big day.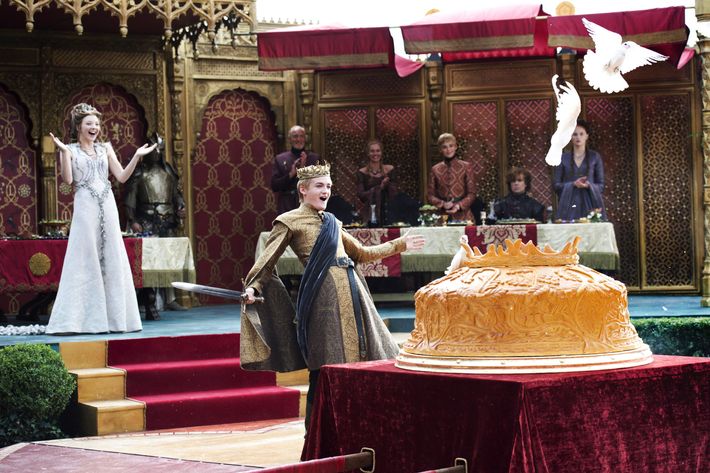 4. The Doves
Is that blood on Joffrey's blade after he pulls it from the pie? Well, it ain't fruit! Joffrey and Margaery's wedding pie was more jack-in-the-box than edible. Like the lion's head, the pastry measuring two yards in diameter (as specified in the book) was created in Belfast before being shipped to Croatia. The shell contained a large trap built by the show's special effects team to house the live doves, which were released and recalled every single time Joffrey whacked it. (In the book, Joffrey shares the honors with Margaery.) "Birds really did fly out of it for all the takes," Booth reports. "It was quite a spectacle." Because it looked so delicious, Booth also made 30 smaller pigeon pies — with chicken — for the cast to eat while filming. They were not dry.