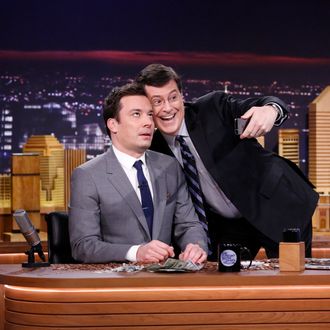 Now that Stephen Colbert is going head-to-head with Jimmy Fallon and Jimmy Kimmel (guess he'll have to change his name to "Jimmy"), it's time to wonder if the trio will be nice to each other or fight to the death. What can we discern from their previous crossovers? At the very least, this is not going to be Leno-Letterman.
Colbert on Fallon
Colbert's been on Fallon aplenty. And boy, do they love to sing. First, "Somewhere Out There."
They also once made up with a performance of "Ivory and Ivory."
When Daft Punk cancelled on Colbert, he did is own "Get Lucky" — which included a quick stop at Late Night.
(Here's what that dance break looked like from the Fallon side of things.)
There was also that whole thing with Fallon, Colbert, and the "BFFFSM" (Best Friend Forever … For Six Months) incident. After Colbert said that Fallon would match his donation to Donors Choose, Fallon instead had his audience raise the $26,000, promising that if they did so, Colbert would appear on the show and they would perform Rebecca Black's "Friday." It happened.
When Fallon started at The Tonight Show, Colbert was one of the slew of celebs who appeared to wish him well: "Welcome to 11:30, bitch."
And they played a game called "Truth or Truth."
Fallon on Colbert

During the boys' Ice Cream Battle, Fallon popped up on The Colbert Report to fight Colbert with a spoon.
(Don't worry, they also made up this time.)
Colbert on Kimmel
Colbert (alongside Jon Stewart) was on Jimmy Kimmel's show once. When Kimmel did his show from Brooklyn, the Comedy Central duo showed up and sat next to Kimmel's faux subway-entrance desk. (The clip isn't embeddable, so you'll have to go watch it here.)