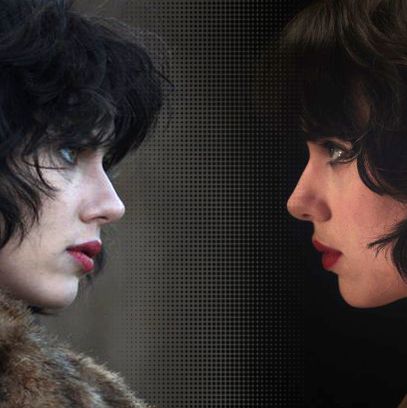 Scarlett Johansson stands nude at a mirror. Late at night, she regards herself impassively, taking in her curves, wondering what sort of power her naked form conveys. The scene in question is a pivotal moment in Johansson's new film Under the Skin, where she plays an alien who saunters through Scotland in the guise of a bombshell seductress, and according to director Jonathan Glazer, it may prove to be an important moment in Johansson's career, too.
"The creature that Scarlett plays in the film exists to be objectified," Glazer told Slant. "And what she does in the course of the film, in her own discovery, is she reclaims that — she de-eroticizes her own image, actually." He added, "It seems to me to be somehow in line with Scarlett's life as an actress, and in the way she's objectified."

Indeed, as an ingenue whose physical appeal is so apparent that she's twice been heralded by Esquire as the "Sexiest Woman Alive," Johansson's roles often make hay of her sexuality — from Lost in Translation, where Sofia Coppola introduced Johansson with a close-up of her rear, to Vicky Cristina Barcelona, in which she plays a restless libertine, to last year's Don Jon, where she's heralded as a perfect ten (or, in the film's Jersey parlance, called a "dime"). Under the Skin requires Johansson to put her wiles to the ultimate test, and at a time when mainstream movie starlets are encouraged to be self-deprecating and no more sexual than a junior high slumber party — and on a weekend where her sexuality is on display in a more coded way in Captain America: The Winter Soldier — Johansson's full-blown commitment to Under the Skin's screen sex represents a real risk, and a demonstration that she's willing to own her image.

Certainly, though, she is used to being objectified. Under the Skin could scarcely have picked a better-equipped actress than Johansson to play a temptress with the sort of sexual charisma that can lure men to their doom: Just last month, New Yorker critic Anthony Lane had his knuckles rapped by the blogosphere after his profile of the star was received as a 5,430-word ogle. Of Johansson, Lane extolled that "she seemed to be made of champagne" and was "radiant in the flesh"; of Lane, Slate's Katy Waldman wrote that the critic was so thoroughly objectifying Johansson that he "refuse[d] to treat her as a human subject, with qualities of mind."

That's a conflict that Johansson has had to navigate for most of her adult career; the notion that her character in Under the Skin is experiencing "a journey from 'it' to 'she,'" in Glazer's words, could also apply to Marvel's treatment of Johansson as its sole superheroine Black Widow. First introduced as no more than a sexual fetish object in Iron Man 2 — when Johansson showed up on set in her skintight costume, bragged director Jon Favreau, "You never heard a crew get quiet so fast" — Black Widow was eventually redeemed by the interest Joss Whedon paid her in The Avengers, where she had more screen time than most of her fellow superheroes and was granted a complicated interior life (and a backstory full of dangerous deal-breakers) that the first film could only hint at.
That's expanded on, in fits and starts, by Johansson's reappearance in Captain America: The Winter Soldier, where she gets to throw way more punches than the other female co-leads in this cinematic universe and is treated as Captain America's platonic equal, for the most part. The film feints at sexual tension between its leads from time to time — Black Widow and Captain America even kiss once, as part of a ruse to fool the bad guys — though Chris Evans plays Captain America as so stolid and straight-arrow that he evinces no hormonal desire whatsoever. (Does the man even masturbate?) When you've got Johansson acting with an actor whose chest is nearly as bountiful as hers, perhaps you owe it to the audience to at least attempt pairing them up, but even Johansson's copious charms can't pull Captain America out of his shell.

The main question in Winter Soldier, though, isn't "will they or won't they": It's whether Johansson's Black Widow can be trusted, since she knows more of the film's secrets than Captain America and she's awfully cagey with how often she doles them out. That's important to note, because Johansson's intellect is a key element of her screen sexuality. In fact, in many of Johansson's movies, the central tension is derived from the fact that she's smarter than the male character she's coupled with: In both Under the Skin and Captain America, only she knows the parameters of her hidden agenda, and in last December's Her — another notable film where Johansson journeys from "it" to "she" — Johansson's A.I. falls out with Joaquin Phoenix when she evolves from a worshipful, subservient girlfriend into a sexually curious intellectual with a mind of her own.

(It's too bad, then, that Johansson doesn't plan to star in her directorial debut of the Truman Capote story Summer Crossing, planned for later this year: She's so canny about her own image and sexuality that I'd love to see how she'd shoot herself. Angelina Jolie, another famously objectified actress, has likewise avoided serving as her own muse in her two directorial efforts thus far; Johansson's male counterparts, like Joseph Gordon-Levitt and James Franco, have shown no such reluctance, helming their own star vehicles.)

But for as smart as Johansson is about confronting her own objectification, can she (or any other actress, for that matter) ever truly control it? Her recent films were all written and directed by men and she'll next star in Luc Besson's summer action flick Lucy, where she plays a woman who accidentally ingests a drug that increases her brain usage from 10 to 100 percent. The trailer for Lucy, though, is all too revealing about how Hollywood treats its bombshells: No matter how smart the drug makes Johansson, no matter how much of her brain it's supposed to unlock, the very first thing we watch the newly enlightened character do is spread her legs apart to lure a bad guy over for a beatdown. Even if Johansson has spent her adult career reclaiming her own screen sexuality, you can only go so far before Hollywood demands it back.