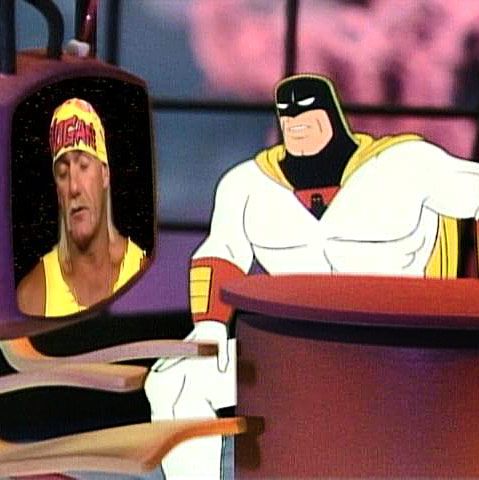 Twenty years ago this week, as the dust of the late-night talk show wars between Letterman and Leno had finally begun to settle, a familiar face came on the scene: Space Ghost. In 15-minute episodes that would have gone viral had anyone known what viral was back then, the Cartoon Network series (which eventually became the linchpin of the channel's late-night programming block, Adult Swim) cast the stiff-as-a-board 1966 Hanna-Barbera action hero as a talk-show host, interviewing a roster of celebrities — some in on the joke, some very clearly not — in awkward, unforgettable segments that anticipated everything from Jimmy Fallon's flop-sweat interview with Robert De Niro to President Obama's appearance with Zach Galifianakis on "Between Two Ferns." And the show's name rhymed, which was important.
Largely absent from TV screens today — though Adult Swim ran an unannounced marathon of Space Ghost: Coast to Coast on April Fools' Day — the show made all the talk-show tropes of the day its own, setting the stage for the more over-the-top stylings of The Colbert Report (check out this set redesign from 1998's "Intense Patriotism") and the like. Whoever wants to become the new king of late night when things shake out next year after David Letterman retires would be well served by learning the lessons Space Ghost began teaching us when Space Ghost: Coast to Coast debuted on April 15, 1994.
Tip 1: Keep Your Enemies Close
In the tradition of Johnny Carson's love-hate relationship with Ed McMahon, Jay Leno's short-lived partnership with Branford Marsalis (himself a first-season Coast to Coast guest), and Conan O'Brien's allegedly contentious relationship with Max Weinberg, Space Ghost surrounded himself with enemies, such as armor-wearing lava creature Moltar as his director, and self-proclaimed "lone locust of the apocalypse" Zorak (oddly enough, actually sort of a giant mantis), and Zorak as bandleader. Much of the show's "banter" involved the villains undercutting Space Ghost or attempting his destruction.
Tip 2: Keep It in the Family
While Dave turned his mom, Dorothy, into a frequent guest via satellite on the Late Show, Space Ghost fans have fond memories of the day Zorak introduced the Coast to Coast family to his young nephew, Raymond, in the episode titled "Hungry." A pint-size look-alike for Zorak, Raymond's adorably childish pronunciations of words like apoca-ips and pasketti made it all the more heartbreaking when, owing to a pizza being slow in delivery, Zorak devoured Raymond.
Tip 3: Don't Be Afraid of the Competition
Years before Jimmy Fallon and Stephen Colbert became Ben & Jerry's BFFs, Space Ghost welcomed all, including a teenage-seeming Jon Stewart (dressing like an extra in a Backstreet Boys video), Conan O'Brien, and even late-night legends Steve Allen and Joe Franklin. Franklin appeared on an episode with journalist and late-night-TV expert Bill Carter, who advised Space Ghost on how to get to the top in the late-night wars.
Prefiguring Saturday Night Live and The Daily Show distributing cast members all over late night, Coast to Coast launched more shows than any of them, with Cartoon Planet, The Brak Show, Aqua Teen Hunger Force, and even The Powerpuff Girls (as the result of a swimsuit competition) being introduced by Space Ghost in one form or another.
Tip 4: Don't Question Authority
While Colbert famously fought with Comedy Central parent Viacom over keeping Daft Punk off of his show, and Letterman's onscreen fights with NBC parent GE are legendary, Space Ghost's approach was a little different, as seen in his 1997 interview with Peter Fonda, who he notes is "Ted's brother-in-law," hoping to stay on the good side of the founder of Cartoon Network's parent company, TBS, Ted Turner.
Tip 5: Let the Music Play
Jimmy Fallon may get hipness cred from having the Roots as his house band and Justin Timberlake as his most-frequent collaborator, and Colbert (like Letterman) has a great rep for showcasing new bands in their first major TV appearances, Space Ghost had an incredible roster of guests. Among the best known: Dave Grohl, the Ramones, Beck, the Bee Gees, Radiohead's Thom Yorke, David Byrne, Björk, Thurston Moore, Ben Folds, Laurie Anderson, Jimmy Cliff, Slash, George Clinton, Pavement, James Hetfield, and Kirk Hammett of Metallica, Chuck D, Pat Boone, Tony Bennett, Willie Nelson, and Tenacious D. And he did it in just over a hundred 15-minute episodes, less total time than the network late-night boys cover in six weeks! Granted, he didn't always have a lot of familiarity with their work. Just ask Michael Stipe.
Tip 6: Pet Tricks
While Letterman showcased his dog in some amazing home movies and turned "stupid pet tricks" into a household expression, any SGCTC fan will light up with recognition is a second if you exclaim "Banjo!" in your best Captain Kirk "Khaaaan!" voice. For the uninitiated, Banjo was Space Ghost's sea monkey, which grew a bit … er … larger than normal in one of the most memorable episodes of Coast to Coast.
Tip 7: Don't Be Afraid to Date Yourself
Though some episodes attain a certain kind of timelessness — the aforementioned "Banjo," "Hungry," the Gilligan's Island reunion episode, and the Batman TV show celebration "Batmantis" among them — most guests from the 1990s' run of Space Ghost: Coast to Coast are really, REALLY nineties. Michael Moore, Sarah Jessica Parker, Denis Leary, and Mike Judge — who feuds with Zorak in his 1997 appearance — are still part of the pop-culture landscape, for sure. And even if Emeril Lagasse does a cooking demonstration with more "bam" and a softer accent than he uses on Top Chef today, and Greta Van Susteren shows a more playful side — and surprisingly Michael Jackson–esque fashion choices — than her Fox News fans would ever expect, they remain recognizable figures. Other guests, like intense self-help guru Susan Powter, "female Fabio" Cindy Guyer, comedian (and inventor of the "sniglet") Rich Hall, and comedienne Judy Tenuta didn't manage to outlast their 15 minutes of fame.
But is that so bad? Will anyone remember Pitbull in 2034? (Does anyone remember him now?) Are Rick Ross and Andy Cohen going to be household names by the time Chelsea Clinton runs for president? What matters is that the right kind of host can make great moments happen with even the most flash-in-a-pan guest. Carson could do it. Letterman could do it. As for Space Ghost, the work speaks for itself.