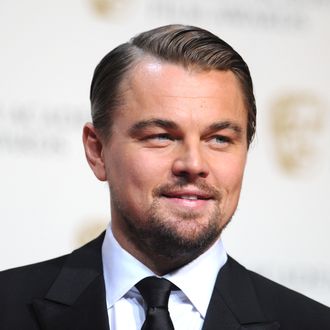 Leonardo DiCaprio's hair looks nice in this photo.
Photo: Carl Court/AFP/Getty Images
Leonardo DiCaprio is a busy man, known for stockpiling projects. Deadline reports that up next will be The Revenant with director Alejandro González Iñárritu. They will start filming this fall for a fall 2015 release. The two almost shot the film a couple of years ago, but DiCaprio decided to go with The Wolf of Wall Street instead. It's based on the Michael Punke novel, and Leo will play a 19th century fur trapper who, after being mauled by a bear, is robbed by some associates and left for dead. He, however, survives so he can get his revenge. It's kind of like Kill Bill, if it starred dudes and Quentin Tarantino were able to act on only one influence at a time.