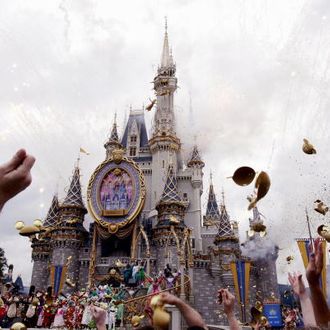 LAKE BUENA VISTA, UNITED STATES: Visitors and staff celebrate 05 May, 2005, as fireworks explode over Cinderella's Castle at Disney World in Lake Buena Vista, Florida. The park is taking part in Disney's 50th Anniversary.
Photo: ROBERT SULLIVAN/AFP/Getty Images
Deadline reports that Disney has tapped National Treasure series helmer Jon Turteltaub to direct a film adaption of their "It's A Small World" ride, which is being envisioned as the start of a possible franchise for the studio. Disney has had luck with ride-inspired films in the past — namely, Pirates of the Caribbean — but we have to say, "It's A Small World" doesn't really provide much to work with in the way of narrative momentum. Still, if you enjoy long, slow, musical boat rides accompanied by animatronic dolls embodying national stereotypes, you will maybe enjoy at least the first of these movies.