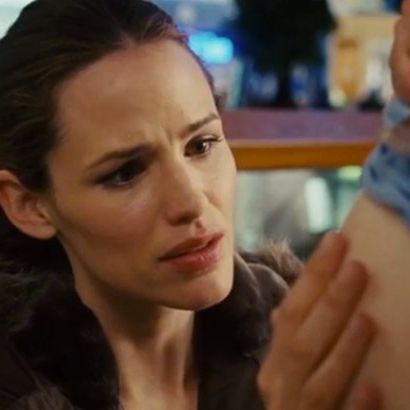 When did the switch happen for Jennifer Garner? The actress made her name as a formidable ass-kicker in the television show Alias (as well as films like Elektra and The Kingdom), but somewhere along the way, she turned into the first actress you'd cast as the warm significant other to a strong man who's calling the shots — in other words, the role she's playing opposite Kevin Costner in this weekend's Draft Day. She's become softer and more maternal as she ages; a perception aided, no doubt, by the countless Us Weekly spreads of Garner cavorting with her three children, or all those shots of her standing a supportive half-step behind husband Ben Affleck as he carried out his awards campaign for Argo.
In Draft Day, Garner plays Costner's girlfriend, and her big plot point is that she's pregnant. Jennifer Garner, cast as a pregnant woman? You're not exactly shocked, are you? Motherhood now seems like an inextricable part of the 41-year-old's persona, and it's not simply because of her offscreen family life: Two of Garner's most notable recent films, The Odd Life of Timothy Green and Juno, are about her iron will to conceive. Come to think of it, maybe it's in the latter film — which came a year after Garner wrapped Alias — where the big switch happened. Maybe you can even pinpoint the exact scene in Juno where the switch occurs … a scene that happens to contain Garner's best screen work ever.
It's the moment at the mall, midway through the film, where a now visibly pregnant Juno (Ellen Page) runs into Vanessa (Garner), the woman who wants to adopt her child. Vanessa is awkward, constrained, and chilly — the exact opposite of the confident, wise-cracking teenager who will bear her baby. The thing about Vanessa is that she seems to know it, too … but still, those neuroses are so ingrained that she can't do anything about them but channel them fiercely into her desire to become a mother.
It makes her tough to watch, this quietly self-lacerating woman who doesn't speak like the other characters in the film, who can't commiserate in Juno's slang-laden patois the way her man-child husband (Jason Bateman) can. And she could have just been that the whole way through. But in this scene, everything changes, as writer Diablo Cody and director Jason Reitman expertly deploy Garner's innate humanity as a trump card.
Watch Garner's expressions in this scene as she tentatively touches Juno's pregnant belly, her wide eyes flashing. Feel her embarrassment, the way Vanessa glances at other people's faces, searching for acceptance and expecting hostility — that's a whole character backstory in a single moment. There's that heartbreaking head tilt when she can't feel the baby kicking and says, "It's not moving for me" — Vanessa is almost resigned to this, her latest cosmic punishment — and then, her simple monologue to Juno's swollen stomach where the walls come down and Vanessa is so earnest and naked, finally, that it almost seems to convey a promise: This child will be as good for Vanessa as she will be good for him.
After Argo, Garner has evinced a desire to move out of Affleck's shadow, and it's probably no coincidence that in Butter, a recent film that she starred in and produced, she played a woman who's long stood by her more successful mate and now wants to make her own big moves. This scene in Juno may have put Garner on her current career arc — she came into the movie a steely figure, and left it as the mother you'd give your own child to — but it's also proof positive that she's got the chops to do more, if she wants.