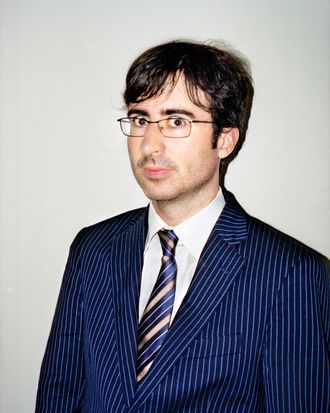 John Oliver, photographed by Jason Campbell
Photo: Jason Campbell
For the first time since November, it is possible to go outdoors in New York without getting in a bad mood. Daffodils are blooming. Ramps are $17 a pound. The air is no longer skin-witheringly cold, not yet trash-rottingly hot. John Oliver is playing board games outside.

The host of Last Week Tonight With John Oliver had originally proposed Subbuteo—a British ancestor of Foosball—but settled for Monopoly when his opponent was unable to play or pronounce the suggested game. For a location, he picked Bryant Park, just steps away from HBO headquarters. Dressed in a plaid shirt and floppy gray zip-up, Oliver is refreshed from his daily 1.1-mile walk to the show's offices on 57th Street, a straight shot south that he likes to make while listening to podcasts.* The commute takes 25 minutes, which is only six minutes more than it took to walk to The Daily Show, where Oliver had been a correspondent since 2006. When Jon Stewart left for two months to direct a movie last year, Oliver stepped in as guest host, with glistening results. He departed in December to begin work on his own show.
This makes The Daily Show an incubator on par with The Mickey Mouse Club, with funny men pouring out the other side instead of pop stars. Steve Carell and Ed Helms both served as correspondents, as did, of course, Stephen Colbert (the group's Justin Timberlake, now off to the Ed Sullivan Theater). Oliver is well loved as a Stewart sidekick and substitute, but when Last Week Tonight debuts on Sunday, he will be assessed against the preposterously high standard set by his former show mates. The world is a scary place for hatchlings.
Right now Oliver and his team are toiling in practice mode, running test shows and refining jokes that will never air. It's all getting down to the wire: The writers have yet to settle on a writing routine and the set design isn't finalized, although Oliver does have some notions. It has been decided, for example, that he will sit behind a desk, but not whether the desk will be sleek and modern or heavy and Hogwarts-y. It could even be a breakfast nook, he supposes.
The Monopoly board is sitting on a café table near a bed of hyacinths, and Oliver is suspicious on first sight: "Everything is different in American Monopoly. Why do you have a wheelbarrow?"
Are there different tokens in England? A little teacup?
"We had an English-style racing car. I'll go with the top hat today, like a fine gentleman."
Oliver rolls a six. "Oriental Avenue! That's a throwback. Are there any other casually racist properties?" He scans the board—no. Good, continue.
His opponent rolls a five and buys Reading Railroad.
"I've always liked railways," Oliver says. When traveling to Washington, D.C., to film segments for The Daily Show, he always chose to ride Amtrak. He found that passengers adhered to a tacit code of unobtrusiveness: "It's a special kind of person who decides to go somewhere slowly."
Unlike The Daily Show, Last Week Tonight will air only once a week, which requires a metabolic shift that Oliver hasn't perfected. The beauty of doing a show every day, he explains, is that there's no time to wallow in failure. Now he'll have a whole week to beat himself up. Completing a loop around the board, he passes Go and collects $200, landing on a purple square. He is not interested in gentrifying Baltic Avenue.
A seven lands his opponent on Ventnor. "Nice place to have children," Oliver observes.
Subbuteo aside, he admits that he's not much of a games person. What really makes him happy is playing with his mostly golden mix dog Hoagie, named like the sandwich. Oliver's wife, Kate, an Army medic and Iraq War veteran, is responsible for bringing Hoagie into his life. In the past, when he was a single stand-up, the concept of being responsible for any creature (including himself) was anxiety-­causing. When Hoagie came home for the first time, Oliver spent the night next to her on the floor, consoling the scared puppy. "I promise everything is going to be okay," he told her. "I'm going to try as hard as I can to make everything all right."
The dog may have helped prepare him for the task of managing his own staff. "Getting a dog is like dipping your toe in the waters of responsibility. I'm more aware of when people need to go to the bathroom now and when they need to be stroked."
For Oliver, access to cool animals is one of fame's primary merits. In November, an animal wrangler brought a monkey to the set of Community, where Oliver has a recurring part as an alcoholic professor. Oliver was able to shake the monkey's hand, which went well enough that he was allowed to hold the monkey on his shoulder. "She put her hand on my head and kissed me. I had to play it extremely cool. Afterwards I quickly walked away and went, [falsetto] 'Oh my God, oh my God, a monkey on my head.' "
What was the monkey like?
"She didn't smell great. She smelled like a monkey who works on film sets. Not quite the smell of the jungle. It was a different kind of desperation."
Still, a real treat. "It was something I'd promised the 3-year-old version of myself. That if I worked hard enough, at some point I could have a monkey on my head."
There have been other encounters. "Playing with a penguin was a big deal," he says. "Got to do that once." It was at a fancy hotel in Hawaii where the Republican National Committee winter conference was being held, which struck Oliver as repellent given the party's austerity drumbeat. Anyhow, the hotel had a petting zoo with warm-weather penguins, and Oliver touched one on the head. "It felt like wet leather," he says. "It had just eaten a fish and seemed interested in having a second fish. That's the window in which penguins are most amenable to having excitable besuited men patting them on the head."
Double ones land Oliver on Community Chest: "Christmas Fund Matures: Collect $100." He retrieves two 50s from the bank.
Full-body immersion in politics can distort a person's outlook on humanity, and it makes sense that Oliver might seek the company of winsome animals in his off hours. Not that he has much leisure time, given the endless stream of news to soak up for future commentary. "Nonstop," Oliver says. "Read, watch, absorb." The closest he gets to habitual recreation is performing stand-up, which for some reason relaxes him. Ideas for material get scribbled down in notebooks that his mother mails him on holidays; the current one is fashioned from old tires.
Toward the end of the game, a Bryant Park security guard spots Oliver and wanders over. "Are you … ?"
"Yes!" Oliver says. "Well, maybe."
The security guard tells a joke, shines a flashlight in Oliver's eyes, and does a fake British accent. "That's not bad!" Oliver says, with generosity that would be heroic even in a noncelebrity.
But back to Monopoly. "Is this a popular game here?" Oliver wants to know. "Children going round and round, building Trumpian monstrosities on squares?" He rolls the dice, gets doubles again. "It's kind of the American Dream."
The tokens move around the board, the writing room beckons, and in compliance with standard procedure, the Monopoly board is abandoned hours before its natural end point. Oliver, who is winning, calls it a draw.
*This article appeared in the April 21, 2014 issue of New York Magazine.
* This article has been corrected to show that while HBO has offices near Bryant Park, Oliver's show's offices are located on 57th Street.