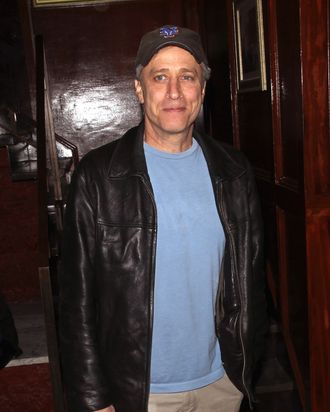 Jon Stewart
Photo: Jim Spellman/Getty
CBS just announced Stephen Colbert as David Letterman's replacement on the Late Show when he retires in 2015, and Jon Stewart endorsed the decision wholeheartedly when the possibility was tossed at him last night. "I know someone who would be amazing," the Daily Show honcho told Vulture coyly at the Cinema Society's after-party for Joe, the new David Gordon Green movie starring Nicolas Cage.
As he nursed a Red Stripe at the new Soho restaurant Chalk Point Kitchen, Stewart held forth on why CBS should vote Stephen Colbert. "He is a uniquely talented individual," Stewart said. "He's wonderful in Colbert Report, but he's got gears he hasn't even shown people yet. He would be remarkable."
The big X-factor looming above Colbert's candidacy is whether he can come out of character to host a mainstream, network television late-night show.
"He's done an amazing job with just that very narrow cast of character, but he's got a lot more he can show," Stewart said. "He's got some skill sets that are really applicable, interviewing-wise, but also he's a really, really good actor and also an excellent improvisational comedian. He's also got great writing skills. He's got a lot of the different capacities. Being able to expand upon [those] would be exciting."
Stewart himself has a long history of being floated as Letterman's replacement. After Letterman fled NBC in 1993, Stewart made the short list to replace him — a position that Conan O'Brien ultimately snagged. In 2002, rumors swirled that Dave would switch from CBS to ABC when his contract ran out and that Stewart would take over. Dave ultimately renewed with CBS.
Now that late-night network limelight seems less appealing to Stewart.
"I don't have that gear, I don't think," he said of the Letterman spot now. "I just don't really have it anymore. I really like what I do, not that Stephen doesn't. But he has a real opportunity to broaden out in a way that I don't."
What about Chelsea Handler, whose name has also been floated in the wake of her announcement that she's leaving E!? "Listen, more voices makes for a more layered alternative," Stewart said. "That's the way entertainment is going. I think it makes sense that more and more voices are being incorporated into each — late night, daytime. It's all blending, you know."
But does it matter specifically that she's a woman?
"No, I think there's all kinds of metrics," he said. "I think Stephen [Colbert] is very different from Jimmy Fallon, is very different from Jimmy Kimmel. But you can't deny that a performer coming from a different perspective, whether it [is] a different identity, would bring things, not in equal proportion, but would give shading to things that you don't currently get. But obviously that's not the sole deciding metric. It's sort of like when people say, 'Are we ready for a black president?' And you say, 'Well, Barack Obama — yes. Mr. T? Probably not as much.' That being said, though, there are interesting dynamics you can bring in with more diverse voices."