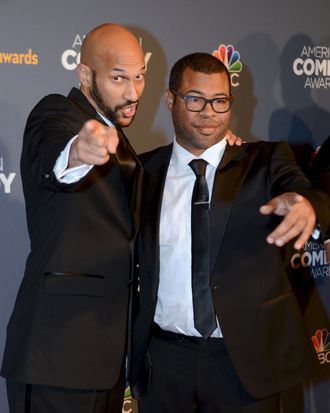 Photo: Anadolu Agency/Getty
Early this month, we told you that Keegan-Michael Key and Jordan Peele were producing a remake of Police Academy. The sketch-comedy duo will collaborate on the project with Paul Maslansky, producer of past Police Academy installments. Vulture talked to the Key & Peele stars at Saturday's American Comedy Awards about how they'll update the 30-year-old, seven-film franchise.
"It's one of these things that everybody knows, everyone has this sort of passionate relationship to the thing, and we want to completely update the tone," said Peele. "Make it feel nice and real and grounded and bring some of what we do with Key & Peele to that franchise."
"We're holding that baby very gingerly, and we hope not to drop it," adds Key, who actually saw the second Police Academy first, because his parents wouldn't take him to see its predecessor. "It's still iconic. I can't believe the amount of young people who you say 'Tackleberry' or 'Hightower' and they know what you're talking about. That's impressive."
Will they cast themselves as cadets? "We're talking about it. We're not sure," said Key. "We're not even that far yet," added Peele. "I think it'd be cool … our job is to be the creative producer. So ultimately we're going to make the decision that's best for the film." They are also self-aware (if not deprecating) about it. Key: "There might be a point where we need somebody way more famous than us." 
The search for a modern-day Steve Guttenberg begins. You're on the clock, Stonecutters.