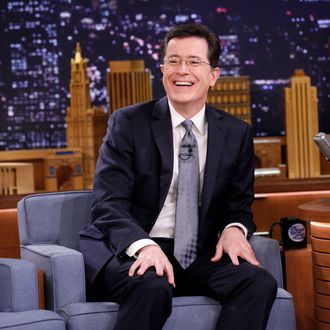 Photo: NBC/2014 NBCUniversal Media, LLC
When Stephen Colbert takes over David Letterman's Late Show spot in 2015, he'll have to shed his Colbert Report persona and let audiences see the real Stephen. But when addressing the news on his show tonight, he remained firmly in character. He said, amidst wild applause, "I gotta tell you, I do not envy whoever they try to put in that chair," adding, "Those are some huge shoes to fill – and some really big pants." He's already displaying the sort of finely honed dad humor we can expect from a network talk-show host!
Colbert also praised Letterman and spoke of the influence that the veteran late-night host had on him during his college years:
Dave has been on the air my entire adult life. [NBC's] Late Night debuted my first year in college. I learned more from watching Dave than I did from going to my classes. Especially the ones I did not go to, because I had stayed up until 1:30 watching Dave. This man has influenced every host who came after him, and even a few who came before him. He's that good.
Half an hour earlier, an ebullient Jon Stewart – who sang Colbert's praises when we ran into him last night – told his audience "It's been a wild day around here" and played a vintage clip of Colbert breaking character while eating a banana.
You may remember a few years back there was a gentleman on this program by the name of Stephen Colbert. He was yea high, skin like porcelain, very talented actor, writer, dancer, improvisational comedian. We would send him to the field, usually with some type of fruit, and see where the day took us.
After confirming that he and his staff responded to the news the same way we all did ("We spent all day looking up old stuff on the internet of Stephen"), he segued into a very sweet tribute to his former Daily Show colleague and long-time friend:
Truly one of the great pleasures of doing this show has been trying to maintain professional composure while Mr. Colbert is making me laugh uncontrollably. So the exciting news today is I no longer need a cable subscription for the privilege of watching Stephen Colbert: Our good friend Stephen Colbert will be heading to CBS to take over The Late Show from, for at least me, the comedian broadcaster who is the best there ever was, David Letterman. And I think — here is the exciting thing for me, I think Stephen Colbert is up for the challenge. So while we wish Dave the absolute best for a well-earned retirement, there's no greater joy for seeing a genuinely good man who works as hard as he can every day and deserves all the success in the world actually get that success.
Over on NBC, Jimmy Fallon joked about the possibility of late-night rivalries:
He's very funny. He's a good friend. Now, a lot of people in the media are already talking about there being a new late-night war – and I just want to say there's not going to be any war. It'll be a dance-off. A late-night dance-off! Get ready, Stephen.
Meanwhile, at a taping of The Late Late Show, Craig Ferguson, whose name had been floated as a possible contender for Letterman's spot, was a perfect gentleman about the whole thing:
First of all, before we begin tonight, may I congratulate the lovely Stephen Colbert on getting The Late Show? … Isn't that lovely? Congratulations, Stephen! A fine addition to the CBS cavalcade.