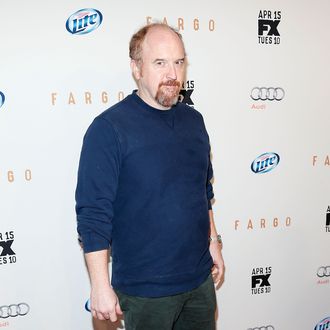 Louis C.K., not a late night host.
Photo: Jemal Countess/Getty Images
Earlier this month, when David Letterman announced he was going to retire from hosting the Late Show, it was hard not to think of Louis C.K.. That's because less than two years ago, C.K. called it, doing a three-episode arc around the idea of Letterman retiring. Did he know something the rest of us didn't? Talking with New York Times TV reporter Bill Carter last night at the Directors Guild, C.K. confirmed he did not. Not only did he not know anything, but he was worried about portraying it at all: "I remember asking, 'Am I allowed to just say that about a living person? That he's retiring?" C.K. said it was funny to see it actually happening, but it ultimately "made sense," as Letterman "had a great life on the air."
But unlike the show, C.K. said he wasn't called. "I'd never be that guy," he told Carter. "I wouldn't want it and nobody would want me to do that job." Adding, "The only reason I would think of doing it would be just to see how badly it would go." He explained: "My specialty [is going] to a place where people get uncomfortable and then stay there and at some point they're like 'if I don't laugh, I'm going to kill myself, so I'm going to laugh.' That's not a good formula for late-night TV — on every night, on a major network."
He's aware, though, that these are the words of a person who already has a job. "If you asked me three or four years ago, I would've certainly have taken it. But now I can say, 'Oh no, that's not for me.'" A late-night show would just get in the way of what he holds "dear," his children. "I take my kids to school every morning and I pick them up when they get out of school … I make their dinner and do their homework with them. That would disappear instantly forever." Considering the amount of material he's gotten from them, that seems reasonable.