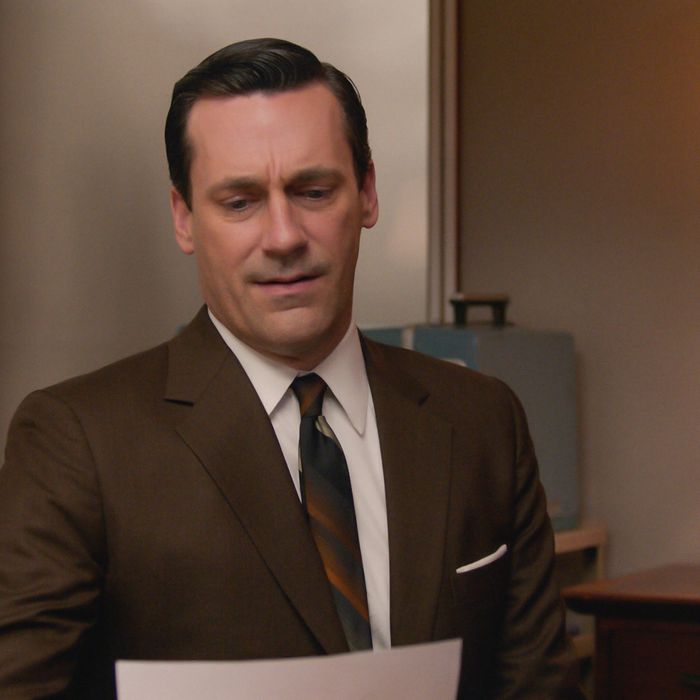 Jon Hamm as Don Draper - Mad Men _ Season 7, Episode 3 - Photo Credit: Courtesy of AMC
Photo: Courtesy of AMC
Because Mad Men is set in the past, viewers are hypercognizant of the way the show approaches time. What year is it? What day? How long has it been since Lane Pryce died? Last night's "Field Trip," though, had a particularly strong focus on time, with enough ticking clocks to serve as a bumper for 60 Minutes. Tick tick tick, Don Draper. This isn't a timepiece — it's a conversation piece.
The clock has been ticking since "Time Zones" two weeks ago, with Freddy Rumsen playing Christian to Don's Cyrano in a pitch for Accutron watches. In the opening moments, Freddy told Peggy, dramatically, to pay attention. "This is the beginning of something," he said, but only now do we know what the beginning actually is: It's the beginning of a new era of SC&P, a post-Draperite reformation that finds Don back in the fold but in a diminished role. When Dr. Faye said Don only liked the beginning of things, I don't think she meant to include the beginning of the end, which is what this feels like. "Field Trip" found everyone out of synch, in the wrong place at the wrong time, waiting, stewing, and, like Bobby said, wishing it were yesterday.
Mad Men has had some fun with the time difference between California and New York, and that was in full force in "Field Trip," with Megan's agent basking in a sunshine-filled office while Don sat in his dark, lonely apartment. "I'm glad I caught you," Alan says, because Don is elusive and never where you need him to be when you need him to be there. Alan relays Megan's professional missteps, mentioning that she probably didn't even recognize Rod Serling. This season of MM is set in 1969: Serling's signature series The Twilight Zone had been off the air for five years. Sure, Megan should still recognize him — he's famous and influential in her field, certainly, and he was still making movies and TV shows, but 1969 is the wrong time to meet Rod Serling. Don jumps on the next plane out to go see Megan; he flies out on a weekday, the flight attendant notes. Not his usual time.
Out of desperation, Don finally goes to see Roger and decides it's time to return to the office. He waits for nine o'clock exactly. Down to the second.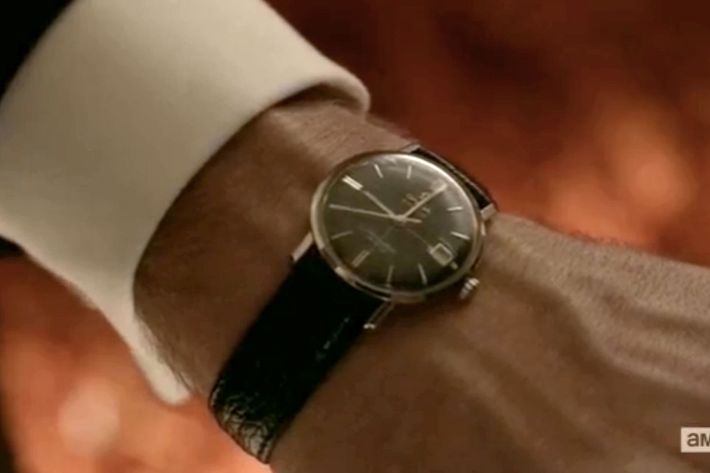 Don spends the rest of the episode waiting around, more or less killing time. "Are you two just getting in?" he marvels at Ken and Joan. Ken shows Don a picture of his baby son. "That's the carousel in Central Park," Ken beams. "Always makes me think of you." Ken's referring of course to Don's famous pitch to Kodak in "The Wheel." "It's a time machine," Don said back then. "Goes backwards, forwards, and takes us to a place where we ache to go again … It lets us travel the way a child travels, round and around and back home again, to a place where we know we are loved." This is when Harry Crane cried, as did much of Mad Men's audience. But we know now that "back home again" is absolutely not a place where Don knows he's loved. It wasn't when he was a child, and it certainly wasn't when he was married to Betty. He knows his children will not be able to think of home as a place they know they're loved; we see poor, sad Bobby grapple with that in "Field Trip," and last week heard Sally wish her mother were dead. Don wants to time travel; he has since 1962 or maybe even earlier. But time travel to when?
Don hunkers down to wait for Roger — so he picks up a Time magazine. (It's the April 4, 1969 issue, with Dwight Eisenhower's death as the cover story.) When Don stands up, we can see a clock on the wall in the background. It's 12:30. Don's been waiting around for hours.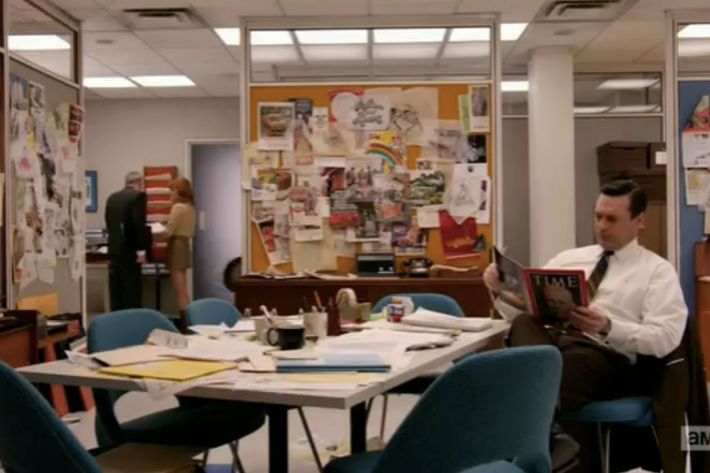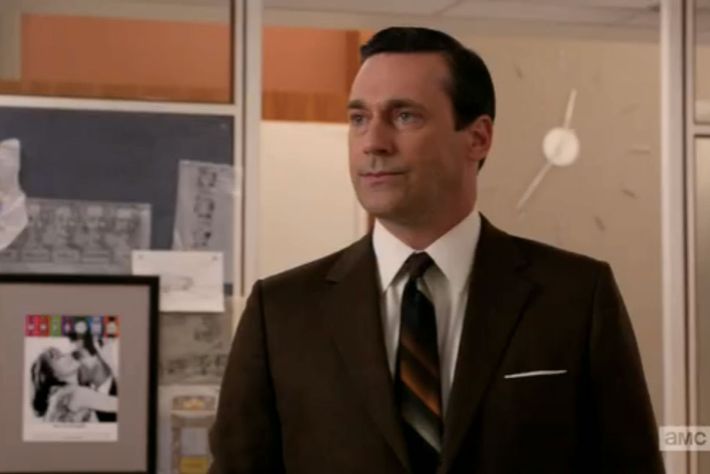 He's not done waiting, either: When Dawn comes to collect him, he's still just sitting in the art department room, only now it's after seven o'clock — late enough that Betty has fed her sons dinner, late enough for Henry to be home from work, late enough for it to be bedtime in the suburbs. But SC&P offices are still abuzz. That's a very long workday.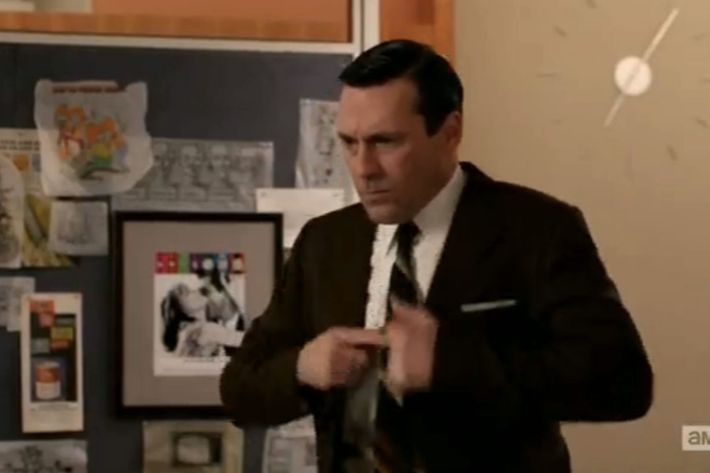 But it's not only Don who's having a time crisis. Betty is, too. She gets lunch with her old friend Francine and humble brags that maybe she's just "old-fashioned." Francine agrees and calls her "Betty Draper." If Betty's bothered by it, it doesn't register, but that's not Betty's name anymore, and it hasn't been for a few years. "Oh, your time's occupied," Francine says, meaning that Betty is busy with her younger children, but that's not really true and Betty knows it; the dig-that-wasn't-a-dig is part of why she decides to chaperone Bobby's field trip. At the end of the episode, as she dejectedly snuggles with a sleeping Gene, Betty laments that her children don't love her. "Look at him," Henry says, not unkindly, pointing to the admittedly angelic-looking child. Betty is unmoved. "It's only a matter of time."