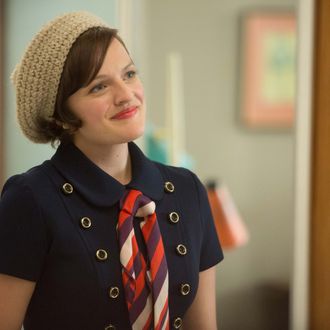 Photo: Jordin Althaus/AMC
There will apparently be no Breaking Bad–like surge for the final "season" of AMC's Mad Men. Sunday's season six premiere debuted to 2.3 million viewers, down about 30 percent from last spring's return and the least-watched season opener for the show since 2008, its sophomore year (2.1 million). It also represents the third consecutive season of decline for Mad Men bows: After peaking at 3.5 million in March 2012, last year's premiere ticked down to 3.4 million viewers. The declines were similar among younger viewers, with the show dropping from a 1.1 rating among adults under 50 last year to a 0.8 rating Sunday.
It's worth noting here that the Mad Men audience might not be disappearing, but rather shifting to delayed viewing. Last season, the under-50 audience for Matt Weiner's drama went up by 87 percent once DVR replays were tallied. We won't know for a few weeks, but that percentage could be even bigger this season. FX ratings researchers, for example, have pointed to how its second year critical fave The Americans has been seeing extraordinary DVR gains this year — to the point that episodes that appeared to be down in the overnight ratings week-to-week ended up showing gains once time-shifting was taken into account. Still, even if Mad Men gets a record DVR bump, it's unlikely to make up all of the year-to-year losses, nor is there any evidence to suggest a rush of new viewers will flock to the show the way they did with Breaking Bad. One bit of very good news for AMC, though: New drama Turn did better in its second week. Last night's episode averaged 1.9 million viewers at 9 p.m., a modest 10 percent decline from last week's premiere. And among viewers under 50, the drama actually went up by around 12 percent.
One more ratings note from Sunday: HBO's Game of Thrones held up well after last week's record-shattering return. Last night's episode bowed to 6.3 million (down just a tick from last week's 6.6 million, and up 48 percent from last year's second episode). Silicon Valley fell about 15 percent in its second week (from 2.0 million viewers to 1.7 million), while Veep was relatively steady at 860,000 viewers. Counting same-night encores, the three shows (GoT, Silicon, and Veep) ended up with 8 million viewers, 2.2 million viewers, and 1.4 million viewers, respectively.