"Sometimes you have a good dick day, and sometimes you have a bad dick day," says the screenwriter Jeff Tetreault, his full lips curled up in a knowing smirk. "It's like a good hair day and a bad hair day: Sometimes the blood just settles down there and it's sweet — it's an awesome dick day. And sometimes, I'm like, 'What the hell?'"
On the night that I meet Tetreault — whose first produced movie, Bad Johnson, will be released May 2 — at the West Hollywood gay bar Fubar, he is most definitely having a good dick day. This isn't the place where you might expect to find a strapping straight guy like Tetreault, but tonight, he's hard to miss: Standing on a black box in the front of the bar, clad in tight white briefs and a cropped football jersey, Tetreault sways with his arms in the air as young men clutching dollars bills stare up at him. Dark, handsome, and built like a hulk, Tetreault completes his look with an unlikely pair of prescription eyeglasses — which he'll occasionally, ostensibly, clean by rubbing the lenses on his cotton-clad bulge.
When he catches sight of me, Tetreault breaks out into a smile and flicks his dick in my direction with his thumb and forefinger. A little later, he jumps off the box and ambles over to me at the bar. "What are you sipping on?" he asks, offering to buy me a drink. He pulls some cash from his waistband and brandishes the money with a grin: "I'll use the cock dollars!"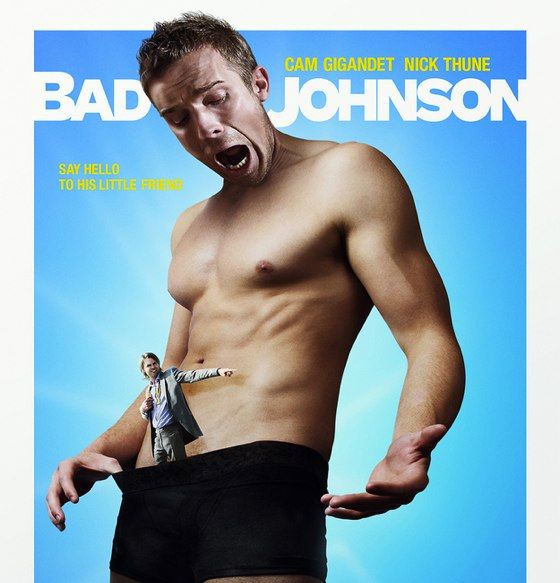 The male member is a funny thing, and the 30-year-old Tetreault has made it his muse. Helmed by The Virginity Hit director Huck Botko, Bad Johnson (out May 2) casts Burlesque heartthrob Cam Gigandet as an inveterate womanizer who, at his lowest point, murmurs, "I wish my dick would leave me alone," and his wish is weirdly granted the next day, with the now-detached appendage given human form and played by comedian Nick Thune. (When the transformed Thune introduces himself to his flabbergasted former owner, he mulls over Gigandet's weak handshake and asks him, "Where's that grip I know?") Tetreault's lowbrow high concept moved Indiewire to declare the movie a potential Razzie contender, while the one-sheet for Bad Johnson, where a shirtless, terrified Gigandet finds Thune poking out of his pants, was heralded as "perhaps the most ridiculous movie poster ever" by BuzzFeed.
"People are shitting on it, right? It's hard," says Tetreault. "But this is not the Adam Sandler version of the movie. This movie has less dick jokes than a Judd Apatow movie — and it's about a penis!" But Tetreault insists that there's more to Bad Johnson than meets the eye, and given how throughly he subverts the traditional idea of how a Hollywood writer should look and behave, perhaps there's something to that notion. Tetreault isn't the first screenwriter to dabble in erotic dancing, nor is he even the most famous: That would be Diablo Cody, who chronicled her yearlong stint as a Minneapolis stripper in a blog that earned her both a manager and a publishing deal. Still, by the time Cody won an Oscar for scripting 2007's Juno, her stripper gig was long since dispensed with; Tetreault, by contrast, will continue shaking his moneymaker for several hundred dollars a night well past Bad Johnson's release. In fact, he took up the profession in April of last year, just a few months after the movie finished shooting. "It's rough being a writer in this town," he explains. "I was broke. I'd gone on food stamps and everything, I had nothing left. I refused to sign up for more credit cards. And so I called in the velvet army."
Though straight, Tetreault has few hang-ups about dancing for gay men — "I pride myself on being more than that lame beer-commercial bro," he says — but he admits he was intimidated when he showed up for his night on dance duty. "I walk in and these guys have got these monster cocks," he remembers. "Later, I would find out that they had double-twisted cock rings on — and their dicks would turn purple by the end of the night." His nerves got the best of him: "I was nervous and scared, and my dick shrank to baby-corn size. Some girl tried to tip me and reach into my underwear, and I remember apologizing to her: 'It gets a lot bigger. It's my first night.'"
The way Tetreault tells it, his go-go dancing gig is only the latest in a series of odd jobs he's held since moving from Virginia to Los Angeles — most of which he's been let go from. "I have the firing report from [L.A. hot spot] Katana framed in my apartment," he laughs. It was at the tail end of one of those short-lived jobs, a gig working the counter at the Sunset Strip gym Equinox, that Tetreault met Danny Roman, a former assistant to Scott Rudin who would go on to produce Bad Johnson. After Roman friended Tetreault on Facebook — "I would literally drop my phone when I read his status updates, because they were so funny," says Roman — he asked the budding writer to send over his new script.
"I didn't think anything of it," Tetreault recalls with a shrug. "Whatever, this is just some dude who wants to suck my dick. You know, that's Hollywood for you: Everyone pretending that they can help you to get into your pants." Tetreault emailed Roman the script to Bad Johnson, then more bluntly titled Me and My Penis. "Everyone went apeshit over it," remembers Roman, who quickly scooped up Tetreault and sent his script out all over town. "My phone was blowing up for days with people who wanted to meet with him."
"It was the hot script for fall 2009," says Tetreault, who signed with WME shortly after. "I got a lot of meetings off of it. You know, when you're a naïve writer who's new to L.A., it's like, 'This is it, this is my big break!'" A few months later, Tetreault managed to sell a different project to Morgan Creek, but Bad Johnson languished: Though the script had plenty of admirers, no studio was willing to pick it up. "I was like, 'You could make this for under five million dollars and clean up,'" says Tetreault, still in disbelief. "It just made me realize how broken the system is in this town, that they'd rather piss away $250 million on some CGI bukkake that they could slap on a soda cup rather than take a chance on something new and original." With no immediate studio takers for his passion project — it took years to cobble together enough money to make Bad Johnson as a low-budget indie — Tetreault's buzz cooled and his big break went bust: "It just ends. Immediately. You soon learn that it doesn't mean shit."
And so, Tetreault turned to go-go dancing to supplement his income. "If you've seen Jeff's dick, you know why he wrote a movie about it," one of his fellow dancers tells me with a wink. Still, Tetreault confides that his package wasn't always substantial enough to inspire dollar signs.
"I know what it's like having a small penis," he says, detailing his own ribald Rosebud moment: "I was the late bloomer, and I had the tiniest fucking dick. All my friends had pubes by seventh grade, and here I was, like, 'What the fuck, there's nothing there!' I felt super emasculated by it."
It wasn't until college that Tetreault finally grew several inches — in every possible direction. No longer a poorly endowed pipsqueak, he supplemented his growth spurt by lifting weights, transforming himself into a muscular, handsome hulk. As a teenager, Tetreault aspired to look like Nick Lachey; now that he had that buff body, he could barely believe the difference in how he was treated. In fact, he couldn't get enough of the attention — and his obsession with being ogled persists.
"Listen, I love being objectified," says Tetreault, who even showed off his Jersey Shore figure in Playgirl last year. "This is douchebag behavior at its worst," he warns, before launching into a story: "I live about a quarter mile from Chipotle and I walk there every day, and before I go, I'll do crunches on my ab roller and then I'll put a little of coconut oil on me because I know I'm walking down Sunset and I want all the attention." He admits, though, that his desire to be desired can be contradictory. When Tetreault is dancing on the box, after all, it's not his brain that the boys are admiring. "I learned a long time ago to stop telling people you're a writer or stop trying to convince people that you're doing something with your life," he says, "because when you're swinging your fucking dick and flexing your muscles and taking dollar bills in your waistband, it doesn't matter if you're a goddamned Harvard professor — you're not going to be treated with respect."
He wouldn't mind some respect from his peers, though. Tetreault recently went to a shindig thrown by Pitch Perfect scribe Kay Cannon, and when he learned that his fellow partygoers had written for shows like 30 Rock and Parks and Recreation, he tried to engage them in conversation, to little avail. "I don't look the part of a writer, you know?" he says. "There's just this smarmy air of condescension where they indulge you in conversation but you can tell they think they're better than you, or that because I have big arms, I'm below them. This is what still frustrates me: I know that 99 percent of the time, most people would be right about someone like me, thinking I'm some douchebag, but I know that I'm not that person."
In a town built on typecasting, Tetreault doesn't stick to the script, and because he has such an acute sense of how significantly a man's life can change — how an insecure teenager can become a buff go-go dancer, how a hot screenwriter can quickly go cold, and even how you've got to balance the good dick days with the bad ones — he says he's ready for whatever the release of Bad Johnson may bring.
"You have to approach everything like it's not going to last, because it rarely does," Tetreault says. "It will last for a second, and then it's gone. Then you're at a bar trying to use that shit to pick up girls and you tell them, 'Pull up your phone, Google this,' and you never want to be the guy that says 'Google this.'" He takes a sip of his drink and thinks, then adds, "You want to be the guy where they already know who you are." In other words, the total package.