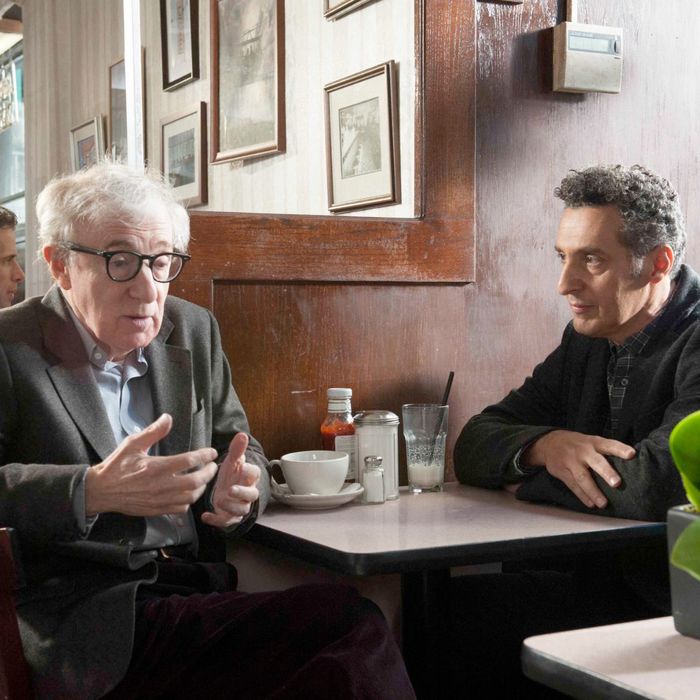 Photo: Jojo Whilden/Millenium Entertainment
When John Turturro writes and directs, the wiry actor becomes a florid romantic, a cheerleader for abbondanza and passione. (The latter is the title of his wonderful documentary about the music of Naples.) His new film, Fading Gigolo, is a hymn to the healing sensuous touch. He has cast himself as a diffident, gentle Manhattan florist named Fioravante who's tapped by his friend Murray (Woody Allen), the owner of a failed used bookstore, to work as a high-priced prostitute. You read that correctly: Woody Allen is John Turturro's pimp. And it turns out that Fioravante — not, by his own admission, conventionally handsome and certainly not young — is catnip for the ladies, some (Sharon Stone, Sofía Vergara) wowzas in their own right. He treats them like the fragile flowers they are — and they bloom. But Fioravante's professional gunslinger detachment is tested when Murray hooks him up with an ultra-Orthodox widow, Avigal (Vanessa Paradis), one of those Jewish "lice ladies" who pick nits out of kids' (and their parents') hair. As Avigal begins to smile a lot, a lovelorn Orthodox law-enforcement type (Liev ­Schreiber) from her close-knit Brooklyn neighborhood monitors her comings and goings from Fioravante's apartment — and the florist begins to think about putting down roots of his own.
What hallucinogen was Turturro on when he came up with this plot? It's so crazy that it's … fun. You have to set aside the endless improbabilities and impossibilities and accept Fading Gigolo as a fairy tale devised by a man who's philosophically committed to the idea that life is a romantic commedia and that the only sin is not acting on one's feelings. It's okay to cringe from time to time — you have to cringe at lines like "You bring magic to the lonely." The scenes with the glittery-eyed Stone and Vergara (who want Fioravante for a threesome) don't quite rise above their one-joke premise (the women are projections), but Paradis takes things to a different level. She quivers under Fioravante's touch, like an oyster. The tears that spring into her big eyes on that tiny face evoke a world of solitude and self-­effacement that must quickly be counteracted.
What puts Fading Gigolo over the top is the presence of Allen, who's just the sort of earthy, fast-talking foil the moony Turturro needs. It's true that Allen is 90 percent shtick: the falsetto stammer, the compulsive gesticulations, the Groucho-vaulting eyebrows. But in this context he's like a figure out of commedia dell'arte, and you can properly savor how musical — how jazzy — those tics and stammers are. When Orthodox enforcers kidnap Murray and make him sit before a high rabbinic tribunal, Turturro brings in Bob Balaban as Murray's lawyer, and Allen and Balaban have the sort of instant rapport that suggests a great Jewish comedy team. Murray lives with an ­African-American woman (Tonya Pinkins) and a passel of young kids who call him their uncle, and watching Allen play baseball with black kids in Prospect Park fulfills a different kind of fantasy: Turturro has sprung Allen from his insular world and returned him to his outer-borough roots.
Fading Gigolo is such an uninhibited, healthy sort of sex movie that it's a shame I have to acknowledge the elephant in the room. This is Allen's first appearance since the latest wrinkle in a decades-old scandal, and while I have no desire to add my ignorance to the sum of all ignorance, by not acknowledging the (credible) accusations of sexual abuse — by saying, "It's no one's business but this family's" — we effectively shun the accuser, Dylan Farrow, whose explicit point is "This is everybody's business." On the other hand, we can't convict a man without evidence. So we are in limbo, and there is no good way to wrap up this review.
*This article appears in the April 21, 2014 issue of New York Magazine.