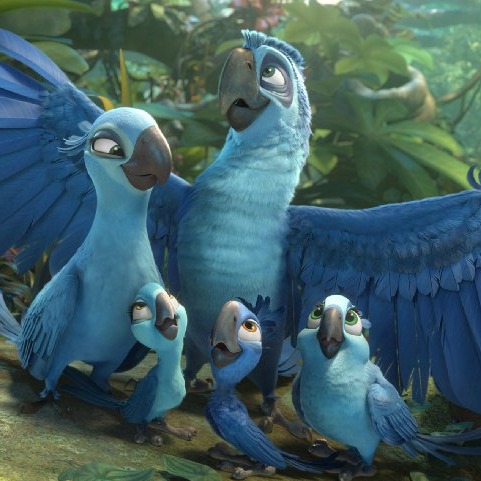 Photo: Twentieth Century Fox
For all the cacophony of the movies themselves, there's something to be said for the personal nature of the Rio franchise. Conceived by Brazilian director Carlos Saldanha as a way to highlight the culture and biodiversity of his native land, both the first Rio and now its sequel are at times too idiosyncratic to ignore. You can see it in the opening moments of Rio 2, as the camera travels across the water and arrives at a Rio de Janeiro teeming with white-clad citizens singing and dancing to greet the New Year. This is actually a thing – on New Year's Eve, the citizens of Rio (and armies of tourists) don white and crowd the beaches and the streets. But Saldanha has re-imagined them as an almost heavenly choir – everybody sings in unison, on crowded buses, on beaches, on bridges, and on balconies. It's a dream of a better world.
And so, the most enchanting parts of Rio 2 are these moments that betray the personal quality of the whole project. The film follows Blu (voiced by Jesse Eisenberg) and his wife, Jewel (Anne Hathaway), the star-crossed blue Spix's macaws of the first film who now have a whole family together, as they leave their comfortable bourgeois city life behind for the Amazon; they've just learned that there may be a whole tribe of their rare kind out there. When the family departs on its journey, Saldanha gives us an extended scene charting their course through various cities in Brazil, stopping off at major landmarks. There's no reason for it, other than to basically show animated versions of different cities in Brazil. It's a moving tourism brochure, but it works. I wanted to pack my bags right then and there.
There's more to the story, naturally. Eduardo (Andy Garcia), the tribe's leader, turns out to be Jewel's father, whom she thought had perished in a fire. He's loving towards her, but a hardass to her husband. He also implies that she may have been better off married to her hunky childhood friend Roberto (Bruno Mars), with his soft, long feathers and his brave ways, than to Blu, with his fanny pack and his GPS and his breath mints. Is all this sounding familiar? I'm sure someone has already made a Meet the Parrots joke.
The stakes are appropriately raised, however, when the birds' habitat is threatened by some craven, outlaw loggers. Meanwhile, Nigel (Jemaine Clement), the preening, Shakespearean-trained cockatoo whom Blu had sent into an airplane engine in the first film, is back and looking for revenge. Luckily for Nigel, Blu's friends Nico the canary (Jamie Foxx) and Pedro the cardinal (will.i.am) also tagged along on the trip, and they're organizing a talent-scouting event to try to find a performer for a musical celebration. So, the evil cockatoo sees his chance and takes it, with a rendition of "I Will Survive" that's almost a literal show-stopper – it's funny, and it stops the movie dead. But by that point, the talent-scouting subplot has already featured an almost nauseatingly diverse array of musical numbers, ranging from disco to samba to hip-hop to Broadway show tunes (best bit: the slo-mo Capoeira frogs). But the dizzyingly indiscriminate nature of the songs and the gags get tiresome after a while, and they threaten to turn the film into a meaningless noise and color machine. 
I know I'm overthinking it, but earlier this year, The LEGO Movie showed us how a kids' blockbuster could be overstuffed with eclecticism and still retain a sense of purpose. And Frozen demonstrated that not every hit musical toon has to be so aggressively hip. Admittedly, Rio 2 is a more modest enterprise – it wants to keep the kids entertained, not offend the adults, and make a quick bajillion dollars around the world. It's likely to achieve its aims. But during those aforementioned moments when the seams show, when you realize that Saldanha probably has something at stake in this film, you wish Rio 2 had the smarts and the inventiveness to match its scattered bursts of ambition.