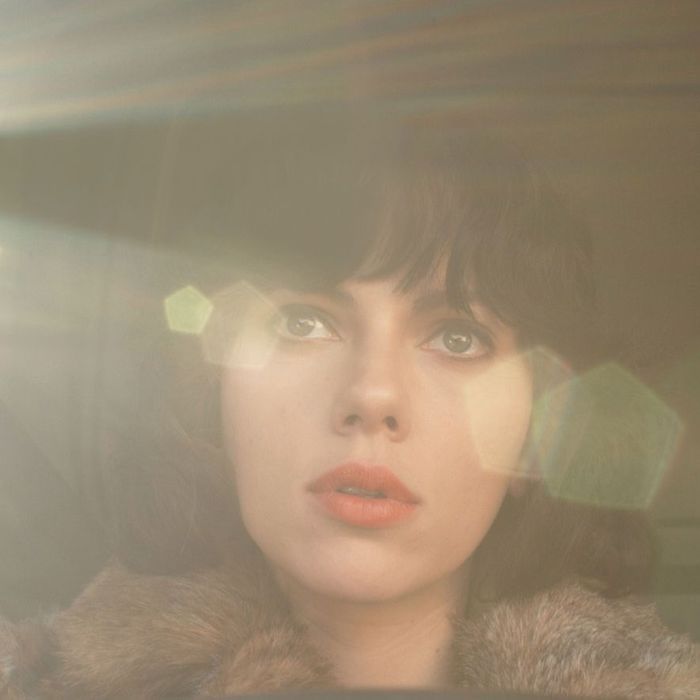 Proving again that space aliens have resonance beyond the multiplex, Jonathan Glazer's Under the Skin takes the horror genre in infectiously strange new directions. The film is quite a departure from Michel Faber's novel, which is grisly, chatty, borderline satirical, the story of an alien from a planet of cowlike creatures who undergoes painful surgery and drives around Scotland seducing brawny men who won't be easily missed—men who are then drugged, castrated, fattened for slaughter, and finally butchered and shipped back in pieces to the home world. Glazer (Sexy Beast, Birth) has eliminated every last bit of exposition and concocted a creepy-crawly, near-abstract meditation on a woman's estrangement from her own body. At times the film is right on the border between mesmerizing and narcotizing, but it casts an otherworldly spell.
The alien, known as Laura (Scarlett ­Johansson), slips into human skin, adopts an English accent, and cruises Glasgow picking up men and enticing them into a darkened building, where the world turns black and white—inky black and milky white. In near silhouette, the curvy temptress doffs her clothes and draws her victims into a pool of ooze. It's frankly hard to make out, but the closer they get to her, the more they seem to deliquesce. Occasionally, a black-clad motorcyclist rumbles by to make off with a specimen, but it's all very vague.
My response to the first half was "That's a hell of an image, but why is it held so long?" Also "I could use a cup of strong coffee." Soundtrack composer Mica Levi's quivering, atonal strings are like sandpaper on the eardrums. Deep silence is followed by deafening babble. On the street, the camera scrutinizes men and women of all ages and shapes: meat. Meanwhile, there is Scarlett in a dark, shaggy wig, her lips pink and full, her breasts ripe, her eyes blank as they fix on potential victims. Which of these earthlings will be the next Anthony Lane?
The mood changes when Laura picks up a man with severe deformities. He is very nervous (the credits list him as "The Nervous Man") and wants only to go to the supermarket. To loosen him up, Laura tells him he has beautiful hands; and when he asks her, on the verge of coupling, if this is a dream, she tells him it is and seems to mean it in the nicest possible way. After that, her eyes begin to signal a longing for connection; she regards her new body (most especially her vagina) with curiosity and wonder. The score turns romantic—briefly—as she opens up. And then, all of a sudden, she is vulnerable. The incendiary finale is shocking: You might not realize until then how much this depersonalized tone poem has gotten under your skin.
*This article appeared in the April 7, 2014 issue of New York Magazine.