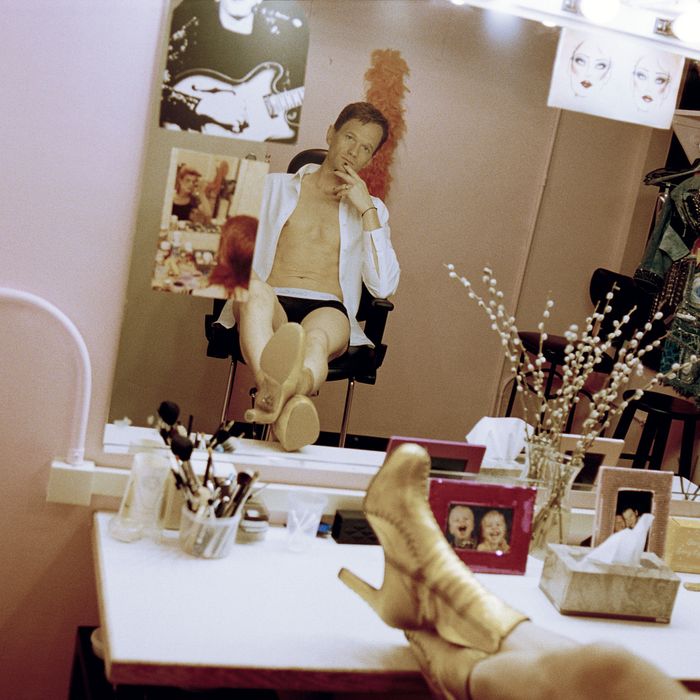 Photo: Andreas Laszlo Konrath/New York Magazine
Neil Patrick Harris's stage chops have been well known to the Broadway community for years — mostly for his Über-charming Tony-hosting duties (and a memorable supporting turn in the 2004 revival of Assassins) — but as of Tuesday night, he's officially proven his ability to carry an entire show on his shoulders. Starring as the East German transgendered would-be punk rock star Hedwig in John Cameron Mitchell and Stephen Trask's Hedwig and the Angry Inch, Harris prances around stage in platform heels, goes through a formidable collection of wigs, and shreds like Iggy for 90 minutes straight. (Read Jesse Green's review here.) He spoke to Vulture about his backstage transformation, from dressing room décor to dance tracks.
You've just opened. How are things going so far?
I'm good, we're making lots of smallish changes, so it's keeping my brain working in overdrive. I can't settle down quite yet. I'm thinking about a new choreography for this number or a new ad lib or line put in here. I'm in overwhelmed mode but am certainly loving how the reaction has been. People are real big fans of the canon. I've done a lot of listening to various versions of the show, for sure. Although now that's not helpful; now I just listen to the background recordings done by our band and practice singing along with them.
So let's talk about your dressing room, though I'm assuming you don't get to spend much time there during the show…
I kind of just got here; you can still smell the paint on the walls, and not the panic. I don't ever leave the stage during the show itself. Because there's so much transformation that happens, I have to be here much earlier than most. I start around six o clock with a physical and vocal warm-up, and around 6:30 p.m. start the makeup and hair regimen. It takes a good couple hours to get ready — a girl's gotta look pretty, you know?
Do you get to participate in the making-up routine at all?
Mike Potter, who did the original makeup and wig designs for John Cameron Mitchell at Jane Street and for the movie, is doing this as well.* He's kind of a master; I'm incredibly lucky to get to sit back and an hour later look at his work. I'll probably relax as the run goes on; right now I'm using the time to run lines in my head. It's a good way to slowly transform. I actually get to watch myself turn into a different person, and that helps.
How do you take care of your voice? 
My friend and vocal coach Liz Caplan is now the vocal supervisor on the show, and she's an extraordinarily good technician for the voice. We have real specific needs that have to be met in this; it has to sound harder-core than it actually is, 'cause I can't shred my cords every night. So she's just been real diligent with specific exercises that focus on breathing, getting a little bit of air out right into the microphone, as opposed to a lot of air out to the whole audience. We don't have head mikes, the little mike that sticks to the forehead that most shows do; I sing into the mike only. So because of that, it's more rock and roll, but requires a different skill set vocally. I'm learning new techniques I didn't think I'd have to learn, so that's kinda fun.
It looks like you're in killer shape, too.
Yeah, body-wise, I'm trying to just lose as much weight as I can. I've dropped almost 20 pounds and am trying to stay as flexible as possible. A lot of leg stretching and scapula retractions, ass-and-tits-out kind of postures. A lot of hips to one side, a lot of fluid movement. That big ball you do sit-ups and stuff on gets used a lot. And I try not to eat. [Laughs.] Which is hard. 'Cause apparently you need sustenance to exist. I try to have half a sandwich around 4:30 p.m., and then like some kind of green juice before that and maybe a little oatmeal in the morning. That's kinda my jam. If I'm feeling really good, I'll have a glass of wine after the show when I go home.
Do you have a minute to chill in the dressing room before you have to face the hordes at the stage door?
I have to shower, 'cause I'm covered with sweat and spit and tomato and makeup and glitter, so I have to clean myself up, which takes longer than a minute 'cause glitter will just never go away. I have reams of Scotch tape to try to take off all the glitter every night.
And you have three dressing rooms, actually, right?
Since the cast is so small, I'm very lucky. The pink room is where I get made up, and we opted for it to be bold colors, almost like a very kinetic candy shop. So while I'm sitting in there, I'm gaining energy. And then I have another dressing room with a couch and it's much calmer; there's a record player, that's where I get to relax — it's more in a lavender mode than the cotton candy pink — and then there's another room for PT where I stretch and warm up. They are conjoined.
Did you participate in the color scheme concept?
Totally! Carte blanche, baby. Although I'm thinking I need a little gold chandelier. I think Hedwig needs a little gold chandelier in her dressing room to be even fancier. And I think it would be even better if, like, three of the bulbs were shattered. A broke-down chandelier.
What kind of decorating have you done?
I bought a bunch of books of punk rock stars that weren't in very good condition so I could destroy them. Like there's a Mick Rock book with these photos of Bowie and Iggy and I've taken scissors to those and cut them into smaller pieces, and I'm going to be collaging them all over the mirror, sort of like an inspiration wall. I've gotten a bunch of wall decals, and a poster of Dolly Parton. It's just amazing. I don't even know where it's from, but it has this country-western background and it's early Dolly drag-tastic. And it's gonna be next to a big Ramones bumper sticker. So I'm trying to mix pretty lady with punk rock, and it's going to grow and change as the show goes on. There's a massive gold mirror in the calming room that's been here for ages, I think. It's pretty spectacular, I wonder where it actually came from — just big gold, probably six-foot-by-five-foot gilded mirror. It's very fantastic. I keep staring at it, wondering what stories it has to tell. It must have been a prop in some awesome show back in the day.
What are you listening to on the record player?
I have Ziggy Stardust, a bunch of old Tommy Dorsey albums, what else do I have here … Johnny Mercer I was just listening to. The Andrews Sisters. Noel Coward's Greatest Hits, that's cool. I like old-school music, oooooold school.
Do you have any pump-up songs before you go onstage?
We play a lot of girly dance music. Right now we're obsessed with that song called "Let Me Take a Selfie." Mike and I are both around the same age, so we think it's the newest song that's ever been written and apparently it's been around for a hot minute. But it's just like, girls singing about being at a club; it's a dance anthem. We think it's the funniest thing ever.
Have you gotten any weird stage door gifts yet?
I received one little kitschy gift from someone — an I Dream of Jeannie bottle toy? Like a plastic toy with a tiny little Jeannie in the bottle. And that's proudly displayed on one of the pink walls via thumbtack.
Do you share space with your wigs?
Perfidia, who puts my wigs on, is well known in the world of drag and she's pretty spectacular herself. So she's been taking some random wigs and making them spectacular. We're getting this great little museum; it's like a wig shop in there now. There's a wig room upstairs, they just bring them down; I have three wigs on, one on top of the other, at the top of the show. So they're delivered down a flight of stairs to me. They need a theme song.
You've obviously spent a lot of time staying in movie and TV trailers. How is this space different?
TV and movie trailers tend to feel more transient. You're on location, and you're traveling a bit more; a theater dressing room does feel a bit like your apartment. You actually live here. I don't get to go out on two-show days, because I'm either in makeup still or about to get into makeup for the next show. We have a seven and a ten on Saturday, and we still haven't figured out how that's gonna happen. The show's done around 8:50 p.m. and I have to be back onstage at ten, and it takes longer than an hour and ten minutes to turn me around. It's really a bit of a home away from home. And you can also acknowledge that people have been here right before you and have done amazing work. Mark Rylance was in this dressing room, destroying it in Richard III and Twelfth Night. He's apparently big on casting spells and all the old actual Shakespeare stuff they would do, like lighting candles, very ceremonial. There's a very good vibe here, for sure. I'm a big fan of his. No ghosts yet, though, but fingers crossed. I could use a good touching.
* This article has been corrected to show that the show's makeup is by Mike Potter, not Mike Otter, and that Harris's vocal coach is Liz Caplan, not Liz Kaplan.