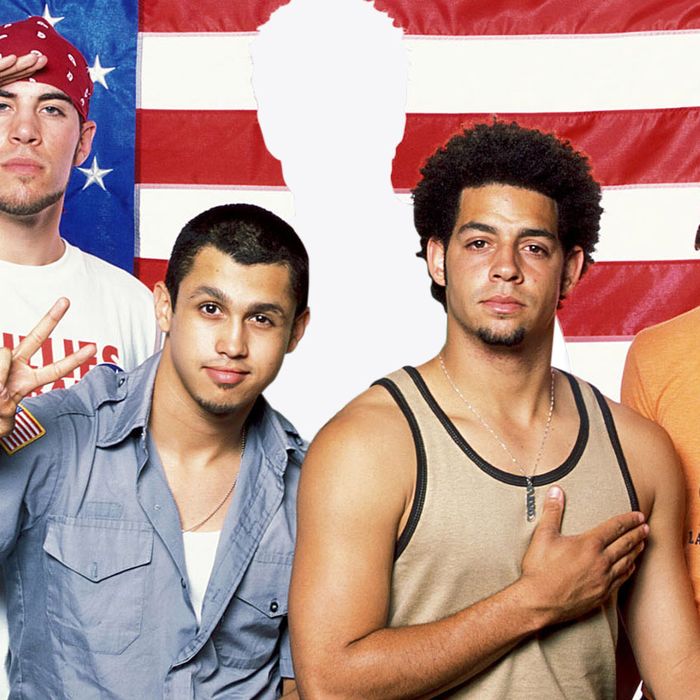 Reality-TV-bred boy band O-Town's reunion tour was inevitable. The Backstreet Boys did go on tour with New Kids on the Block and 98 Degrees last year ("NKOTBSB"), so in O-Town's words: It's all or nothing at all. (And how prophetic are these lyrics: "When you reach the bottom, it's now or never.") In short, the boys first united on the first season of MTV reality show Making the Band, which was created by Lou Pearlman (the creepy guy who created 'N Sync and Backstreet Boys and is now serving jail time for running a giant Ponzi scheme on the side); if someone familiar with the band could recall just one of their hit songs ("Liquid Dreams," "All or Nothing," "Every Six Seconds" — take your pick), they could also probably name one of the members: Ashley Parker Angel. He also happens to be the only member of O-Town not reuniting.
This is nuts. Without cheating, can you recall the name of another O-Town member? I watched the show and know the singles, and even I only remember that one of the other members wore dreads. When in 2006 Kevin Richardson left the Backstreet Boys to pursue other interests (he would return four years later), it really didn't matter. Why? Because casual fans of BSB didn't really know who Richardson was and even the diehards still paid for their next album. There were four other hunks, each with more definable characteristics than the elder, lower-octaved Richardson. (Okay, minus Howie.) But if heartthrob Nick Carter would've dropped out? No BSB. Same goes for 'N Sync, who will likely never reunite for longer than a commemorative performance because Justin Timberlake has clearly gone on to bigger things and the other guys just know better.
Which brings us back to Ashley Angel Parker, O-Town's leading cutie who was even well known enough to get his own reality show post–Making the Band. There & Back aired for just one season, but it was surprisingly entertaining: Parker did this weird but fascinating thing where he'd "freeze" the scene around him and then pop out of frame to perform a monologue. He also stressed about finances while his wife Tiffany gave birth (the first one MTV had ever shown on TV!) to their first child, Lyric. She scoffs as he trims his bangs in the hospital while the couple waits on their child: "When my son sees me for the first time, I wanna look good."
It just may be that Angel decides to join up with his fellow O-Town members after seeing the deluge of press and excitement surrounding the news of their reunion, but without him they're pretty much dead in the water. Who would pay to see 98 Degrees without Nick Lachey, or the Spice Girls without Ginger? Every group has their lead — even if they assure you that in harmonies, everyone is created equal.