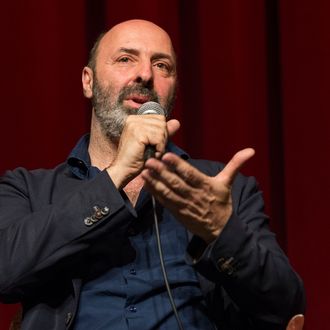 Photo: Valerie Macon/WireImage/Getty
Director Cedric Klapisch was in New York this week for the premiere of his new film Chinese Puzzle. The movie is a sequel to previous efforts L'Auberge Espagnole and Russian Dolls — starring Romain Duris and Audrey Tautou — which follow a group of international students from their 20s through their 40s (think a fictional, Gallic 7 Up series). The trilogy has achieved quite the cult following in France, or so Klapisch colorfully explained to us.
"People stop me and very often they say, 'I wanted to study abroad because of you.' So the movie has had a really strong effect on people's lives. Very often young people will have seen the movie ten times, twenty times, and they know the scenes by heart. It's really impressive. When we were doing the promotion, Romain and I, we ended up in a bar in Bordeaux after a screening and two young guys came up and acted a scene from L'Auberge Espagnole in front of us. We had forgotten about the lines and everything. And they acted the whole scene in front of us; it was crazy." While his fans are excited to meet Klapisch, the director's stature sometimes surprises them: For some reason, IMDb states that he's six-foot-eleven, over a foot taller than he actually is. "I am a giant of filmmaking," he jokes.